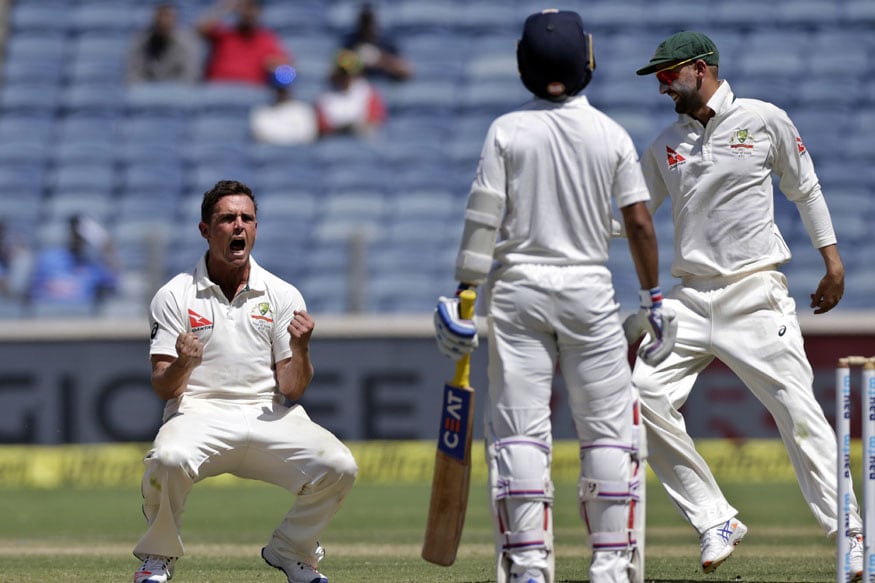 Pune: Australia have taken a vice like grip on the first Test after completely outplaying India on Day 2 of the match. Left-arm spinner Steve O'Keefe triggering a collapse by picking up 6 wickets as the visitors bowled India out for 105 in the first innings to take a 155-run lead.
Australian captain Steven Smith survived three dropped catches to take the the visitors to 143/4 in the second innings with his team leading the hosts by 298 runs with six wickets in hand.
Australia resumed on their overnight score of 256/9 after Mitchell Starc's cameo had given the visitors' score some respectability. Ashwin though sent back Starc on the last delivery of the very first over of the second day as Australia were bowled out for 260 in the first innings.
The wicket, Ashwin's third of the innings was his 64th of the home season as a result of which he broke a 37-year old record held by Kapil Dev, who had piked up 63 wickets in 1979-80.
ALSO READ: Ravichandran Ashwin Breaks Kapil Dev's 37-Year Long Home Season Record
The Indian openers came out to bat and looked comfortable at the crease, providing a solid start. But Josh Hazlewood gave Australia the early breakthrough they were looking for. Hazlewood bowled it in the channel outside the off-stump and Vijay poked at it and was caught by Matthew Wade for 10.
India's in-form number 3 Cheteshwar Pujara was the next man in and he spent time in the middle with KL Rahul but the going was tough as Mitchell Starc and Josh Hazlewood bowled an impeccable line.
Starc then produced a vicious short delivery that jumped up from length at an uncomfortable height for Pujara, who gloved it to Wade behind the wicket. Pujara was sent back for 6 and India were now in a mini crisis at 44/2.
AS IT HAPPENED: INDIA vs AUSTRALIA 1st TEST - DAY 2
But the crisis became a major problem as Virat Kohli was out for a duck in the same over. Starc bowled it full and wide outside the off-stump and Kohli chased it to get a nick, which was pouched safely at first slip.
Ajinkya Rahane joined KL Rahul in the middle and the duo started a repair job. KL Rahul was fluent as he hit a few crisp boundaries. Ajinkya Rahane also grew in confidence as time went by.
Rahul played a few flashy shots outside the off stump which flew off over the slip cordon. India were looking comfortable, not yet out of the woods, as they went into lunch at 70/3.
After lunch both Rahul and Rahane hit a few boundaries as the score moved towards the 100-run mark. Rahul brought up his second Test half-century soon. But with the score on 94, Rahul decided to dance down the track and miss-hit a well flighted delivery from left-arm spinner Steve O'Keefe to perish for 64. India were down to 94/4.
Two balls later Ajinkya Rahane got a leading edge off another flighted O'Keefe delivery and was caught brilliantly at first slip by Peter Handscomb. Rahane was dismissed for 13 and India were 95/5.
O'Keefe wasn't finished as he picked up a third wicket in the over. The ball was pitched outside off stump and Wriddhiman Saha poked at it to get an outside edge, which went to Steven Smith at first slip after getting a deflection off Wade's gloves. Saha was out for a duck and India had lost three wickets for just a run to be at 95/6.
Nathan Lyon then got into the act and got the wicket of Ravichandran Ashwin, who was unlucky after his defensive push landed right on his own toe and was caught by Handscomb at forward short-leg. India were now in a massive rut at 95/7.
Steve O'Keefe removed Jayant Yadav next. The Indian spinner was stumped as he failed to get his back-foot behind the batting crease and Matthew Wade removed the bails in a flash.
Ravindra Jadeja and Umesh Yadav also perished to O'Keefe while looking to get some quick runs as Australia tightened the screws. India were bowled out for 105 and Australia had taken a big 155-run lead.
Australia came out to bat with positive intent which was on show as David Warner hit two boundaries off Ashwin's first 5 deliveries of the first over of the second innings. The Indian wizard changed to around the wicket and slid a faster one in which struck Warner right in front of the wicket. The southpaw walked straightaway and India had got an early breakthrough.
Ashwin then ended Shaun Marsh's struggle, who had opened the innings and faced 20 balls without scoring a run. Ashwin slid another straighter one in which was missed by Marsh and he departed without scoring. Australia were 23/2 and India sensed they had a chance to get some quick wickets.
The situation would have become worse for Australia but Murali Vijay failed to collect an easy catch after Steven Smith had edged one off Ashwin. He was on 23 then. The dropped chance meant Australia went into Tea at 46/2, leading by 201 runs.
After the tea break, Peter Handscomb got a few boundaries away to keep the scoreboard moving. Steven Smith was lucky again as he was dropped by substitute fielder Abhinav Mukund. Smith was on 29 when he attempted to go down the track to Ravindra Jadeja and got a leading edge which went to Mukund at mid-on. It was a tough chance and Mukund dived forward but failed to collect it.
Ashwin though came back to remove Handscomb for 19 leaving Australia at 61/3. Ashwin could have put India on top as he induced an inside edge off Smith as he danced down the track again to negate the spin, but Abhinav Mukund at forward short-leg dropped a sitter.
Indian captain Virat Kohli couldn't believe his luck as Smith was now dropped for the third time. Matt Renshaw was the batsman on the other end and he played a mix of classic, innovative and downright ugly strokes to take the attack to the Indians. Smith meanwhile completed yet another half-century against India to put the visitors in cruise control.
Renshaw though gifted his wicket away when on 31 as he lofted a Jayant Yadav delivery and was caught in the deep by Ishant Sharma.
Mitchell Marsh survived a few close chances and two failed LBW reviews by India to stay unbeaten on 21, while Smith too stayed not out on 59 as Australia ended day 2 of the Test at 143/4 in their second innings. The lead of 298 runs is already looking like a match winning one.
@media only screen and (max-width:740px) {
.quote-box{font-size:18px; line-height:30px; color:#505050; margin-top:30px; padding:22px 20px 20px 70px; position:relative; font-style:italic; font-weight:bold}
.special-text{font-size:24px; line-height:32px; color:#505050; margin:20px 40px 20px 20px; border-left:8px solid #ee1b24; padding:10px 10px 10px 15px; font-style:italic; font-weight:bold}
.quote-box img{width:60px; left:6px}
.quote-box .quote-nam{font-size:16px; color:#5f5f5f; padding-top:30px; text-align:right; font-weight:normal}
.quote-box .quote-nam span{font-weight:bold; color:#ee1b24}
}