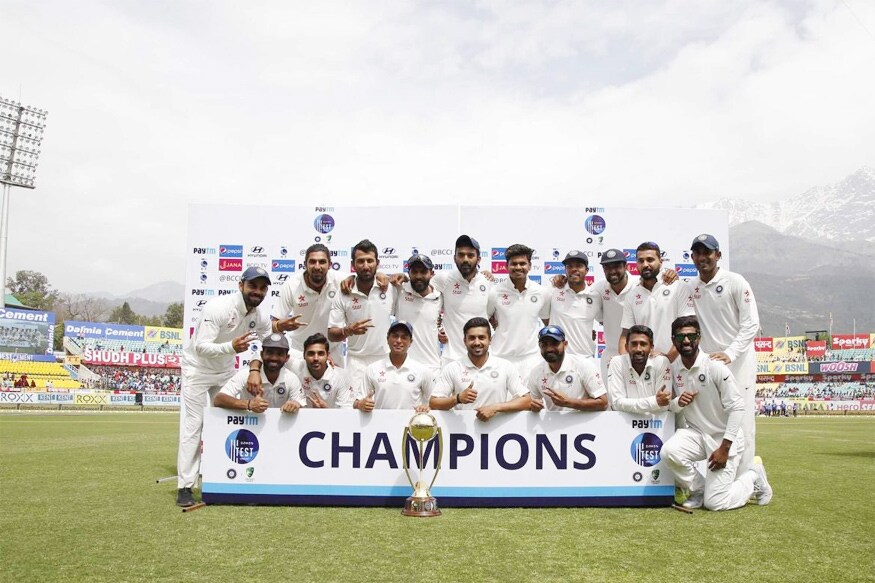 New Delhi: Team India's resounding 8-wicket win in Dharamsala meant Virat Kohli and his boys reclaimed the Border-Gavaskar Trophy from Australia by winning the series 2-1.
It was a fiercely fought series with both sides giving it their all, both on and off the field. Eventually it came down to the small battles won over sessions by either team, which resulted in the final scoreline.
There were quite a few performers from Team India in this series. Here is Cricketnext's Report Card of all the players in the Indian team based on their performance in the series.
KL Rahul - Rating: 8, Verdict: Very Good
He came into the Test series on the back of a mixed bag of a home season thus far and the call from all quarters was for him to show more consistency. Rahul failed to score a century in the series, but he scored a half-century in each of the innings he played barring one. The six scores of fifty plus were the most for any batsman in the series and Rahul did just what the doctor had ordered. His highest score of 90 came on his home ground of Bengaluru, where his knocks in both the innings helped India bounce back in the series.
With 393 runs in 7 innings at an average of 65.50, Rahul was India's second highest run-getter in the series. What was impressive about Rahul was that he looked at ease during each of his knocks irrespective of how the pitch was behaving.
Murali Vijay - Rating: 4, Verdict: Below Average
Murali Vijay had a below average series by his own lofty standards, given that he scored only one half-century, a knock of 82 in the drawn third Test at Ranchi, in the five innings that he played. The opener has not been in big scoring form in this home season but rarely did he struggle for runs the way he did in this series.
Vijay's main problem was that he did all the hard work by blunting the new ball, but would end up losing his wicket against the run of play. 113 runs in 5 innings at an average of 22.60 is something you don't associate with India's premier Test opener.
Abhinav Mukund - Rating: 1, Verdict: Very Poor
Made a comeback to international cricket when he was drafted into the playing XI at Bengaluru in place of an injured Murali Vijay, but got out for a duck. Managed to get 16 in the second innings and never really looked at ease. Dropped important catches as a substitute fielder in the first Test at Pune. A torrid time on the pitch which could be his last as an India player.
Cheteshwar Pujara - Rating: 9.5, Verdict: Excellent
India's only true blue Test batsman has been on a record run scoring spree this season and he continued in the same vein in this series too. Cheteshwar Pujara was the adhesive which kept India's often tottering batting together. The only Indian recognised batsman to score a century in this series, which turned out to be a double century eventually, Pujara was India's Man Friday with the bat.
Whatever be the condition, the India no 3 was there to bail the team out. His best knock came in the second innings at Bengaluru, where his crucial partnership with Rahane helped India set-up a winning total. With 405 runs from 7 innings at an average of 57.85, Pujara was India's highest run-getter in the series.
Virat Kohli - Rating: 3, Verdict: Poor
With four double centuries in four consecutive series leading up to the big tussle against the Aussies, Virat Kohli was in perfect shape to continue his dominant display with the bat. But the law of averages finally caught up with the Indian captain. In the three Test matches that he played, Kohli managed to score a meagre 46 runs at an abysmal average of 9.20 with a highest score of 15.
As captain he often let his emotions get the better of him but that is something Virat Kohli is known for and one can't fault him for it. Overall a series Virat the batsman would like to forget quickly.
Ajinkya Rahane - Rating: 7.5, Verdict: Good
Ajinkya Rahane had a rare failure in the series against England but came back to form against Bangladesh. But he looked extremely nervous in the first Test at Pune and failed to get a big score. The fighter within Rahane came to the fore in the second innings in Bengaluru as he battled his rusty form to forge a match-winning partnership with Pujara and scored his only half-century of the series. He played two extremely aggressive knocks in the Dharamsala Test which caught the Australians completely off guard.
His captaincy in the decider at Dharamsala gave Indian cricket fans a glimpse of what he is capable of as a leader.
Karun Nair - Rating: 3, Verdict: Poor
Drafted into the playing XI after the Pune disaster to strengthen the middle order, Nair did little to further his reputation, which he had garnered after scoring a triple ton against England. A brisk scorer, Nair's shot selection left a lot to be desired. He scored 54 runs in four innings at an average of 13.50. Dropped important catches too.
Karun Nair needs to prove his mettle fast as the likes of Rohit Sharma, when fit, can knock at the doors of selectors soon.
Wriddhiman Saha - Rating: 8, Verdict: Very Good
His ability as a wicket-keeper cannot be doubted and Wriddhiman Saha once again showcased his class behind the stumps with acrobatic catches and a quick stumping. But it was his batting which was a revelation. A fighter to the core, Saha shared a mammoth partnership with Pujara in Ranchi where he scored his second career Test century.
With 174 runs in 6 innings along with 13 catches and a stumping, Saha was top draw for India.
Ravichandran Ashwin - Rating: 7.5, Verdict: Good
A rare home series where Ravichandran Ashwin failed to finish as the highest wicket taker or the 'Man of the series'. Ashwin produced the goods in Bengaluru and Dharamsala, the two Test matches won by India. Failed to do much with the bat, but with an aggregate of 21 wickets from 4 matches, Ashwin will be satisfied with his show.
Although the fact that India's premier spinner looked completely flat and a wee bit short of ideas when the pitch didn't provide adequate help, will be a concern both for Ashwin himself and the team.
Ravindra Jadeja - Rating: 10, Verdict: Excellent
This was a series which had Ravindra Jadeja's name written all over it. Whatever be the condition of the pitch, Jadeja managed to pick up wickets and troubled the Australian batsmen on a consistent basis. His consistency and potency was there for everyone to see and the reward was a tally of 25 wickets at an average of 18.56 and the 'Man of the series' award.
That award was as much due to his showing with the bat as well. Jadeja scored two quickfire 50s in the series, the second one helping India get the crucial lead in the decider. The southpaw finally emerged from Ashwin's shadow and proved himself to be an equally potent match winner.
Kuldeep Yadav - Rating: 7, Verdict: Good
After waiting in the wings for a while, Kuldeep Yadav finally made his debut in the all important decider in Dharamsala. The young 'chinaman' bowler was not overawed by the situation, but instead put in a great show by picking up 4 wickets in the first innings. His spell brought India back in the match.
A great debut for a bowler who definitely has more India matches lined up for him in the future. His variety was eye-catching.
Jayant Yadav - Rating: 4, Verdict: Below Average
After a grand debut in the England series with both bat and ball, Jayant Yadav played the first Test at Pune as the third spinner. His off-spin didn't prove to be a threat for the Aussies who chose to attack Jayant. A few dropped catches didn't help his cause either as he finished with 2 wickets. Flopped with the bat too and never got another chance in the series.
Umesh Yadav - Rating: 9, Verdict: Excellent
India's most improved bowler in this home season, Umesh Yadav bowled with vigour and verve and finally brought in the consistency that was missing in his bowling. He was not afraid to bend his back on flat tracks and bowled an impeccable line with both the old and new ball.
His tally of 17 wickets at an average of 23.41 was by far the best for any paceman from either side in the series. Picked up crucial wickets in both the Indian victories at Bengaluru and Dharamsala.
Ishant Sharma - Rating: 5, Verdict: Average
The tall paceman bowled well in patches and looked unplayable when he was in the zone. Was in the news for his mimicking skills as well, Ishant picked up just 3 wickets in the six innings that he bowled, but his numbers don't tell the true story about his bowling in the series. Ishant often created the pressure which resulted in a wicket at the other end.
A good performance from India's most experience pace bowler.
Bhuvneshwar Kumar - Rating: 5, Verdict: Average
Bhuvneshwar was brought into the playing XI at Dharamsala given his ability to swing the ball. While Bhuvi didn't manage to get a lot of swing, he perhaps got the biggest breakthrough of the series, when he clean bowled Steven Smith in the second innings, which started the Australian collapse.
Needs to do more to make a permanent comeback into the Test squad.