964 runs, 43 dismissals, three hundreds including two against Afghanistan, 28 scores of below 20 in 44 innings and a combined batting average of 22.42.
These are the aggregate Test statistics of KL Rahul, Shikhar Dhawan and Murali Vijay opening the batting for India in 2018. This is how poor they have been.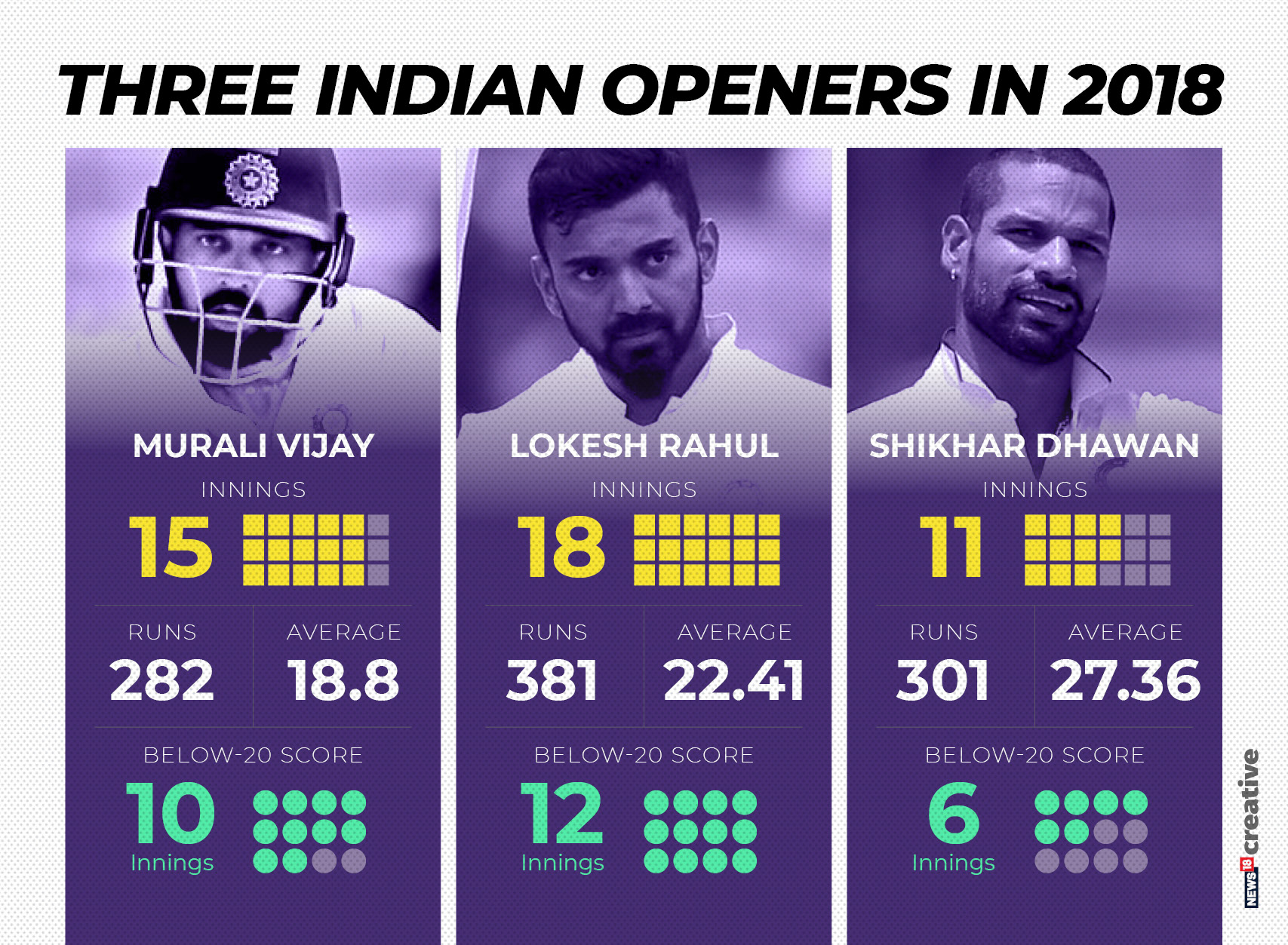 LACK OF RUNS
Vijay has fared the worst amongst the three with a batting average of just 18.8 in 2018. He has scored just 282 runs from 15 innings in the year. And this includes the 105 against Afghanistan! Without this hundred, Vijay has scored a meagre 177 runs from 14 innings at a paltry average of 12.64. He has no fifties in the calendar year and has registered scores of less than 20 in as many as 10 innings (out of 15) this year – this includes three ducks.
Rahul has also had a forgetful year before being finally dropped (along with Vijay) for the Boxing Day Test. He has scored 381 runs in 18 innings at an average of 22.41 in 2018. Rahul now has 11 single-digit scores in his last 23 Test innings. Barring his splendid hundred against England at The Oval, Rahul has scored just one fifty in this period – and that too against Afghanistan. Such has been his woeful run that he has 16 scores of below-20 in his last 23 innings (12 this year).
Dhawan has scored 301 runs in 11 innings at an average of 27.36 in 2018. He also registered a ton against Afghanistan but does not have any other score of 50 or above in the remaining 10 innings. In fact, he has six below-20 scores in these 10 innings.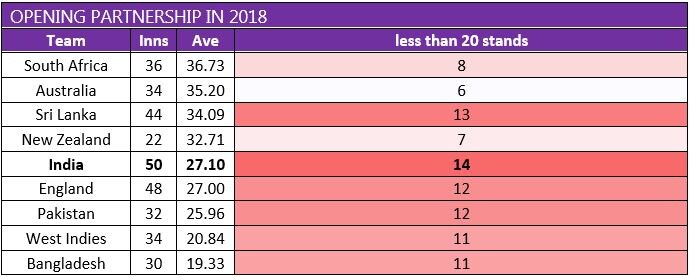 The Indian opening-wicket partnership ranks at Number 5 in 2018 with a wide gap between the top 4 and others. No other country has as many opening stands of 'less-than 20' as India (14) in 2018.
Among the 25 openers in world cricket who have batted in at least 6 innings this year, in terms of batting average, Karunaratne tops the charts having scored 49.53 runs per dismissal. He is followed by Latham (48.20) and Elgar (36.81).
None of the three Indian openers make it to the top 10. Dhawan is at number 11 while Rahul and Vijay are at Number 15 and 20 respectively.
OCCUPYING THE CREASE
Not only have the Indian opening trio not scored runs but they have also not spent any significant time at the crease – a quality integral and necessary for any opener to succeed in Test cricket. Rahul fares worst on this count playing, on an average, just 37 balls per innings in 2018. Dhawan has not done any better playing 38 balls per innings. They rank at Number 6 and 7 amongst the 27 openers who have batted in at least five innings this year. The corresponding number for Vijay is higher at 49.
This means, on an average, the trio have faced 41 balls per innings, which translates to almost seven overs per innings. In other words, the Indian openers are getting out within an hour of the start of the Indian innings. By not occupying the crease for any significant period, they are exposing Pujara and Kohli to the new ball, severely affecting India's chances of putting up a big score.
The Indian openers (all Indian openers) have, on an average, faced approximately 46 balls per innings in 2018, which is the worst for all teams with the exception of Bangladesh.
What is interesting to note is the fact that while the Indian openers have been in terrible form in 2018, other teams have also not had it easy at the top of the order. In fact, India's average opening partnership score in 2018 is 31.87 – the second-highest after Australia (46). It is 26.62 for Pakistan, 25.27 for Sri Lanka, 23.77 for South Africa and 21.16 for England.
This suggests that while all teams have been poor in terms of opening partnerships, India has had the dual problem of both their openers failing collectively and consistently.
MISERABLE IN SENA
India's opening record is amongst the worst in SENA (South Africa, England, New Zealand, Australia) countries in 2018. In terms of average runs per dismissal scored by openers in SENA in 2018, India ranks at a distant number 5. The Indian openers have only scored 19.40 runs per dismissal in SENA in 2018. They have just one hundred and one fifty in 42 innings. New Zealand openers have been the best scoring 50.77 runs per dismissal and are followed by South Africa (43.77), Australia (30.11) and England (25.16).
Rahul scored just 344 runs in 15 innings at an average of 22.93 in SENA in 2018. He managed just one fifty-plus score (Oval hundred). Dhawan aggregated 194 runs in 10 innings at an average of 19.40 with no fifty-plus score. And Vijay was the worse of the lot scoring a total of 177 runs in 14 innings at a shocking average of 12.64. Collectively, they had as many as 26 scores of below-20 in 39 innings opening the batting in SENA in 2018!

In terms of the average opening stand in SENA in 2018, India, again, with 21.80 runs per dismissal rank at Number 5 behind Australia (40.53), South Africa (27.06), New Zealand (25) and England (22.05). It is also the worst opening performance since 2000 for India in SENA (min. 5 Tests) in terms of average runs scored – 21.05 in 2002, 33.65 in 2007, 33.08 in 2011, 34.52 in 2014 and 19.40 in 2018.
Even in terms of occupying the crease, India's openers have been amongst the worst in SENA in 2018. They have, on an average, faced 41 balls per innings in 2018. Just for perspective, the New Zealand openers have occupied the crease for 103 balls per innings, South Africa come next with 85, followed by England (58) and Australia (57).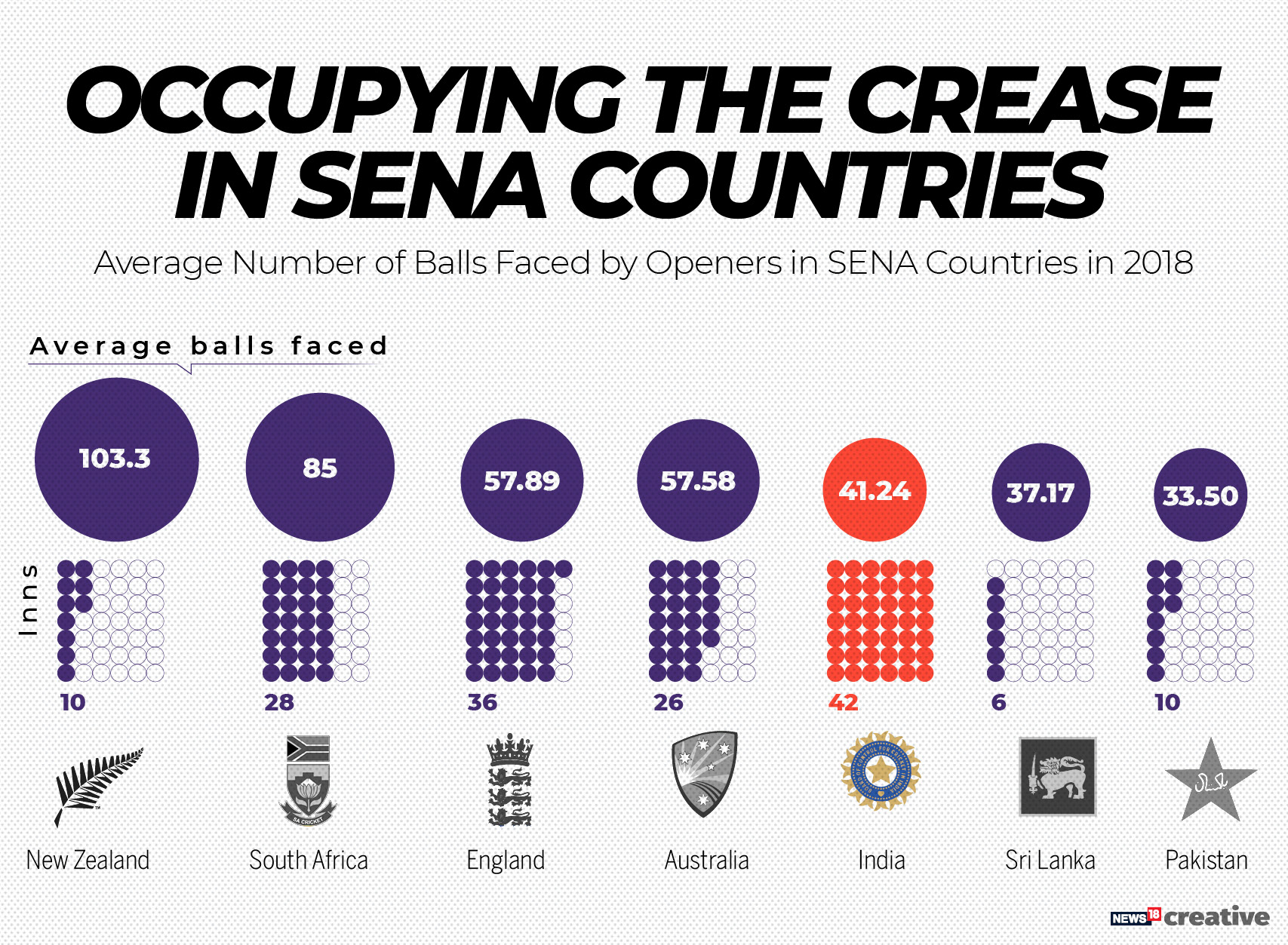 The performance of the Indian openers in 2018 has been the worst for India since 2000, in terms of average balls faced and the second-worst in terms of batting average.
Dhawan's average fell from 43.78 till 2017 to 27.36 in 2018 – a fall of 37.5%. The corresponding fall for Vijay is 56.1% (42.83 to 18.8) and Rahul is 52.78% (47.46 to 22.41).
While Dhawan has had problems facing the short-pitched deliveries, Rahul has been susceptible to the inswinger getting trapped lbw or bowled on a number of occasions. Vijay has forgotten the art of leaving the ball – what made him such a successful opener on previous tours to SENA countries.
It has been a mighty fall for the three Indian openers.
With Agarwal and Shaw off to impressive starts in their Test careers, it could be the end of the road for the trio of Dhawan-Vijay-Rahul in whites for India. At least for now.