If you haven't been watching the Australia – India series with headphones on, you aren't just missing the commentary but possibly also one of the best banter by a wicket-keeper.
Australian skipper, Tim Paine, has had his share of things to say to the Indian batsmen at the crease.
On Friday, at Melbourne, Paine gave Rishabh Pant a earful, all in good humour, quipping about a possible Big Bash League stint with the Hobart Hurricanes.
"Tell you what, if Big MS [Dhoni] is back in the one-day squad, we might get him [Pant] down to the [Hobart] Hurricanes, this bloke. We need a batter," Paine could be heard telling Pant over the stump mike. "Fancy that? You can extend a nice Aussie holiday. Beautiful town, Hobart, too. [We can] get you a nice apartment on the waterfront. Do you babysit? I'll take my wife to the movies one night and you can babysit."
He had earlier been in the news for his friendly jibes at Murali Vijay, Virat Kohli and Rohit Sharma. This banter seems to be a planned strategy of the Australian think-tank to ruffle and unsettle the Indian batsmen.
But Paine sure knows how to walk the talk as can be seen from his astute captaincy – whether in bowling changes or field placements.
He has initiated a few game-changing moves as captain, giving Lyon the first over on Day 3 at Perth to knock over Ajinkya Rahane and break a threatening stand. On Friday (28th December), he set Pat Cummins a heavy leg-side field and helped the seamer nip out the trio of Pujara, Kohli and Rahane.
While Paine the captain is garnering attention and attracting rave reviews, his contributions as a player are often ignored, even questioned at times. But Paine has been a pretty resilient option for Australia in Tests this year.
He is not only the second highest run-scorer for them in the longest format of the game, but has also faced more balls than all but one Australian player in 2018.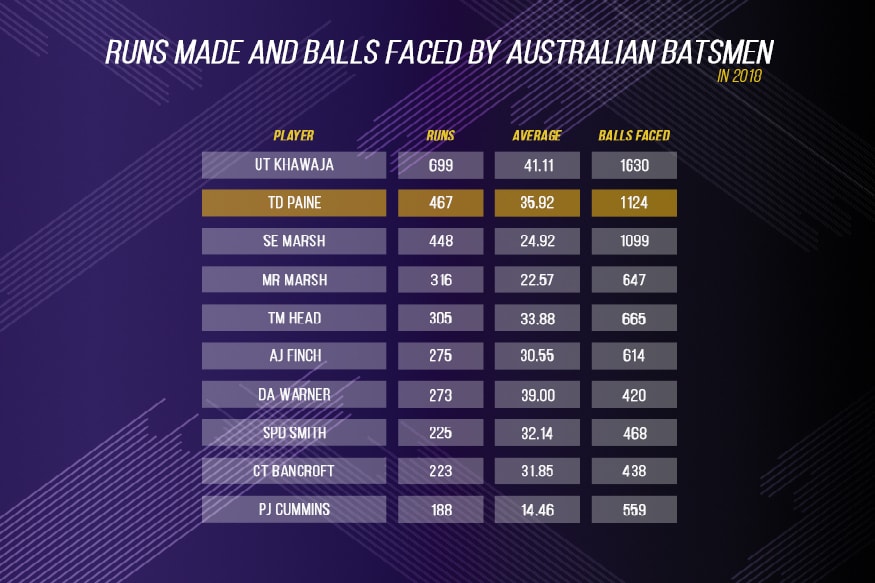 His 467 runs have come at an average of 35.92, which again is excellent for a lower-order wicket-keeper batsman.
Also, with a weak top-order, most of Paine's runs in 2018 have been 'tough' runs – they have come in pressure situations when the team has lost most of the top-middle order with not too many on board.
And one must not forget the additional role he does behind the stumps as wicketkeeper. This year, only one wicket-keeper has more dismissals behind the stumps than Paine – Quinton de Kock with 47. Paine has taken 40 catches and effected two stumpings with a dismissal rate of more than 2 per innings – pretty impressive for any keeper. For keepers with at least 20 dismissals this year, Paine's rate of dismissals is nearly on par with Pant, De Kock and Watling.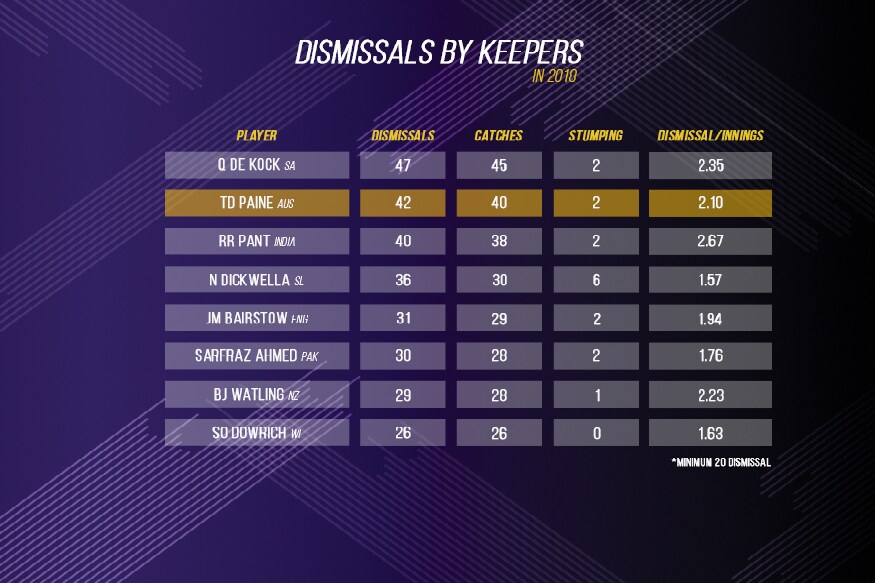 A solid batsman with a great temperament in the lower order, a sharp cricketing brain and clever captain, and very safe and flexible keeper behind the stumps – Paine is a true all-rounder for Australia.
He did not set the Sheffield Shield on fire in the last two seasons – Alex Carey and Matthew Wade did better and Carey was believed to be the front runner for the job before the Ashes.
But Paine has made the most of the opportunities he has been given, and that too at the highest level, making the best use of the resources in hand, giving a struggling team a fighting chance leading by example.