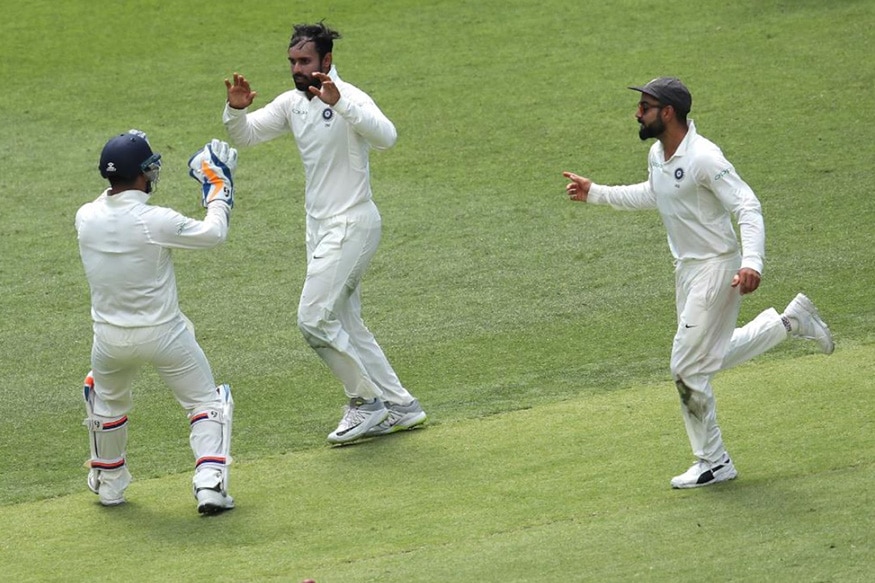 For all the talks about the green deck welcoming the two sides, the century-stand between the Australian openers Aaron Finch and Marcus Harris ambushed all talks of the wicket potentially being a bowlers paradise, though the deck did show signs of quickening up as the day progressed. India came back well with wickets to keep the hosts to 277 for 6 the close of play to share the honors on the opening day of the second Test at Perth on Friday (December 14).
See-saw cricket today, leaves match intriguingly poised. India must get remaining wickets quickly tomorrow. If Aus get 400 or so, pressure will be enormous

— Cricketwallah (@cricketwallah) December 14, 2018
I have been fortunate to witness six fantastic days of Test cricket in this series so far, today was just a continuation of the tough Adelaide contest. Nothing better than good hard Test cricket. #AusvAus

— Ric Finlay (@RicFinlay) December 14, 2018
Good last session for team India. When it seemed that Australia gaining advantage in day's play, India bounced back with 2 wickets. Even stevens. #AUSvIND — Abhay Gupta (@Abhay00) December 14, 2018
277/6 Aussies would be mighty pleased. Indians would be okay too. Hoping for some exciting test cricket in next two days! #PerthTest #AUSvIND — Mr. Palindrome (@im_nits) December 14, 2018
Earlier, the hosts elected to bat first but all the attention was on India's playing XI which had four pacers. Virat Kohli picked Umesh Yadav and Hanuma Vihari to replace Rohit Sharma and Ravichandran Ashwin which meant they were going in without a specialist spinner for only the fourth time in their Test history.
Think India have made a mistake not playing @imjadeja ... Not only for his bowling but his Batting at No 8 ... India have a very long tail this Week ... Aussies to win ... #AUSvIND #Perth

— Michael Vaughan (@MichaelVaughan) December 14, 2018
Not playing specialist spinner n Perth is reflective of the brain fade of the brains trust on tour OZ..one hopes its not too costly a lapse.! Grass on Perth's newest wkt turns out a fake warning signal..so far at least..but Physios n both camps will have plenty on their plates.!

— Bishan Bedi (@BishanBedi) December 14, 2018
The start was a dampener for India as the bowlers failed to exercise any control with the new ball and Australia got a really solid start with both openers scoring a half-century each.
india have started this test like they are bowling at the tail #AUSvIND — Gaurav Kalra (@gauravkalra75) December 14, 2018
Those business seats have messed with our fast bowlers' economy. #AUSvIND — cricBC (@cricBC) December 14, 2018
Fifty for Marcus Harris. Lad has looked good in each of his 3 innings till now. Has especially played some beautifully strokes today. #AUSvsIND

— Manya (@CSKian716) December 14, 2018
It was Jasprit Bumrah who struck the first blow for India when he had Aaron Finch out lbw just after he brought up his fifty. and bowled a hostile spell to Usman Khawaja, which led to Umesh Yadav reaping the rewards of it with his wicket.
Umesh Yadav gets Usman Khawaja caught behind.

But Bumrah deserves all the credit - deserved at least 3 wickets for that spell. #AusvInd

— Aditya (@forwardshortleg) December 14, 2018
The part-time off-spinner Hanuma Vihari then struck gold to get rid of Harris with one that bounced more on the southpaw.
Hanuma Vihari — The partnership breaker Batsman's score when Vihari takes the wicket 125 - Root 147 - Cook 21 - S Curran 70 - Marcus Harris#INDvAUS #AUSvIND — Abhishek Kumar (@abhik2593) December 14, 2018
Virat Kohli, who was dismissed by a stunner from Khawaja in the first Test, plucked one out of thin air to get rid of Peter Handscomb.
Virat Kohli has taken an absolute stunner. One-handed stunner. #INDvAUS

— Madhav Sharma (@HashTagCricket) December 14, 2018
According to CricViz Fielding Impact—which measures the value of fielding by considering the difficulty of the fielding event and the run value of the event (which varies according to the batsman)—Virat Kohli's catch was worth +23.50 runs to India. #AUSvIND

— Freddie Wilde (@fwildecricket) December 14, 2018
Genius catch by Virat Kohli #AUSvIND #AUSvsIND pic.twitter.com/6rJXlcBtyV — Graham Farmer (@gravyonsports) December 14, 2018
While the skipper set the standard high for catches, wicketkeeper Rishabh Pant dropped a simple one of Shaun Marsh.
waiting to hear pant's assessment of his dropped catch on the stump mic #AUSvIND

— Gaurav Kalra (@gauravkalra75) December 14, 2018
Terrible drop by Pant..Vihari doing as much as Ashwin here...#AUSvIND — Hemant (@hemantbuch) December 14, 2018
The dropped catch didn't cost India much as Vihari got his man eventually when he had Marsh caught sharply by Ajinkya Rahane at first slip.
Nothing confuses Australian cricket twitter more than Shaun Marsh making a pretty good 45 #AUSvIND pic.twitter.com/dEN9Rw4tOK

— ralph horowitz (@rtralphy) December 14, 2018
One feature of the Aussie Test summer would be absolute demolition of the visiting spinner - Ashwin, Swann, Yasir have all been belted around in the past. And now they're struggling against Hanuma Vihari. #AUSvIND — Rishad D'souza (@RDcric) December 14, 2018
His partner Travis Head caught up with him in the dressing room, looking to attack the second new ball, much to the ire of the Australians.
FFS !!!!!! That was a terrible shot from the last established batsman when the new ball had just been taken. Good knock until then from Head but poor reading of what was needed #AUSvIND

— Brett Graham (@worldofBG) December 14, 2018
Bumrah wasn't done for the day though as he bowled a jaffa to Tim Paine to have all gasping for breath. The Australian skipper though will hope his bowlers can do the same to Indian batsmen as the pitch quickens more tomorrow.
Ummm... Wow. What a delivery!#AUSvIND pic.twitter.com/T0F2y0PkHE — cricket.com.au (@cricketcomau) December 14, 2018