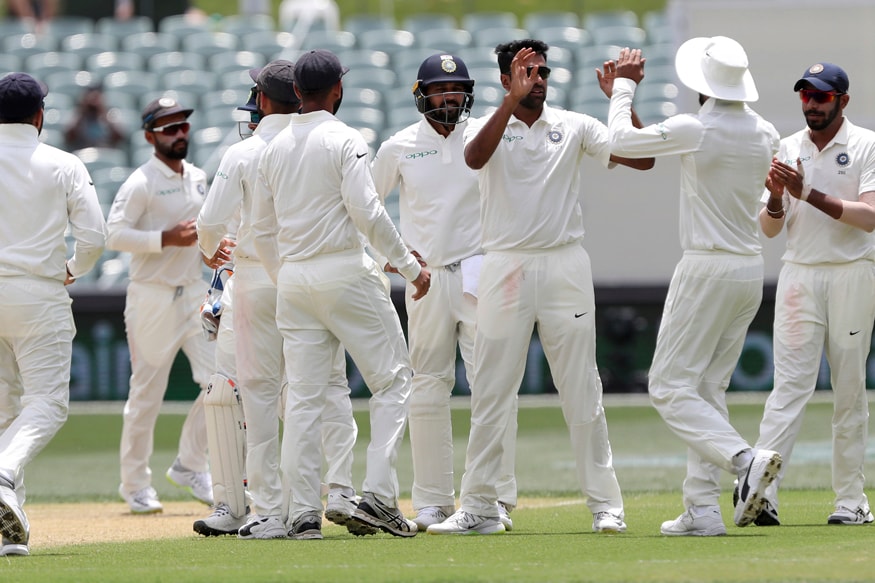 Travis Head and India's effective bowling performance was the talk of social media on Day 2 of the first Test in Adelaide. After getting bowled out for 250 in the first innings, India needed to bowl well and they did so to keep Australia in check. The hosts ended the day with 191 for 7 on board, trailing India by 59 runs.
Even Stevens at the end of riveting day's play. Shami bit loose in the last session, but India's bowling otherwise quite superb. However, Australia have survived the day and within striking distance of matching India's score. Wanna hazard a guess which way this Test is leaning?

— Cricketwallah (@cricketwallah) December 7, 2018
Travis Head has met India's tight bowling with top-class patience. He's left 11% of his deliveries, the highest figure for any of his Test innings so far, and has played only 8% false shots. #AUSvIND — The Cricket Prof. (@CricProf) December 7, 2018
191 runs in a day..... well played @travishead34 well bowled 🇮🇳 Australia having to fight for every single run 🏏

— Michael Clarke (@MClarke23) December 7, 2018
India criticized for playing attacking cricket and losing their wickets while Australia are being criticized for playing too defensively. India not trusting their defense while Australia not trusting their stroke play. Both teams find themselves in similar situations #AUSvsIND — Gaurav Sundararaman (@gaurav_sundar) December 7, 2018
Make no mistake... Best Indian bowling attack. Ever! #AusvInd

— Chetan Narula (@chetannarula) December 7, 2018
In the morning, it took Australia just one ball to wrap up India's innings for 250 as Shami was caught down the leg side of the bowling of Josh Hazlewood.
The audacity with which Shami throws away his wicket in Tests time and again is stunning. If John Wright was Indian coach, he would pin Shami by his shoulders for that shot. Different time that! #AusvInd — Chetan Narula (@chetannarula) December 7, 2018
Australia missed the services of David Warner as Aaron Finch was out for a duck but Marcus Harris, making his Test debut, showed good signs before getting dismissed by Ravichandran Ashwin for 26.
2010: Last time Australia didn't have the services of @davidwarner31 to open the batting in a Test at Adelaide.

What a start by India!#AUSvIND #INDvAUS

— Victor Tarapore (@VictorTarapore) December 7, 2018
AFinch the first Aussie opener to score a first-inns duck in the first Test of a home series since Watto v WI, 2009, and the 14th time overall. #AusvInd — Ric Finlay (@RicFinlay) December 7, 2018
There is a lot to like about @MarcusHarris14 defence 👏🏽👏🏽👏🏽 Get through this little period & he is away #AUSvIND

— Lisa Sthalekar (@sthalekar93) December 7, 2018
Ashwin loves bowling to left-handed batsmen and he showed that by dismissing all the three left-handers in Australia's top order.
When Australia lost Warner & Smith, they really needed their most senior remaining batsmen to stand up. In that time, Shaun Marsh has made 16, 7, 7, 0, 3, 4 and 2. #AUSvIND — Brydon Coverdale (@brydoncoverdale) December 7, 2018
Well that's the test then! Oz don't have the depth to come back from here. Ashwin showing al the class he possesses.

— Rob Moody (@robelinda2) December 7, 2018
#TeamIndia should make the most of this situation and not lose their grip. The defensive mindset by the Australian batsmen at home is something I've not seen before in my experience. @ashwinravi99 has been very effective and has played a role to help the team be on top, for now. — Sachin Tendulkar (@sachin_rt) December 7, 2018
Travis Head held fort for Australia and along with Peter Handscomb was building a good stand before the latter was dismissed by Jasprit Bumrah just after the Tea interval.
5 down for less than half of our first innings, the challenge is now to get the other half which is usually the problem.

— Saurabh Malhotra (@MalhotraSaurabh) December 7, 2018
in the spirit of bonhomie, australia's batsmen are matching india's bad shot for bad shot #AUSvIND — Gaurav Kalra (@gauravkalra75) December 7, 2018
Once Tim Paine got out to give Ishant Sharma his second wicket, instead of rejoicing, the Indian fans were rightly worried about them conceding runs to the Australian tail.
India & the tail.

This year:

Cape Town - 202/6 - 286/10

Centurion - 251/6 - 335/10

Jo'burg - 125/6 - 194/10

Birmingham - 86/6 - 180/10

Lords - 320/6 - 396/7d

Nottingham - 231/6 - 317/10

Southampton - 86/6 - 246/10

Southampton - 178/6 - 271/10

Oval - 177/6 - 332/10#AUSvIND

— Rohit Sankar (@imRohit_SN) December 7, 2018
India this year against England really let their inability to pick the lower order wickets cost them. - Top Order Average: 32.74 - Lower Order Average: 27.25 India should not let the Australian tail do the same against them. — Clive (@vanillawallah) December 7, 2018
And their worst fears came true when Pat Cummins and Head brought up their 50-run stand.
Another fifty runs stand down the order v IND.

This is the 9th fifty plus stand from 7th to 10th wkt in 2018,

most fifty runs stand (#7-10 wkt) against a team in 2018

9⃣ vs IND

8⃣ vs AUS, SA and SL

7⃣ vs ENG and WI#INDvAUS #AusvIndia

— Hrishikesh Tambe (@20copperboy) December 7, 2018
50 partnership between Cummins and Head. Are we surprised? #AUSvIND pic.twitter.com/EGakZMyzd7 — Manya (@CSKian716) December 7, 2018
India were waiting for the second new ball and it worked like a charm as Bumrah got rid of Cummins for 10 but Starc combined with Travis who scored a fifty to take Australia through to stumps.
Cummins goes after a handy partnership with Head. Bumrah strikes with the third ball bowled with the new Kookaburra. Bumrah slants it in and Cummins chooses the wrong ball to leave alone. #AUSvIND — Anand Vasu (@anandvasu) December 7, 2018
Excellent 50 from Travis Head - showing the benefits of 6 specialist bats & working well with Cummins to claw Australia back into this match #AUSvIND — Brett Graham (@worldofBG) December 7, 2018
Simple task for India. Just get rid of the Australian head and tail ! #AUSvIND — Gautam Bhimani (@gbhimani) December 7, 2018
Ashwin was superb, Ishant was disciplined. But from 127-6 to 191-7... They've missed out on another great opportunity. Needed a 70-80 run lead against the might of Cummins & Lyon. #AUSvIND — KASHISH (@crickashish217) December 7, 2018