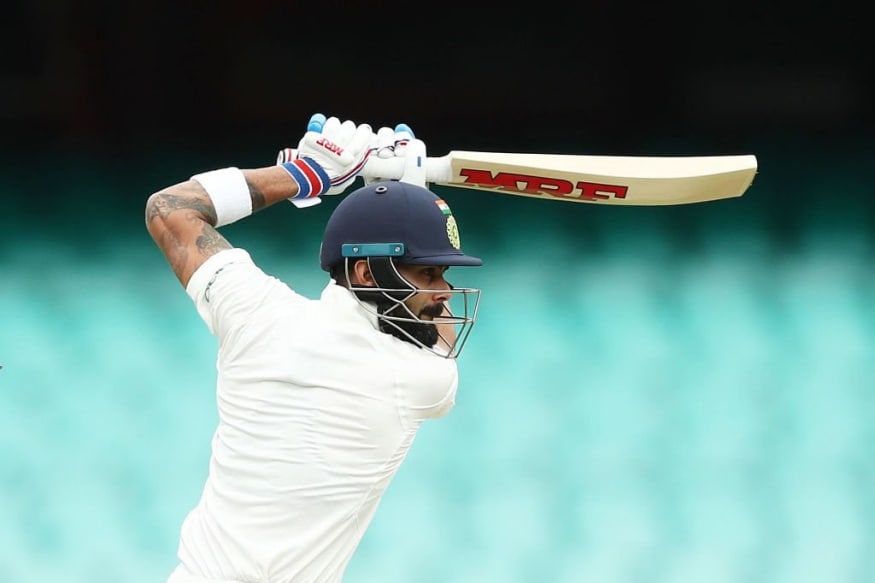 India seemed to be in a bit of a bother when they lost both openers early in hunt of Australia's first-innings 326. But Cheteshwar Pujara, Virat Kohli and Ajinkya Rahane stepped up to the plate when the situation demanded and crafted out brilliant knocks to help India end Day 2 on a decent note.
The morning started off in a nervy fashion for India. Tim Paine and Pat Cummins looked solid and went on to bring up their fifty-run stand. It was déjà vu as the hosts edged close to the 350-run mark.
Paine hustles Cummins through for the cheekiest of singles and Aust raise the 300 #AusvInd

— Daniel Brettig (@danbrettig) December 15, 2018
But finally Umesh Yadav provided the breakthrough for India, removing Pat Cummins. And soon the lower order followed.
At last. India bowls full and straight and gets two wickets. Just 4 of the first 90 deliveries on day 2 would have hit the stumps. 8-313 (106o) Cummins b Yadav 19 Paine lbw Bumrah 38 — Peter Lalor (@plalor) December 15, 2018
Impressive from Umesh, Bumrah and Ishant. After stiff resistance from Paine and Cummins, India have made short work of tail, restricting Aus to 326. Looked like it might be 375 or so at one stage. But there's help for fast bowlers. India need good start

— Cricketwallah (@cricketwallah) December 15, 2018
The Indian openers failed to get their act together. While Mitchell Starc cleaned up Murali Vijay with an in-swinger, KL Rahul was removed by a near-unplayable yorker by Josh Hazlewood.
Hindi Commentators : Ab Mitchell Starc m vo bat nazar nhi aati Next bowl : Clean bowled Murali Vijay #AUSvIND — Prince (@iPrince55) December 15, 2018
Another full ball, another result. This one looks like it's an inswinger. Shapes away late and Rahul is playing well inside the line. Off pole nailed. India 8 for 2 now and the Pujara-Kohli firm is back in harness. #AUSvIND

— Anand Vasu (@anandvasu) December 15, 2018
Rahul can't be blamed for that. Absolute corker from Hazlewood!#AUSvIND — Rohit Sankar (@imRohit_SN) December 15, 2018
Virat Kohli then arrived at the crease and the atmosphere around the ground changed. He started with some lovely boundaries through midwicket and a couple of drives down the ground.
I often used to say that on overseas tours, especially early on, that Tendulkar was India's 10-2 man. Well, it might be Kohli now but the line is valid!

— Harsha Bhogle (@bhogleharsha) December 15, 2018
Kohli once again batting at another level to his peers. Driving, flicking, defending. Doing all this standing outside the crease to negate the swing against express pace. #AUSvIND — Anand Vasu (@anandvasu) December 15, 2018
He looks in the mood ... #Kohli

— Michael Vaughan (@MichaelVaughan) December 15, 2018
This innings has that Sachin feel. Glorious start, but always on the edge. — Elite Alagappan (@IndianMourinho) December 15, 2018
What unfolded in the second session was an enthralling battle between Australia's foursome and Kohli and Pujara. The latter's knock came to a tame end but then Ajinkya Rahane decided that he was going to battle fire with fire!
Is Cummins vs Kohli is the new 'Kohli vs Anderson'? #AUSvIND

— Omkar Mankame (@Oam_16) December 15, 2018
That was a nicely set up sucker punch. All signals pointing at the short ball into the body. Not sure Starc *planned* to have Pujara fishing, but that was a tentative stroke by a batsman expecting something else entirely. — Prem Panicker (@prempanicker) December 15, 2018
So far, he is KL Rahane

— Sidvee (@sidvee) December 15, 2018
Rahane and Kohli brought up their 13th Test fifty stand. It included some fabulous shots, like this drive from Kohli.
That's a shot. Live coverage here: https://t.co/mzWOwn19la #AUSvIND pic.twitter.com/P3q26kuNEv — cricket.com.au (@cricketcomau) December 15, 2018
Great day of test match cricket. Some good battles happening & the test in the balance #AusvsIndia

— Mitchell Johnson (@MitchJohnson398) December 15, 2018
Kohli and Rahane led the side to Stumps at 172 for 3, trailing by 154 runs. And the fabulous day's play had everybody gushing for more.
The big thing or difference I have noticed.. is that the Indian batsmen read length better .. particularly Kohli, Pujara and Rahane.. simple footwork.. — Dean Jones (@ProfDeano) December 15, 2018
High praise for the fight that India have shown today after being 2 wickets for 8 runs. @imVkohli unbelievable! @ajinkyarahane88 exceptional!

— Michael Clarke (@MClarke23) December 15, 2018
Excellent cricket and batsmanship of the highest quality from Kohli and Rahane. Australia never flagged and that added to the intensity — Harsha Bhogle (@bhogleharsha) December 15, 2018