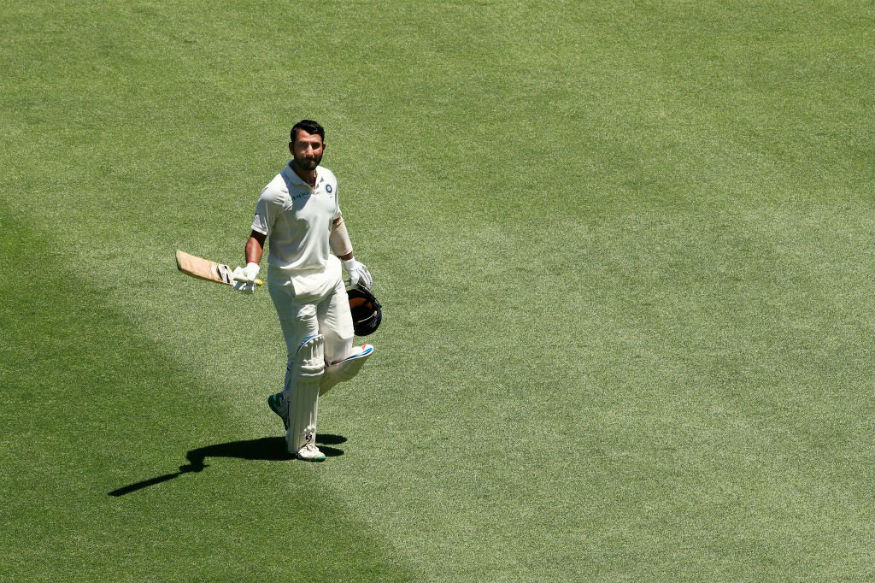 India continued to dominate proceedings in the fourth and final Test at the Sydney Cricket Ground as big hundreds from Cheteshwar Pujara and Rishabh Pant took them to a massive score of 622 for 7 on board before skipper Virat Kohli decided to declare. The Australian openers saw off the tricky period of play to be 24 for no loss but know they have a tall task on hands as they trail the tourists by 598 runs.
Test match batting at its best by Pujara. @cheteshwar1 has been the difference between the 2 teams for me. To be able to bat for such long periods of time is a testament to his concentration and understanding of the game. #INDvAUS pic.twitter.com/7GJmJieOAk

— Sachin Tendulkar (@sachin_rt) January 4, 2019
Pantastic ! Wonderful 100 from @RishabPant777 , 2nd overseas century and now the 2nd highest run getter in the series after Pujara. Yeah Baby! Sitter pic.twitter.com/k8HNvJjFMm — Virender Sehwag (@virendersehwag) January 4, 2019
Bravo @RishabPant777 & @cheteshwar1 showing everyone what you need to do score runs away from home. Impressive to watch #AUSvIND pic.twitter.com/smnyvowfhj

— Lisa Sthalekar (@sthalekar93) January 4, 2019
After Pujara's brilliant 193, Rishabh Pant has assured that India put the game firmly out of Australia's grip. Very impressed by his temperament today and congratulations to him on his 2nd overseas 100, 1 in Eng and now 1 in Aus, only the 2nd wk after Jeff Dujjon to do so pic.twitter.com/uSg60n98nb — VVS Laxman (@VVSLaxman281) January 4, 2019
Pujara to 150. A brief wave of the bat and ready to go again. #AUSvIND pic.twitter.com/e1Da5pKRUP — Adam Collins (@collinsadam) January 4, 2019
Only two visiting batsmen to Australia have faced more balls than Pujara's 1135 (max. 4 matches played) - Rahul Dravid in 2003-04 (1203) and Herbert Sutcliffe in 1928-29 (1237). #AusvInd

— Patrick Noone (@PatrickNoone08) January 3, 2019
Hanuma Vihari played well for his 42 before getting out caught at short leg, trying to sweep Nathan Lyon.
Clearly the edge was thin that Vihari didn't feel it. Fine 42 but he has missed out on a lot more. #AUSvIND — KASHISH (@crickashish217) January 4, 2019
Replays though showed the decision was not as convincing as it looked at the first instance.
Here's the video of Hanuma Vihari's dismissal. Was it out or not out? #AUSvINDpic.twitter.com/Z206Otzq1z

— cricketnext (@cricketnext) January 4, 2019
Pujara at the other end, continued batting time and tiring down the Australian bowlers, scoring over 500 runs in the series.
Pujara raises his triple-century of balls faced. The most recent Australian to achieve that in a Test innings and not be named Khawaja or Smith was Joe Burns. #AUSvIND — Brydon Coverdale (@brydoncoverdale) January 4, 2019
Quite amazed that Duracell haven't approached Pujara yet for a tie up.

— Sanjay Manjrekar (@sanjaymanjrekar) January 4, 2019
come to think of it, why wouldn't you name your child cheteshwar...#AUSvIND — Gaurav Kalra (@gauravkalra75) January 4, 2019
The Indian No. 3 was dropped on 192 but couldn't make the most of it as a quiet passage of play saw him go into a shell and was out caught and bowled to Lyon for a majestic 193.
Chitt ke Ishwar, another name for Lord Shiva - Cheteshwar Pujara.

Destroyed Australia's chances in the series, most number of balls batted by an Indian in a series against Australia. Outstanding 193, memorable knock pic.twitter.com/jEcTWhs7kQ

— Virender Sehwag (@virendersehwag) January 4, 2019
A great lesson to all batsmen in the series and tests in general. @cheteshwar1 showing how trusting your strengths and being unashamedly dogged in technique and concentration brings great rewards. — Kumar Sangakkara (@KumarSanga2) January 4, 2019
Monumental, marvellous innings by Pujara. Deserved a double ton but has put India in command. His exploits in this series will be ranked as one of the best overseas efforts by a batsman especially since they helped his team clinch its maiden Test series win in Australia #INDvsAUS

— Navneet Mundhra (@navneet_mundhra) January 4, 2019
Job done. Cheteshwar Pujara 193 (373). #AUSvIND pic.twitter.com/U474foBQLc — Adam Collins (@collinsadam) January 4, 2019
193 for the WALL @cheteshwar1 what and innings, what a series, what a player. Test Match batting at its best 👏🏻🏏👌🏻

— Michael Clarke (@MClarke23) January 4, 2019
Rishabh Pant though was in no mood to give it away to the hosts as he played superbly to register his second Test ton.
hundreds in england & australia in his first few months of test cricket, a bunch of catches and exceptional babysitting skills - rishabh pant has to be among the most productive 21-year olds around #AUSvIND — Gaurav Kalra (@gauravkalra75) January 4, 2019
Top innings by @RishabPant777. His talent is undoubted but have enjoyed his composure and the manner in which he has built his innings. Still got there in 137 balls! In a couple of years, he will be India's no 6.

— Harsha Bhogle (@bhogleharsha) January 4, 2019
Rishabh Pant is now the only 2nd visiting wicket-keeper to register Test 100s both in England and Australia. Jeffery Dujon was the first - 100s at Manchester & Perth in 1984 #AusvInd#AusvsInd — Mohandas Menon (@mohanstatsman) January 4, 2019
We've got Pant

Rishab Pant

I just don't think you'll understand

He'll hit you for a six

He'll babysit your kids

We've got Rishab Pant

.

.

.#BharatArmySongBook @RishabPant777 #BharatArmy #TeamIndia #12thMan #WeveGotPant #COTI 🇮🇳👶🍼 pic.twitter.com/ZiXaPWqi6M

— The Bharat Army (@thebharatarmy) January 4, 2019
Rishabh Pant. 15 Test innings. Three 20s. Four 30s. Two 90s. Two 100s. He's grown with every innings. Will finish the series as the third best batsman. And oh, he's 21 — Sidvee (@sidvee) January 4, 2019
Top top knock from @RishabPant777 , controlled aggression. Would have been tempted to throw his bat around in the current circumstances #AUSvIND

— Deep Dasgupta (@DeepDasgupta7) January 4, 2019
Fast and furious, @RishabPant777 doing what he knows best. What an achievement! @cheteshwar1 always the backbone of our attack. Strong & steady! #power #INDvsAUS — Suresh Raina🇮🇳 (@ImRaina) January 4, 2019
Ravindra Jadeja helped himself with a half-century as well and brought out the sword celebrations.
Jaddu. #AUSvIND pic.twitter.com/8If3DdyPJ9

— Adam Collins (@collinsadam) January 4, 2019
Jadeja hit Pat Cummins for four boundaries in an over to bring up the 600 for India. He was bowled for 81 which prompted the Indian skipper to declare the innings.
This is sublime, ridiculous and everything in between. Never expected to see India boss Australia in Australia like this. Ever. — All men (@knittins) January 4, 2019
— Chris Lynn (@lynny50) January 4, 2019
India declares at 622-7, an incredible team batting effort. India's bowlers need to be patient and accurate for long periods, they have to attack the stumps, rely on the score board pressure, then India has a great chance to take those 20 wickets and win this test match. #AUSvIND — Arjun (@LifeIsAnElation) January 4, 2019
India is the only side to declare in three consecutive innings against Australia.

They have done it twice - first in 2008 (in Mohali & Delhi) in India and now in this series #AusvInd#AusvsInd

— Mohandas Menon (@mohanstatsman) January 4, 2019
Marcus Harris and Usman Khawaja - who was dropped by Pant behind the wickets of Shami, saw the day off for Australia.
Rishabh Pant drops a sitter. It should have been taken. Getting Khawaja early and at this time of the day would have been a game changer #AUSvsIND — Chirag Gupta (@ChiragG41) January 4, 2019
Albeit with a slice of luck but Harris & Khawaja have done well to get to stumps after such a taxing time in the field #AUSvIND

— Brett Graham (@worldofBG) January 4, 2019