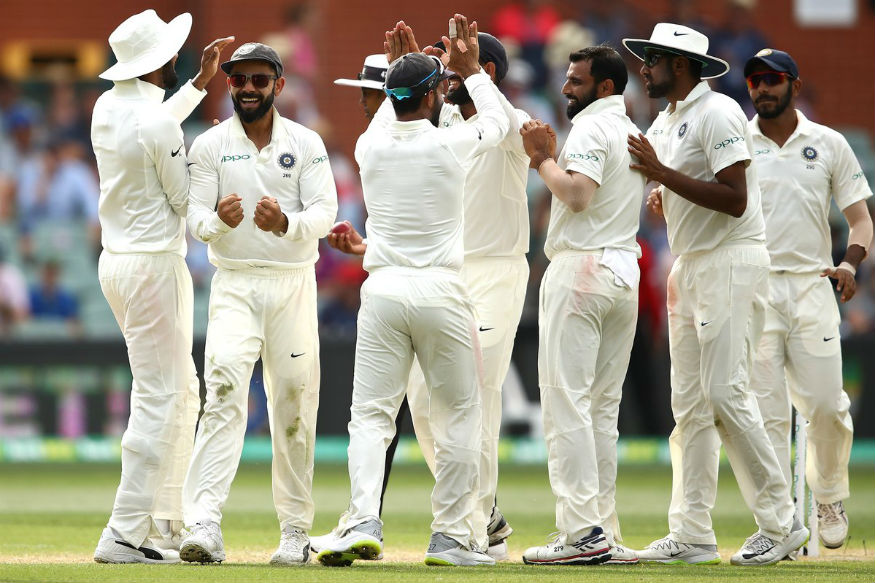 India hold all the aces going into the final day of the first Test in Adelaide. The visitors were bowled out for 307 on Day 4 but ensured they did not let go of the momentum.
They took four wickets thereafter, leaving Australia 104 for 4 at stumps and needing 219 runs to win the game.
Loose strokes by Harris and Khwaja and Finch losing presence of mind notwithstanding, Australia have shown some grit and gumption too. But India firmly on top. Super spell by Shami, Ishant and Bumrah choking the runs and no respite from Ashwin

— Cricketwallah (@cricketwallah) December 9, 2018
Firmly India's day today and all looks set for a memorable India win. Rahane batted beautifully today and the bowlers were excellent to not allow Australia to score freely and pick up 4 wickets #AusvInd — Virender Sehwag (@virendersehwag) December 9, 2018
That one hour of madness apart, India has been fantastic today. Just need to sustain this in the first session tomorrow.

— Saurabh Malhotra (@MalhotraSaurabh) December 9, 2018
The day began with Cheteshwar Pujara scoring a fine half-century, backing up his century in the first innings in the company of Ajinkya Rahane who in turn was looking to play himself in.
This is Pujara's first 50 in the 2nd inns after scoring 100 in the 1st inns. In his previous 7 2nd inns after a first inns 100 he had 86 runs at 14.33 with a best of 41*. — Andrew Samson (@AWSStats) December 8, 2018
After 450 balls this game, an Australian bowler finally takes the wicket of Cheteshwar Pujara - out for 71 to Nathan Lyon #AUSvIND — Andrew Wu (@wutube) December 9, 2018
That match-up between Lyon & Pujara was one of the best individual clashes of the year. Two of the world's very best going head to head with the game in the balance. Lyon may have eventually got his man but Pujara—having scored 194 runs in the Test—has defined the match. #AUSvIND

— Freddie Wilde (@fwildecricket) December 9, 2018
8⃣ time N Lyon has dismissed C Pujara in his career, the most by any bowler #INDvAUS #AUSvsIND — Hrishikesh Tambe (@20copperboy) December 9, 2018
Rohit Sharma failed to make an impact and was out for 1 and the swords were out again.
What is wrong with supreme talent Sharma!!!!!!!!

— Rohit Pradhan (@Retributions) December 9, 2018
Rohit's dismissal just goes to show how difficult it is to tackle Lyon here with that line of his and how good Che was in negating Lyon.#AUSvIND — Vishwas k (@vishwask1) December 9, 2018
Rahane had no such issues as he scored a very confident 70 and looked good for more before falling to Lyon, who trigged a lower order collapse - finishing with six wickets in the innings.
Pujara once again stood tall & pitched in a resolute show. What a great Test he has had. Also, good to see Rahane among runs after a long time! As for Rohit, he & Test cricket... Well, well, well #AUSvIND

— Navneet Mundhra (@navneet_mundhra) December 9, 2018
Liked the approach of Ajinkya. On the front foot even last evening. Wanting to play the ball. #AUSvIND — RK (@RK_sports) December 9, 2018
Pant was looking to take Lyon to the cleaners and did hit him for three fours and a six in one over but found the fielder in the very next over, departing for a 16-ball 28.
Clever bowling from Lyon. Pant was taking on everything straight, so he threw one up slower (83kph) and wider outside off - the ball which dismissed Pant was the widest Lyon bowled to him. #AUSvIND pic.twitter.com/TRfCDFTzOK

— The Cricket Prof. (@CricProf) December 9, 2018
Once Pant departed India lost their last four wickets for just four runs and were bowled out for 307, setting Australia a target of 323.
India lose 4 wickets for four runs. Last time they won a Test in Australia (read Perth 2008), they lost 4 wickets for two runs. The Winning way? @bhogleharsha #AusvInd — Mazher Arshad (@MazherArshad) December 9, 2018
The tourists almost had the perfect start with Aaron Finch given out lbw but unfortunately, Ishant had overstepped.
Matter of inches — Finch could've been out on a pair! But Ishant Sharma overstepped.

Elementary my dear Watson!#AUDvIND

— Sarang Bhalerao (@bhaleraosarang) December 9, 2018
if bumrah isn't taking wickets off no balls, his new ball partner is #AUSvIND — Gaurav Kalra (@gauravkalra75) December 9, 2018
Good. Wicket off a no-ball out of the way. Now the slips can drop one dolly and India are in the clear

— Sidvee (@sidvee) December 9, 2018
Finch eventually fell to R Ashwin just at the stroke of tea but there were doubts over his dismissal.
Yet another eye raising moment today! #AUSvIND https://t.co/n94NUL2jZm — Mel 'MJ' Jones (@meljones_33) December 9, 2018
Usman Khawaja took his time to get in but ran out of patience against Ashwin.
It was Travis Head, the highest scorer for Australia in the first innings, who combined with the experienced Shaun Marsh to see the home side through to stumps.
Big innings. If Shaun Marsh doesn't go well here he might not get on the 2023 Ashes tour. #AUSvIND

— Adam Collins (@collinsadam) December 9, 2018