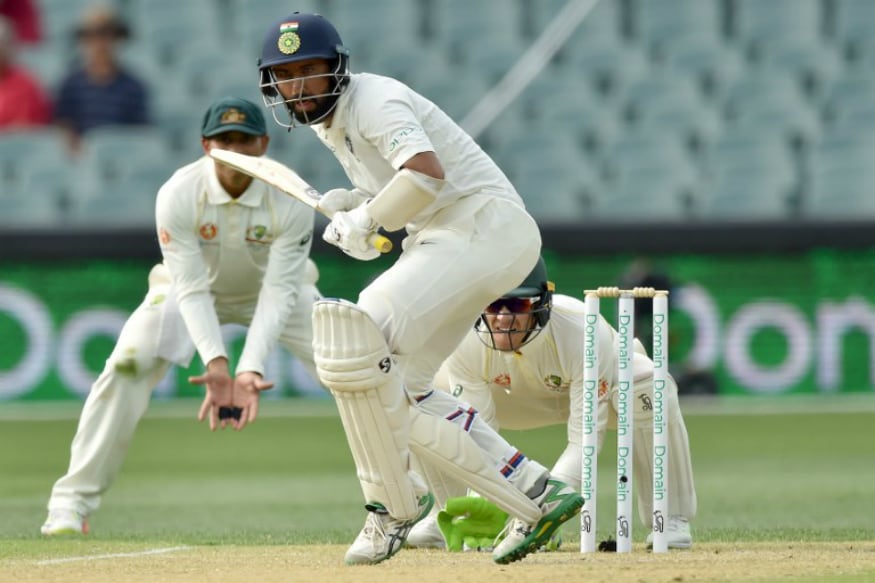 In India's first innings, the entire top-order, minus one man, abandoned the style of play that brought them to this level and tried to bat like Virat Kohli clones.
Naturally it backfired. The one man to resist this particular temptation — and any other that the bowlers tried to dish out — was Cheteshwar Pujara, whose 123 not merely saved India's blushes, but laid the foundation for what is shaping up to be a famous victory, even with two days left to play.
When India played their second innings, a slender lead in hand, Kohli, widely rated as the best batsmen across formats in world cricket at the moment, paid the ultimate tribute to Pujara. Kohli, whose game is built on domination, aggression and blowing away the opposition, did his best to bat like Pujara.
Not in the sense that Kohli tried to imitate the shots that Pujara played, but in that he temporarily shelved his natural game and focused purely on two things: surviving to play the next ball and driving the bowlers to despair in frustration.
Never when Kohli has made 30 or more in a Test innings has he batted slower, his 34 coming off 104 balls, a strike rate of 32.69. But, try as he might, Kohli could not beat Pujara at his own game. Not only did Pujara score slower, at 31.49, he also stayed not out through to stumps, despite the best efforts of Australia's bowlers to prise him out and umpire Nigel Llong's over-enthusiastic trigger finger.
In the 24th over of the innings, bowled by Nathan Lyon, who was making the most of a two-paced pitch that was offering appreciable turn, Pujara played and missed at a ball that was coming into him and the loud shout for the keeper's catch was upheld. Convinced he hadn't touched the ball, Pujara reviewed the decision and Chris Gaffeney, the third umpire, confirmed that there was "nothing on that," leaving Llong to reverse his decision.
In the 40th over, the Lyon-Llong duo struck once more, this time as Pujara skipped down the pitch to pad away a Lyon ball that was outside the off and turning in. Llong indicated that Pujara had not played a stroke and Gaffeney was once again called upon to squint at his monitor. This time the decision was even easier as ball tracking showed the ball was going over the stumps, something that was always likely given how far down the pitch Pujara was and the heavy overspin Lyon imparts on the ball.
Those two scares — and Pujara was not afraid even at those moments because he knew for sure he wasn't out — were the closest Pujara came to being dismissed. Whether it was banged in short, pushed through full, tossed up or rushing onto him, Pujara had a method to overcome what came his way.
"He has showed a lot of patience, that is the key element in Test cricket," Jasprit Bumrah said of Pujara after the day's play. "He knows his game in and out, he knows his strengths. He is playing around that strength, he knows to leave the ball well. He is playing with the bowlers' patience as well. He has done that over the years, he has started to play with a lot of maturity, that's his strength. A great knock, and hopefully he continues tomorrow."
"The way he played in the first innings was the blueprint for this wicket," said Travis Head. "He had a really good leaving game, good forward defence. As the ball got softer, he got more runs. Knowing how hard the wicket can be with the ball moving and the new ball, he played really well."
Pujara's guts, grit and patience are proven commodities, but what is seldom talked about in his technique is his ability to read a situation and tweak the way he plays to soak up pressure. On the day, the chosen tactic to negate Lyon was charging down the pitch, getting outside the line and padding the ball away. The off spinner's frustration at not being able to get past this was evident as the appeals got more desperate and fielders close to the bat were left clutching at straws.
On a day that began wet and grey, with the serious threat of India having to play out a difficult passage of play as Josh Hazlewood, Mitchell Starc and Pat Cummins did their best to make use of the moisture on the pitch and the extra swing on offer, India's batsmen understood that this was not the time to try and be heroes.
Instead, they worked towards getting a lead what would allow their bowlers to go out and do what they do best in the final innings of this Test. In many circumstances, 166 is hardly the kind of lead that would inspire a good night's sleep. But India will rest well on Saturday night, in the knowledge that there is more than enough for R Ashwin to work with when he is pressed into service, and before that, their batting is in safe hands as Pujara rejoins battle on 40. From here on, barring a miraculous performance from one of Australia's players, this Test is India's: to win or lose.