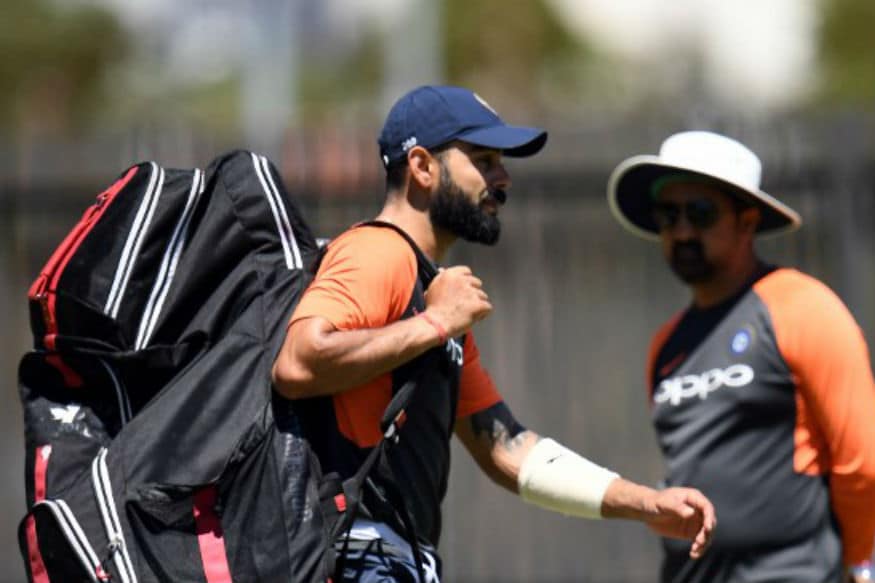 Had the curator not helpfully drawn white lines for the two return creases, it would have been impossible to spot the pitch at the Perth Stadium. The lush green outfield melded seamlessly with the 22-yard strip on which the game would be played and once the first ball is bowled you can be sure it will be anything but seamless.

But, while the talk around the pitch was all about a four-day finish, Australia's captain, Tim Paine, warned that this green mamba may end up looking a lot more spiteful than it plays. That said, with a 1-0 lead under the belt, Virat Kohli was only too happy to see live grass on a hard pitch.

What was not a cause for any joy, however, was the medical ward within the Indian team. Prithvi Shaw, the first to be given slippers and told to put his feet up, had not recovered sufficiently from his ankle injury to be in contention for a spot in the eleven for the second Test. R Ashwin, who toiled manfully in Adelaide, was ruled out with a left a left-sided abdominal strain. Rohit Sharma, who jarred his shoulder fielding in the first Test, was also out, having not even been able to train in the two days leading up to the second Test.

This meant that India named a thirteen that left them with only one real choice to make. Kuldeep Yadav and Parthiv Patel did mot make the cut, which meant that Hanuma Vihari was a strong bet to be a like for unlike replacement for Rohit Sharma. In Ashwin's place comes the man who ticks two green-pitch boxes, Bhuvneshwar Kumar, whose seam movement and swing — conventional swing was predicted for the length of the game — and lower-order batting make him an ideal replacement. But, just in case plenty of grass is taken off the surface come match morning, India left themselves with the option of playing Ravindra Jadeja as a specialist spinner.




Thoughts on the Perth Pitch? #AUSvIND pic.twitter.com/FQuUwRG3Yt


— BCCI (@BCCI) December 13, 2018



Kohli was relaxed and confident when he fronted the media, speaking in measured tones about the opportunity ahead of his team. "We certainly get more excited than nervous looking at lively pitches. We understand that we have a bowling attack that can bowl out the opposition now. When you have four, five bowlers at the peak of their ability, it is always a great feeling to have that in the side," said Kohli.

"And for us as batsmen also it gives us a lot of motivation and boosts us up that we can put in those significant match-winning performances, because we have so much belief in our bowling unit right now and we know that if we bat well, we will definitely get the result we want."

With no Test cricket having been played at the Perth Stadium, which is one of most imposing structures in the circuit, there was no history to go on other than a Sheffield Shield match that had been played at the venue. Brett Sipthorpe, the curator, hoped that the conditions during the Test would match what was served up in that game. "We're pretty much planning for exactly what we had for the Shield game. The feedback we got back from the players was terrific, I don't think I've spent so much time talking to players during a game but we just wanted to garner as much feedback as we could from the players," said Sipthorpe.

"We didn't get any negatives from them, they were all really positive about it. We're pretty much aiming for the exact same moisture content, and we're hoping for the exact same pace and bounce."

Trent Copeland, the New South Wales medium-fast bowler, who analyses the game for various media outlets recently wrote that the Perth Stadium pitch was almost identical to the old one at the WACA. "It's basically what we've been asked to do - provide pace, bounce, a bit of live grass and let's play cricket," said Sipthorpe, who had earlier predicted a four-day finish and wasn't worried about trying to get the game to last the distance. "We haven't been asked about duration at all.

"We've just been told make it fast, make it bouncy if you can and run with it. I don't know what's happened in the past, I've heard lots of rumours about commercial pressures and that sort of stuff but I've had no correspondence about that. We're just trying to produce the bounciest pitch we can."

Since he has to lead India out, with a view of regaining the Border-Gavaskar Trophy, it's only fair to leave the last word with Kohli.

"I have played all around the world for 10 years now and I have never played on a wicket like the one at Johannesburg, to be honest. I have played at Perth as well in 2012 but was not even close to what Johannesburg was," said Kohli, taking heart from the Wanderers win.

"Look we are not alien to pitches like these and we have played on them in the past and this is nothing new for us. We know what to expect on a pitch like this and as I said on a lively wicket where there is grass on the pitch and the surface being hard, you are as much as in the game as the opposition. And there are no favourites."

India 13-man squad: Virat Kohli (C), M Vijay, KL Rahul, Cheteshwar Pujara, Ajinkya Rahane (VC), Hanuma Vihari, Rishabh Pant (WK), Ravindra Jadeja, Ishant Sharma, Mohammed Shami, Jasprit Bumrah, Bhuvneshwar Kumar, Umesh Yadav.

Australia: Marcus Harris, Aaron Finch, Usman Khawaja, Shaun Marsh, Travis Head, Peter Handscomb, Tim Paine (capt), Josh Hazlewood, Pat Cummins, Nathan Lyon, Mitchell Starc

First Published: December 14, 2018, 1:46 AM IST