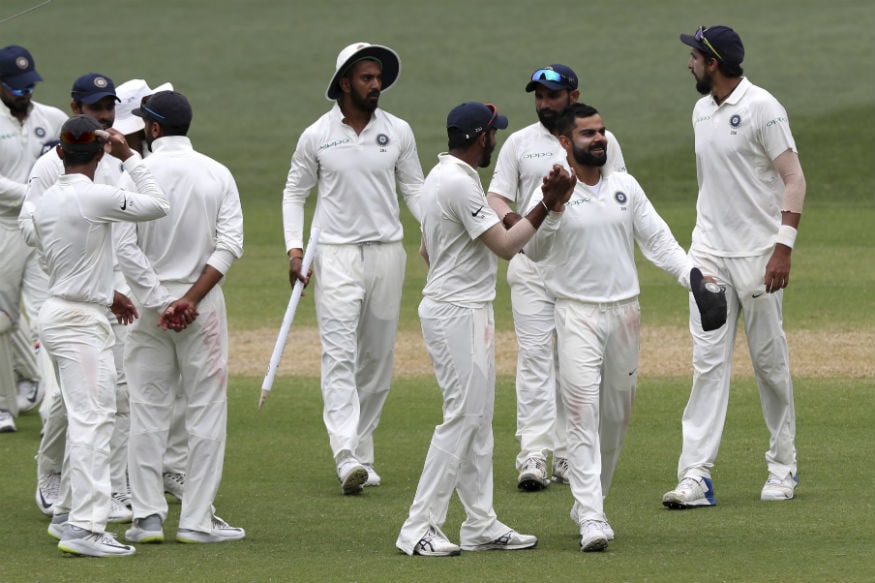 Virat Kohli was still in his trouser whites when the team walked off the Adelaide Oval dulled to make the leisurely stroll over the river Torrens to their hotel. It was that kind of moment, that kind of end to a Test match when you wanted to cling to the feeling and slow time down temporarily, savouring the experience of a famous win.
India's win seemed utterly inevitable overnight and the excitement was dulled a touch by how un-Australian this Australian team was. Without David Warner and Steve Smith, without the gnarling and snivelling on the field, without the mental disintegration and mind games off it, this just seemed a touch too easy.
The achievement was going to be no less staggering, given that no Indian team has ever won their first Test of a series in Australia, it was going to make Kohli the first Asian captain to record wins in South Africa, England and Australia and it was going to make India the first team to win a Test in each of these countries in a calendar year.
So, historic, but not necessarily that big a deal, right? Dead wrong. The Australia that turned up on the final day may not have had the skill of its predecessors but it lacked nothing in heart. It was an exceptionally Australian performance, one in which every wicket had to be earned, every partnership not merely broken but prised out. With pressure the wedge was driven in, with precision it was hammered deep, and then with skill it was blasted apart.
R Ashwin put in a virtuoso performance, bowling 52.5 overs that gave his captain control and calm, conceding only 92 runs in the process and picking up three crucial wickets. On a final day pitch that eased up surprisingly, improving with every passing hour, making crease occupation easier and easier, the off spinner deployed variations with subtlety and skill. Not variations in the sense that the carom balls and leg breaks came every over, but the most clever use of angles, flight and ball speed to work batsmen over, set them up and finally harvest their wickets.
Mohammed Shami gave up the desire to be a thoroughbred barreling down the final straight, swapping instead into workhorse mode, asking more questions of the batsmen than Amitabh Bachchan on Kaun Banega Crorepati. He used the shorter ball — not the spongy bouncer that was easily left alone — but one that ensured that batsmen could not plonk the foot down the pitch without thinking twice, to great effect. He built passages of play, as an author might chapters in a novel, each over a thing of beauty on its own and collectively so much more.
Ishant Sharma, who was mocked for his historically poor statistics, including the fact that he had the worst numbers for any quick bowler who had sent down 2000 balls, becoming a butt of jokes in Australian newspapers, bowled as though he was playing his 88th Test. To paraphrase Shane Warne, this was not the Ishant who had played the same Test 88 times. The embarrassment and cricketing criminality of overstepping when sending down a potentially wicket-taking ball was nakedly painful, showing his team-mates and the world just how badly he felt at having let himself down. Here was a bowler who cared, and one who wanted to play his part in the team's plans, and contribute to a victory, not someone who was bowling for a five-wicket haul.
Jasprit Bumrah, who begins his run up like he is sauntering down Adelaide's Henley Beach on a Sunday morning and ends it with all the explosiveness of Jan Zelezny sending his javelin spearing through the air, did not for a moment look like he was on his first Test tour of Australia. He knew what length to bowl, what lines to attack and which batsman to harass. He completed a bowling trio that Australia's batsmen simply could not resist for the pressure was relentless and the pace unrelenting.
If the bowlers came through once more, and they have been bankers in this bumper Indian Test season, it is only fair to give some credit to their ally, the wicketkeeper. In only his sixth Test, Rishabh Pant equalled the record for most catches in a Test, drawing level with Jack Russell and AB de Villiers. He let two catches go, and was not the cleanest behind the stumps, but this was not a day to look at what might have been.
In recent times, India have come away from too many away Tests believing that that they played well, they were competitive, they were better than their predecessors but were on the wrong end of the result. On an Adelaide Monday that will be remembered for years from now, the record was straight. India had learnt how to win abroad when it mattered.