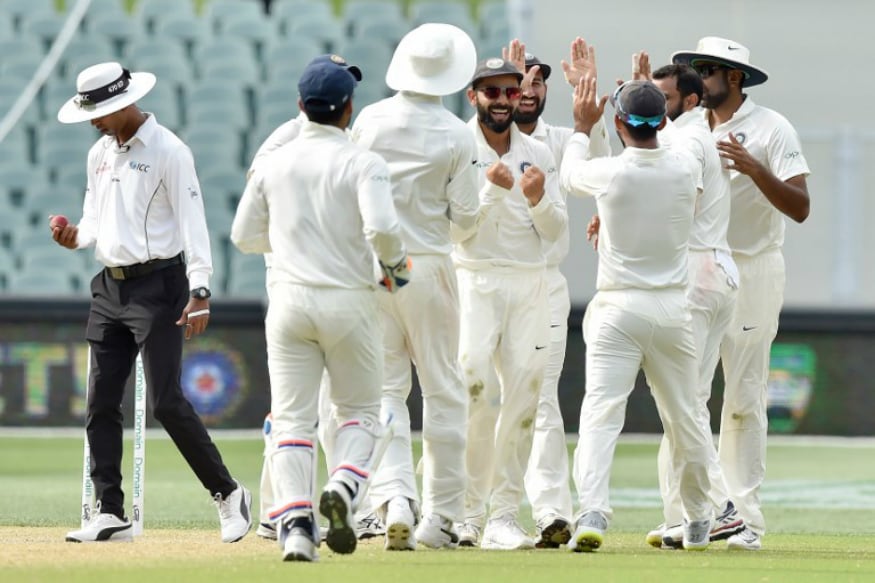 And so the first India-Australia Test will have a fifth day's play after all, or some of it at any rate. A little over 100,000 people have made the trip to the Adelaide Oval to watch this game, but you can hardly blame them for staying away on a Monday morning with Australia facing almost certain defeat and the length of play far from guaranteed.
But, leaving those facts aside, it's worth congratulating those who turned up in true numbers for they are true lovers of Test cricket, a form of the game that is under threat from different quarters. England and Australia still have a culture of watching matches at the ground, but this also has to do with the outing being a social occasion, a chance to chill with friends, have a few drinks and laughs and a good feed in reasonably comfortable settings.
Mind you, it's not inexpensive, tickets aside, a beer will cost you AU$ 10 (Rs 500) and a meal and a few nibbles thrice as much. To further underscore the difficulty this weekend the Adelaide metro trains were not in service thanks to a strike.
Once you overcame all of that and found yourself a good spot to watch the action from, you might have cursed your luck at the match situation and nature of the pitch combining to turn this into a contest of inaction. In the first innings, India scored at 2.84 an over, a much lower rate than you traditionally expect at the Adelaide Oval. Australia found the going even more difficult, getting to 235 at 2.37.
With a lead of 15 runs, the match had been turned virtually into a second-innings' game, as it is called in cricket circles. India began their second essay with two-thirds of the third day remaining, which meant that there was more than enough time left in the game. There was little pressure on them to score quickly, and with a morning shower and overcast conditions giving the bowlers a lift, the need of the hour was to buckle down, stay at the crease and allow the runs to come.
While KL Rahul did play a few forcing shots, Cheteshwar Pujara, by far the most successful batsman in this Test, worked on the patience of the bowlers. Here was a rare situation when stringing together dot balls and collecting maiden overs did not really put any pressure on the batsmen. Virat Kohli channeled his inner Pujara, scoring more slowly than he ever has in a Test match, and India's run rate was a shade under 2.5, but this was something that nobody in the team needed to consider even for a fleeting moment. The only relevant number was that the lead had grown to 166 and seven second-innings wickets were still intact, one of them being Pujara's.
The fourth day opened up with the potential for the home team to find a way back into the game. With the pitch already affording the spinners significant turn, variable bounce and rough to work with, no batsmen ever felt completely set, and those that were new to the crease found it extremely difficult to find any sort of fluency.
Pujara was the only one who exhibited control on a consistent basis but while Ajinkya Rahane was less than assured, he refused to give his wicket away.
Rahane has been desperate for a big score, having not scored a Test century in all of 2018, not merely to secure his place in the playing eleven but to reassure himself and the team that he was on the way up rather than down.
Pujara made 71 invaluable runs, and Rahane, with a century there for the picking, got himself out on 70, reverse sweeping to the point fielder.
That India lost their last four wickets for only four runs would have been cause of despair on most days, but it was largely irrelevant on Sunday for their score of 307 left Australia with a target of 323.
That's the kind of score that would likely be chased down inside 45 overs in a 50-over game, but players from both teams could read the writing on the wall.
Australia's batsmen, who were less indisciplined than India's in the first innings, but also far less effective, now faced the prospect of an attack that knew that the game was not really about runs, but about setting up batsmen, searching for wickets and chipping away like a prisoner might with a makeshift knife in an attempt to force away through the brick wall holding him in captivity.
There was little danger of the Australian batsmen taking the attack to the Indian bowlers, which meant that the task at hand was reduced to repeating their skills from memory. Mohammed Shami was the chief beneficiary, picking up two wickets from nine overs that allowed only 15 runs to be scored and when Australia closed the day on 104 for 4, they were well adrift of the target set for them.
With the best batsmen in the line-up gone, and the forecast for Monday bright and sunny, India can allow themselves the rare luxury of thinking about a 1-0 lead in a series in Australia even before the final wicket of the first Test has been taken.