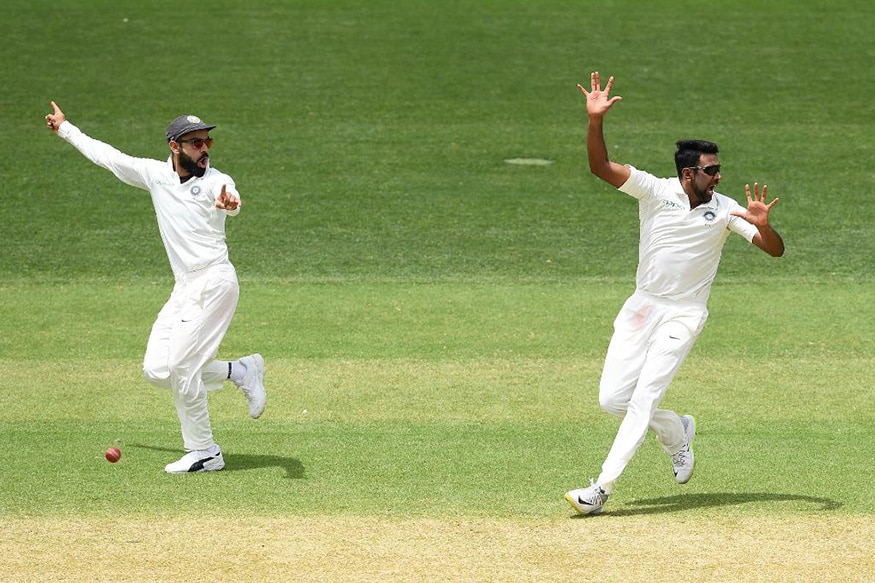 Almost exactly four years ago, to the day, R Ashwin was carrying drinks at the Adelaide Oval, left out for the first Test of that series, with Karn Sharma being favoured as the lone specialist spinner. On debut, the leg-spinner sent down 49 overs, conceding 238 runs at 4.85 runs an over, picking up four wickets. Karn never played another Test for India again.
During the same Test match, Ashwin spent what free time he had bowling in the nets abutting the ground, working with the coaching staff, and while he was doing so Nathan Lyon picked up 12 wickets, winning the game for Australia.
The logic supplied then was that the wrist spinner was an attacking option in Australian conditions, although Karn was more attacked than attacking. On Friday, Ashwin enjoyed one of his best bowling stints in an overseas Test match, forcing Australia to play the most defensive cricket they have at home in recent memory.
Ashwin, who at one point bowled 22 overs unchanged, ended the day with figures of 33-9-50-3, and could easily have had more wickets under the belt on another day.
So what turned things around for Ashwin? To start with, he bowled a different speed from the last tour, and also made the corresponding adjustment to his length. According to CricViz, in 2014, 75% of Ashwin's deliveries were slower than 87 km/h and 33% of his deliveries were full. On the day, only 54% of his deliveries were slower than 87 km/h and 22% full. To translate this into simple English, Ashwin was now bowling faster and had shortened his length.
The other thing that Ashwin did masterfully, on the day, was use the drift offered by the wind bowling across the Adelaide Oval to get the ball away and into — depending on the end he bowled from — batsmen, creating an extra layer of doubt and a natural variation even before the ball had pitched and turned.
The first batsman to be picked off was Marcus Harris, who looked assured and plucky in his maiden innings of 26. Harris picked the line of Ashwin's delivery early enough, but it was drift that helped the beat the middle of the bat, the thick inside edge looping off the pad to the fielder under the helmet.
The second to go was Usman Khawaja, who was forced to play at a ball that dipped late and was left hanging when it gripped the surface, turned enough to beat the bat and bounced adequately to kiss the thumb of his left glove, the bottom hand, on the way to the wicketkeeper.
The third dismissal was a big one. Shaun Marsh had his bat dragged well outside the off stump, and his attempt to play a forcing shot only resulted in the ball being dragged back onto his stumps.
At the end of the day, though, Ashwin would not have been able to weave his magic without the support of the fast bowlers, whose discipline and ability to stick to plans to specific batsmen was impeccable.
"We don't isolate it as a fast bowling or spin bowling pack, we identify it as a bowling unit together because one cannot exist without the other," said Ashwin. "But definitely we have been working on it and we have done really well over the last year or so as a bowling unit. Today was another perfect attritional day for us. I thought we really bottled them up and put on the pressure from both ends."
When reminded that this was the fifth time he had dismissed Marsh, Ashwin explained that it was no coincidence.
"I've dismissed quite a few other left-handers many more times. Look he is a fantastic player. There is a certain pattern that we saw through his videos before we got into the game and it was a sort of initial set up that we wanted to do," said Ashwin. "Today the plan really worked, not in the fashion that he dragged it on. But Shaun is one of the players who has played spin well in that batting order. So we thought it is a different plan for him going into this match."
When it was put to him that he had been hit out of the attack by Australia's batsmen on previous tours, Ashwin was left a bit perplexed.
"I can't remember when Australia hit me out of the attack. Generally, I cannot remember it happening, even on previous tours I cannot remember someone taking me down that much in Australia too," said Ashwin. "First time when I came here in 2011, Michael Clarke kept driving me through covers a lot. I was a bit inexperienced and kept tossing the ball up. Obviously, that's where you learn from burning your fingers once. But I didn't expect them to come after me very hard, if they did I will be very happy."
This batting line-up, in its right mind, will not come hard at a bowler of Ashwin's quality, especially given how he has constantly improved, evolved, learned from his mistakes and become a better bowler with every tour.