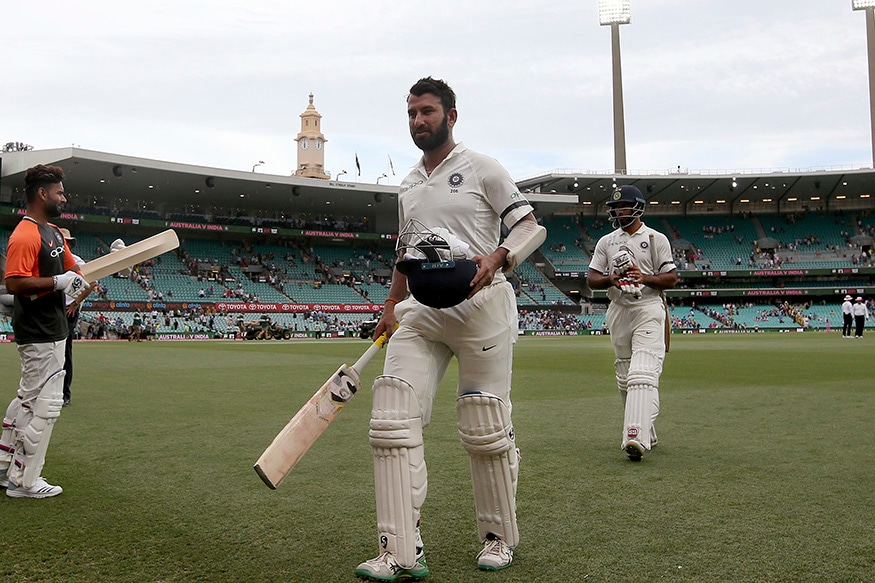 It is officially time to start printing tee-shirts. Move over Che Guevara as the cult idol to rebellious youth around the world, enter Che Pujara. At a time when batsmen are looking to hit long, where every young player is trying to invent new shots to counter restrictive bowling in white ball cricket, if you want to be a genuine rebel within the sport, be like Pujara.
With his third century in the series, Pujara showed once again, for those who needed to be reminded, just how unfair and self-defeating it was to drop him from the Test eleven in England, in India's last tour. Irrespective of the conditions, irrespective of the balance of the team, irrespective of what the opposition is doing, Pujara must be the first name on the team sheet in Tests. If you want to succeed at Test cricket, home or away, be like Pujara.
In the course of his innings, Pujara ticked off the milestone of having faced 1000 balls in this series, took fresh guard and ploughed along. Australia's most durable batsman, Usman Khawaja, has faced fewer than half the balls Pujara has. If you want to put your team ahead in the first innings, setting the opposition on the back foot and chasing the game from early on, be like Pujara.
KL Rahul, out of form and in a mindspace that no batsman should have to suffer for too long, played with the inside edge, outside edge, inside edge and finally the outside edge again before nicking off. Soon after, he was back in the nets, having a session of throwdowns. At the moment, Rahul cannot buy a run in Test cricket, and he really should be heading home to play as much as he can for Karnataka, rather than being in and out of the white-ball team that will play in Australia.
While it's great to play all forms of the game, if you can do so successfully, it's also perfectly acceptable to play just one form of the game and be a boss at it. If you want to be the master of one trade, be like Pujara.
Virat Kohli began 2019 with a cover-drive that could have formed the basis of a grand sculpture, a rich watercolour or a rapturous ballad. It was a typically front-foot shot, telling the bowler who was in charge; punchy, racy and maximum result with a flourish. Pujara's most productive shot on the first day of the fourth Test was the flick. Not that VVS Laxman shot where the ball was picked up from outside the off and whipped through midwicket, but the gentlest of strokes, nudging, nurdling, dabbing and squirting the ball into the vast empty real estate on the leg side to pick up safe runs. If you want to be a banker to your team, someone who can be relied on to take the cause forward, be like Pujara.
Pujara's method is straightforward but no less brilliant for being so. In this series he has defended or played no shot to 67% of balls from the quicks (series average 55%), but crucially this patience allows him to remain in control 87% of the time (series average 81%). #AUSvIND pic.twitter.com/oCGSEMerH4

— Freddie Wilde (@fwildecricket) January 3, 2019
Mitchell Starc, Josh Hazlewood and Pat Cummins are hard workers. They run in from far, build up a head of steam and let the ball go with explosive, energy draining actions. Every fast twitch muscle is strained to the maximum, stamina and endurance are tests with each passing over and mental toughness is called for when the batsmen are on top and the wickets are not falling. Pujara does not go after bowlers, instead, he takes all this energy that is channelled towards him, and with utmost efficiency, with minimalistic movement and compact adjustments, drops the ball dead at his feet. At some point the bowler most change his approach, and when he does, guess who is right there, waiting to take advantage? If you want to break the backs of the opposition, and win the hearts of your team-mates, be like Pujara.
Mayank Agarwal used his quick feet to great effect, pouncing on Nathan Lyon, getting to the pitch of the ball and letting his bat describe a free-flowing, beautiful arc, sending the ball sailing over the ropes at long-on. The SCG is a massive ground, and getting the ball to go so far while looking so effortless is far from easy. Which is Agarwal should not have tried to repeat the shot a second time in the same over, for the slightest mis-hit, as was the case, only found the fielder in the deep.
Pujara also used his feet to Lyon, but each time he went down the pitch it was to kick the ball away. It drove Lyon to distraction, made him alter his length and made him appeal desperately when the ball was even close to going on to hitting the stumps. If you want to find your own method to succeed, if you want to be uniquely useful to your team, be like Pujara.
At the end of play on Thursday, Australia's bowlers were sick of the sight of Pujara. Unbeaten on 130 from 250 balls, he was not content merely ruining their day, walking out to the crease at 10.38am and only walking off when Prevention of Cruelty to Bowlers act was enforced, via stumps being called, at 6pm. This left Australia with a night of fitful sleep, with India having more than 300 on the board and Pujara well rested and ready to go once more on the second day. If you want to earn the respect of your opponents, the gratitude of fans and a place in the history books, don't think too much, damn it, just be like Pujara.