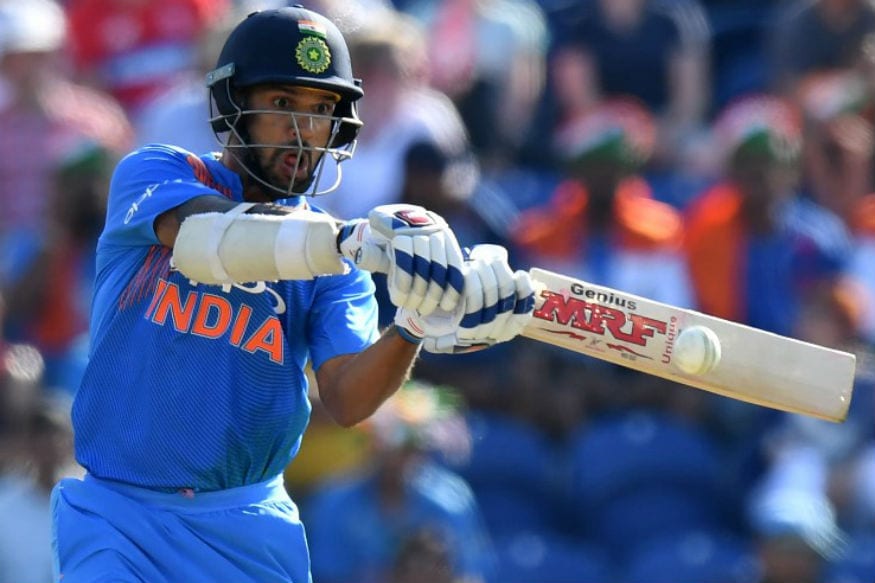 Shikhar Dhawan top-scored for India in their first ever loss against Bangladesh in the series opener in Delhi on Sunday.
But more than the runs he scored, what was noticeable about his 42-ball 41 was the strike rate and the number of deliveries he consumed without scoring a run.
Dhawan played a total of 7 dot balls (out of 15) in the mandatory powerplay. He played a total of 14 dot balls in his innings which ended with a strike rate of just 97.61!
Dhawan's Strike-rate Problem
Not being able to score runs at a quick rate, especially in the powerplay, has been Dhawan's problem in T20I cricket. From 2014 (when Dhawan cemented his place in the team) he has a strike rate of just 124.77 in the first 6 overs of the innings.
It is the third-worst strike rate amongst all openers (from major nations; min. 400 runs) only after Ahmed Shehzad (109.15) and Tamim Iqbal (114.43).
The major reason for Dhawan's poor strike rate in this period is the high percentage of dot balls he plays during this phase of play. Shockingly, he has the highest dot ball percentage for an opener (48.76%) in the powerplay in this period. He is followed by Shehzad (48.58%), Tamim (48.52%) and Soumya Sarkar (48.3%).
Not only does Dhawan not make use of the fielding restrictions thereby not giving India a push at the start but by doing so also puts a lot of pressure on the other opener and the batsmen to follow to up the ante.
It does not come as a surprise then that since 2016 India has a run rate of just 7.46 in the powerplay – the fifth-best amongst all major teams in the world. It is one of their major concerns in T20I cricket.
Overall, Dhawan's strike rate of 128.81 since 2014 places him outside the best 20 openers on this count (amongst the 38 openers who have scored a minimum of 400 runs in this time-frame).
The problem for Dhawan is two-fold. Not only is he not scoring quickly but he is also not scoring enough big runs to play the role of the accumulator and anchor the innings.
Not enough big runs as opener
Dhawan has scored 1454 runs in 55 innings (all as opener) at an average of 27.96 in his career.
His average post 2014 does not place him even amongst the top 20 openers (min. 400 runs) in this time-frame.
He has registered 16 40-plus scores in 53 innings – which is a 40-plus score every 3.31 innings – this is amongst the worst 5 frequencies for such a score by an opener in this time-frame.
However, when he does cross 40, India has gone on to win in 13 of these 16 innings and Dhawan's average strike rate in these innings has been 142.33 - so Delhi was an exception on both counts – neither did India win nor did Dhawan score anywhere close to his average 40-plus strike rate. This suggests that Dhawan accelerates later in his innings.
But the problem for him and India has been that these innings have been very few and far between.
Dhawan has as many as 27 innings of below-20 in his career (of 55 innings) – ie almost half the number of times he has failed and not reached even 20! Furthermore, in 20 of these innings he has not even reached double digits!
These are poor returns for an opener.
India has tried a number of openers in this period to find a permanent partner for Rohit Sharma – who is the leading run-getter and has scored the maximum hundreds in the history of the format - from Mandeep Singh to Murali Vijay to Ajinkya Rahane. But it is KL Rahul who has the standout numbers at the position – 535 runs in just 14 innings at an average of 41.15 and strike rate of 142.66. Ideally, Rahul should open with Rohit with Virat Kohli should follow at number 3.
Another big concern for India is Dhawan's form in the big matches on the biggest stage in T20I cricket – the ICC World T20.
He has scored just 74 runs in 7 innings at a shocking average of 10.57 – the lowest amongst all openers who have batted in at least 7 T20I innings in their careers.
With successive tournaments in Australia and India in 2020 and 2021, Dhawan's record at the event does not augur well for India.
In contrast to his T20I career, Dhawan is a big match-winner for his country in ODI cricket where he has amassed 5518 runs in 131 innings at an average of 44.5 and strike rate of 94.01 including 17 hundreds.
His percentage of single-digit scores improves to 25.14% in ODI cricket (from 36.36% in T20I cricket).
He bats with more fluency in the powerplay in 50-over cricket as his strike rate of 85.09% in this phase of play suggests.
Overall too, he is a more aggressive batsman in ODI cricket. His strike rate of 94.01 is way ahead of the standard norm for openers since his debut (83.77).
Contrast this with the difference in T20I cricket of just 4.48.
Dhawan is also a terrific big tournament player in ODI cricket. He aggregates 1238 runs in 20 World Cup and Champions Trophy innings at a strike rate of 98.25. His average of 65.15 is third-best in the combined history of these two flagship tournaments (min. 500 runs) only after Andrew Symonds and Ben Stokes. His 6 hundreds are the joint second-highest.
His great record in 50-overs cricket has given him another chance to prove his mettle in T20I cricket.
Dhawan needs a change of approach and mindset in the shortest format.
A little impetus at the start may go a long way to determine his future in the format.