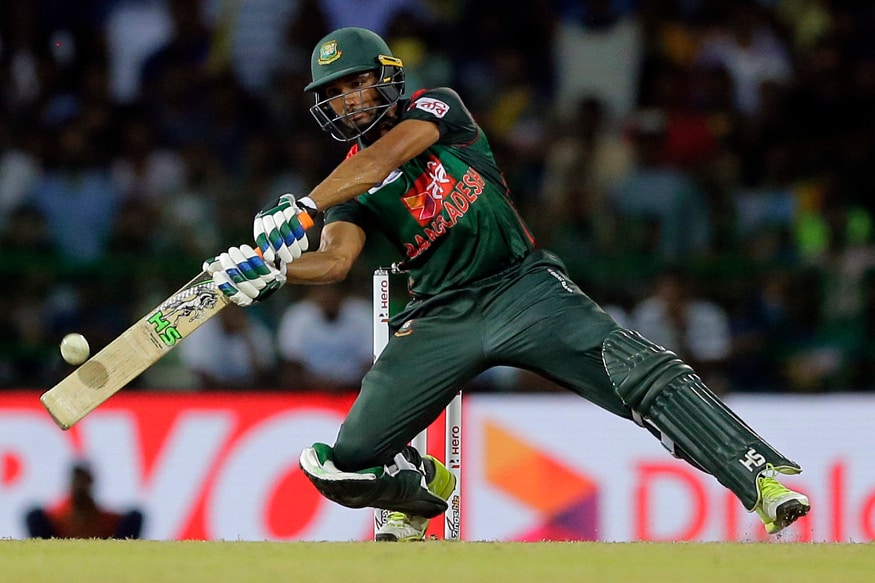 Bangladesh haven't had a great run in T20I cricket post the WorldT20 in India in 2016 having won just 9 (and lost 18) of the 27 matches they have played in this period.
However, they have tasted some success lately in the format and been victorious in 6 of their last 10 encounters – including a series win against the West Indies in the Caribbean/USA and an impressive showing in the tri-series at home.
A full strength squad would have challenged India but with the ban on their talisman, Shakib Al Hasan and the unavailability of Tamim Iqbal due to personal reasons, the batting has lost a bit of its sheen.
How will the absence of the two stalwarts impact Bangladesh's chances in the series? What are the stand-out numbers of the rest of the squad?
We analyze.
Shakib - Highest Scorer and Wicket Taker for Bangladesh
No one has scored more runs or picked more wickets for Bangladesh in T20I cricket than Shakib. He is their most experienced player (76 matches) and has aggregated 1567 runs at an average of 23.74 and strike rate of 123.77. His exploits include 9 fifties.
His 92 wickets at 20.58 apiece are the most by a Bangladeshi bowler in the format – the next highest being Mustafizur Rahman with 52. In fact, he is the third-highest wicket-taker in T20I cricket after Lasith Malinga (105) and Shahid Afridi (98).
Shakib is also a very restrictive bowler with a career economy rate of just 6.81.
He has been in good form of late. He scored a 43-ball 61 at Sylhet against the West Indies in December, 2018 and followed that with a match-winning unbeaten 42 of just 26 deliveries and 5-20 in Dhaka. More recently, he smashed 70 off just 45 deliveries against Afghanistan in Chattogram in September, 2019.
Shakib was also in the form of his life in the 2019 World Cup in England. He was the third-highest scorer with 606 runs in 8 innings at an average of 86.57 and strike rate of 96.03.
He has scored in excess of 20 and also picked more than two wickets in 11 matches for Bangladesh.
Tamim Iqbal has the second-highest aggregate for Bangladesh in T20I cricket – 1556 runs in 71 innings at an average of 23.57. His 103 off 63 deliveries against Oman at Dharamsala in the 2016 World T20 is the only hundred in the format by a Bangladeshi batsman.
Shakib and Tamim have together aggregated almost a third (31.88%) of the total runs Bangladesh has scored in the matches in they have played together.
Their loss will surely drastically reduce the chances for the visitors in the series.
But they still have a talent pool to upset the Indians.
Mahmudullah - The Pivot in the batting line-up
Mahmudullah, the new T20I skipper, is the in-form batsman for Bangladesh. Post World T20, 2016, he has aggregated 691 runs in just 27 innings at an average of 31.4 and strike rate of 129.15.
He has mostly batted at number 5 and 6 and played the dual role of resurrecting the innings when the top-order failed or hit a cameo when the innings needed some impetus at the death. His record from number 6 has been particularly impressive in this time-frame – no one has scored more runs from the position than Mahmudullah – 357 in 14 innings at 39.66 at a rate of 132.71.
He has been very consistent batting in the lower middle-order with 12 25-plus scores in 27 innings in this time-frame.
Mushfiqur Rahim will be the mainstay of the top-order. He has a decent record at Number 4 for Bangladesh having scored 753 runs in 35 innings from the position.
Das and Sarkar - The Threat at the Top of The Order
Liton Das is dangerous at the top of the order for Bangladesh. He has a strike rate of 142.9 post World T20, 2016 and also the highest career strike rate for any Bangladesh batsman in T20I cricket (min. 200 runs).
His 32-ball 61 opening the innings was instrumental in Bangladesh's series-win against the West Indies in Lauderhill in 2018.
Soumya Sarkar has not done justice to his immense potential – as his career average of 16.79 would suggest. But paired with Das, and the duo could form a formidable pair at the top.
Interestingly, both of them have a much better record when they have not taken strike opening the innings. While Das' strike rate shoots up to 165.27 as opener non-striker, Sarkar has scored a majority of his careers runs from the position at a higher rate of 130.52.
Mustafizur - The Second Best Strike-Rate for a Fast Bowler
Mustafizur Rahman has picked 52 wickets in 34 matches at an average of 18.71 and economy of 7.75. But what really stands out is his wicket-taking prowess. He picks a wicket every 14.4 deliveries in T20I cricket – the second-best strike rate for a fast bowler (after Umar Gul) amongst all major teams in the format's history.
Just for perspective, he has a better average and strike rate in T20I cricket than the great Lasith Malinga!
He has been very consistent picking two-plus wickets 17 times in 34 innings.
It is a surprise that Al-Amin Hossain hasn't played more matches for Bangladesh since his debut in November, 2013. The pacer has picked 39 wickets in just 23 innings and his average of 15.17 and strike rate of 12.2 are the best in T20I history for all pace bowlers from major cricketing nations (min. 30 wickets).
Mahmudullah is the most experienced spinner in the squad with 31 wickets from 53 innings while Arafat Sunny is making a comeback to the team after the World T20 in 2016.
Mosaddek Hossain will try to restrict the destructive Indian batting line-up – he has a career economy rate of just 6.66!
Sans Shakib and Tamim, Bangladesh are a weaker unit but they still have the firepower to cause an upset.