India vs Bangladesh | Series Verdict: All-round India Clinch Series in Dominant Fashion
Here's Cricketnext's player ratings for the series.
Updated: November 25, 2019, 8:50 AM IST
India were at their clinical best with both the bat and ball during the two-match Test series against Bangladesh and were deserved 2-0 series winners.
Such was India's dominance that both Test matches were over in the space of three days and both matches were won by an innings.
India's pace bowling unit did not have Jasprit Bumrah to call upon but he was not missed as the bowlers ran riot.
For their part, the batsmen did their job well even if they only batted twice throughout the series.
Here's Cricketnext's player ratings for the series.
Mayank Agarwal – 8/10
The 28-year old has been a consistent performer with the bat since his debut last December and he continued to grow into his role atop the order. He scored a double hundred in the first Test at Indore and it was his 243 that set the tone for what would go on to be a dominant opening victory. Agarwal only scored 14 runs in the second Test at Kolkata but the Indian pacers' wreaking havoc with the pink ball meant it didn't matter.
Rohit Sharma – 4/10
Rohit Sharma in action. (Twitter/@ICC)
Rohit's time as an opener in red-ball cricket started well in the South Africa series but his second series atop the order was one to forget for the 'Hitman'. He scored only 6 runs during the first Test and didn't fare much better in the second Test, making just 21. He did manage to take a couple of decent catches in the slip cordon but overall this was a series both Rohit and team management will hope was a one-off in terms of his performances.
Cheteshwar Pujara – 6/10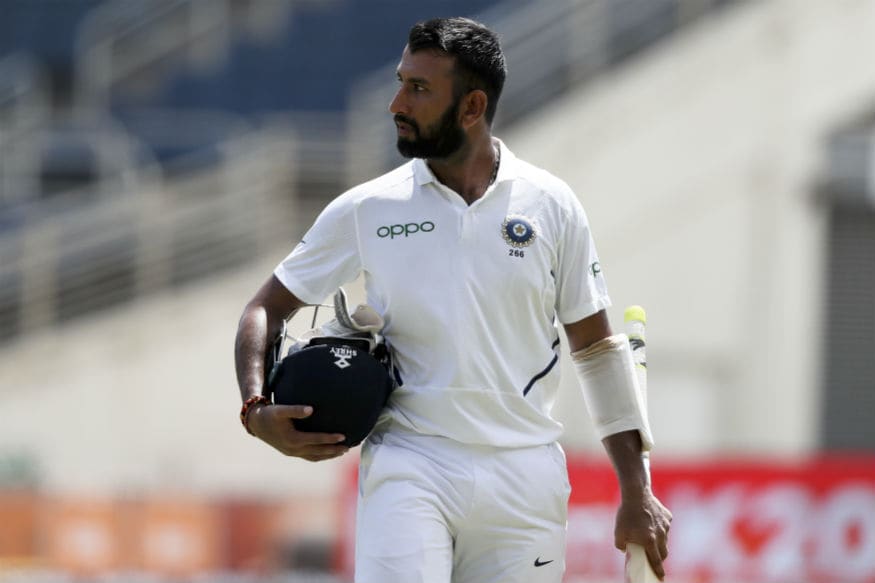 Pujara is a key member of India's Test squad and while his recent form against the West Indies and South Africa wasn't quite up to par, he did reasonably well against Bangladesh. He notched two half-centuries during the series, scoring 54 during the first Test and going one better during the second Test, falling for 55. That he failed to convert either of those into a hundred might bother him slightly but he showed enough signs of being back to his best. To top it off, he was sharp in the slips as well.
Virat Kohli – 7/10
The Indian skipper had contrasting fortunes during the two-Test series but at the end of it would have been reasonably pleased with how it ended. He was dismissed for a duck by Abu Jayed in the first Test but showed wonderful technique against the pink ball in the second Test, scoring a century to set up India's eventual win. Kohli was an active presence in the slips as well and rotated his bowlers effectively to set up two dominant wins.
Ajinkya Rahane – 7/10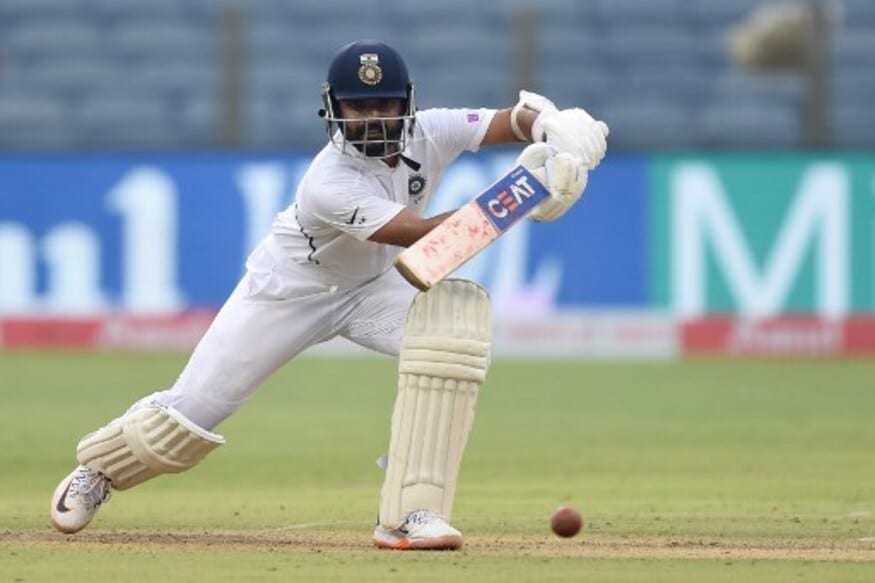 India's vice-captain in the longest format of the game regained his form during the tour of West Indies and has since been a consistent presence in the batting line-up. He scored two half-centuries – notching 86 at Indore and 51 in Kolkata – and, like Pujara, would bemoan the fact that he didn't get a hundred in the series. However, having him in form is a big plus for India even if his catching wasn't exactly up to par during the series.
Ravindra Jadeja – 6/10
Ravindra Jadeja after reaching his 50 (BCCI)
Promoted up the order ahead of Wriddhiman Saha in both Tests, Jadeja did a decent job with the bat while also chipping in with a few overs when needed. He scored an unbeaten 60 in the first Test but could only add 12 runs to India's total during the day-night Test in Kolkata. With the ball he was economical but didn't take a single wicket. He was barely used in the second Test, bowling only the one over in each innings.
Wriddhiman Saha – 6.5/10
The 35-year old wicket-keeper had something of a mixed bag during this series as his batting wasn't the best but his work behind the stumps was exemplary.He managed returns of 12 & 17 with the bat, remaining unbeaten during the second Test as Kohli declared the innings at a time when no one saw it coming. His glove work was top notch, especially in the second Test match where he dealt with the ever-moving pink ball extremely well.
Ravichandran Ashwin – 6/10
Ashwin's status as India's main spinner in Test cricket had been under some doubt but he found his rhythm during the South Africa series and carried on from there against Bangladesh. He didn't get to bowl as much given the surprisingly seam-friendly conditions on offer in both matches but took a total of five wickets in the first Test and was generally solid. He somehow bowled even less than Jadeja at Kolkata – he didn't get a chance to roll his arm over in the first innings and bowled just the one over in the second.
Umesh Yadav – 9.5/10
Umesh has made the most of his recent run in the Test side and ended the series as joint-highest wicket-taker alongside Ishant Sharma. He took 4 wickets in the first Test match and was even more lethal in the second Test, snaring 9 wickets including a five-wicket haul in the second innings. He gave away a few runs on occasion but also played a valuable cameo with the bat in Indore, including a few lusty blows that cleared the boundary.
Ishant Sharma – 10/10
The 31-year old has long been a staple in India's red-ball side and showed once again why that is the case with a stupendous display during the series. Not only did he get 12 wickets, he was also India's most economical bowler during the series and also had the best strike rate among the pace trio. He took only 3 wickets in the first Test but was at his lethal best with the pink ball, taking 5-22 and 4-56 in the first and second innings, respectively.
Mohammed Shami – 9/10
Shami may have taken the least wickets of the Indian pacers but 9 scalps is a figure to be proud of, despite not getting a five-wicket haul during the series either. Shami's effectiveness came largely from his pace and ability to get the ball to move, although it was the former trait that came in handy in his hometown of Kolkata. There his bouncers caused plenty of trouble and even resulted in two players – Liton Das and Nayeem Hasan – having to be substituted with concussions after he struck them on the helmet. ​
---
---
Team Rankings
Rank
Team
Points
Rating
1
New Zealand
3198
118
2
India
3765
118
3
Australia
3498
113
4
England
4326
106
5
South Africa
2499
96
FULL Ranking
Rank
Team
Points
Rating
1
England
5405
123
2
India
6102
117
3
New Zealand
3716
116
4
Australia
4344
111
5
South Africa
3345
108
FULL Ranking
Rank
Team
Points
Rating
1
England
6877
275
2
Australia
6800
272
3
India
10186
268
4
Pakistan
7516
259
5
South Africa
5047
252
FULL Ranking