India will clash with England in the big third Test of the four-match series in the refurbished and spectacular Motera Stadium in Ahmedabad from Wednesday. With the series tied at 1-1 the Day and Night Pink Ball Test assumes greater significance not only within the context of this series but also the World Test Championship.
We look at some milestones and records that can be set and broken during the course of the Motera Test. We also look at form and some numbers which stand out for certain players.
India vs England: England Won't Complain About Rank Turners, It Gives Them a Huge Chance Too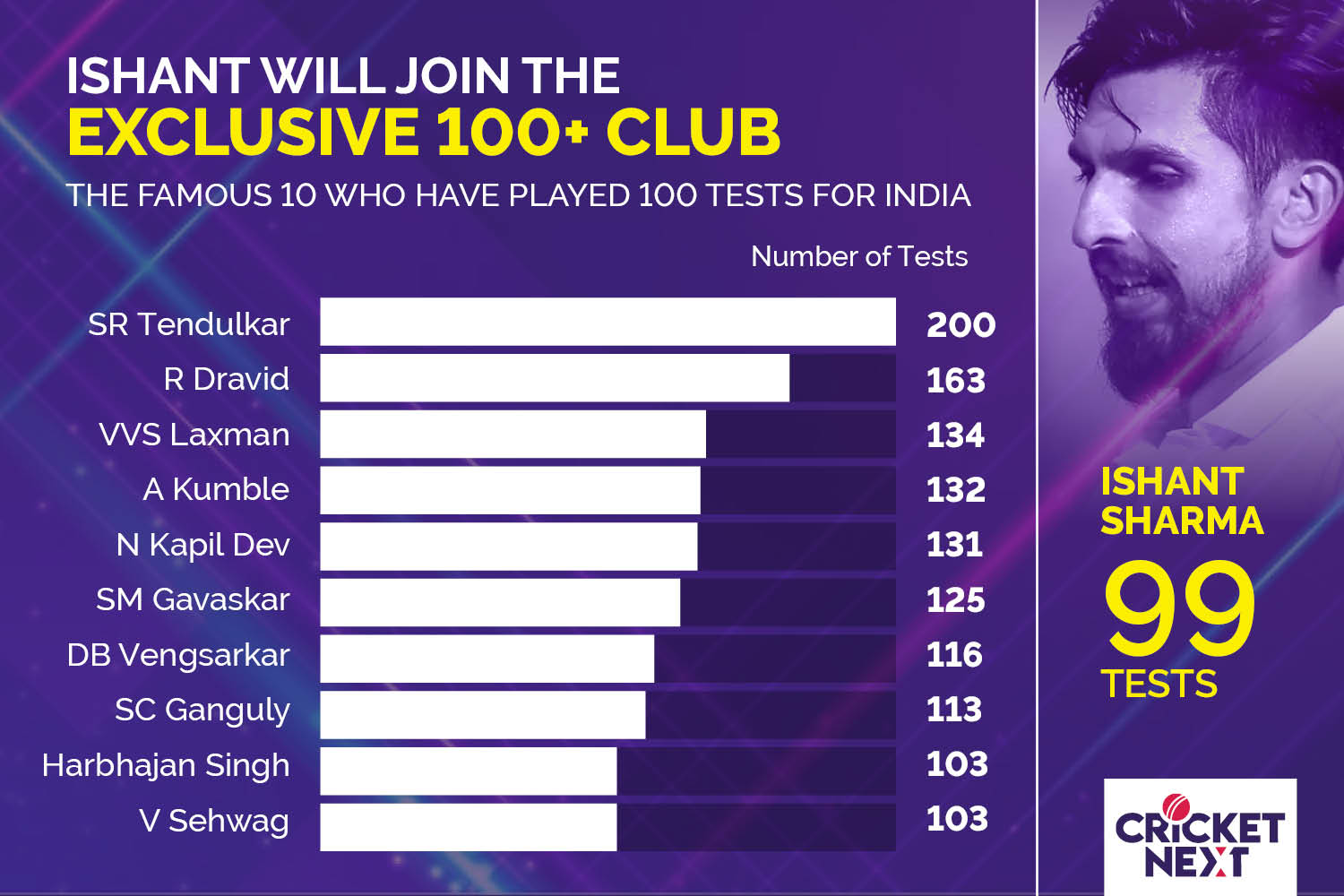 100: Ishant Sharma's 100th Test Match
Ishant Sharma will become the 11th Indian player in their Test history to play 100 Tests for his country. It will be a great achievement for the fast bowler whose career has seen a remarkable transformation since 2014. Ishant will join a select Club of 10 other Indian players who have represented their country in 100-plus Tests. Interestingly, he will become only the second fast bowler from India (after Kapil Dev) in the 100-Plus Club. Ishant recently became the third Indian pacer after Kapil Dev and Zaheer Khan to pick 300 Test wickets.
6: Ashwin is 6 wickets away from reaching the 400-Club
R Ashwin has picked 394 Test wickets in 76 matches at an average of 25.2 and strike rate of 53.4. Going by his form in the current series and with the wicket at Motera set to assist spin bowling, if the champion off spinner achieves the feat in the third Test at Motera he will become the second-fastest in Test cricket history (after Muttiah Muralitharan) to reach the great milestone. The Sri Lankan reached the milestone in 72 Tests.
The great thing about Ashwin is his wicket-taking propensity as indicated by his brilliant strike rate – at 53.4 it is better than the great Muralitharan's (55). In fact it is the best in the history of Test cricket for all spinners with 200-plus wickets in the format.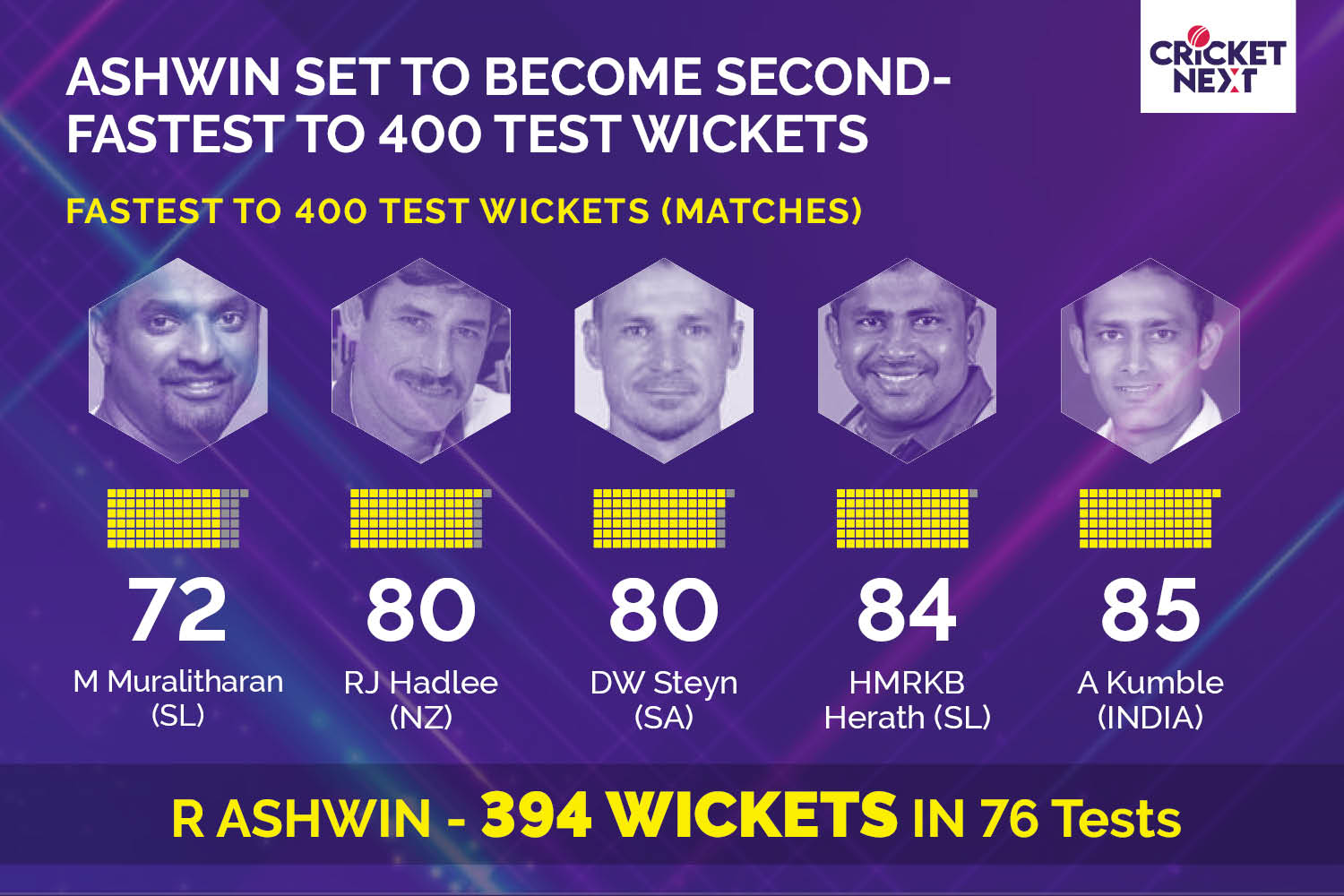 India vs England: James Anderson Says England's Rotation Policy About 'Bigger Picture'
8: Anderson is just 8 wickets away from Equaling Kumble's Record
James Anderson is the leading wicket-taker amongst fast bowlers in the world with 611 wickets from 158 Test matches. He is just 8 wickets shy of equaling the record of Anil Kumble who had 619 wickets from 132 Tests. Anderson had produced a match-winning spell in the second innings of the series opener in Chennai getting rid of Shubman Gill, Ajinkya Rahane and Rishabh Pant in quick succession – it was a brilliant spell of swing and reverse swing bowling!
2: Broad is just 2 wickets away from Equaling Walsh's Record
Stuart Broad has picked 517 wickets in 145 Tests at an average of 27.68 and strike rate of 56.6. He is just two wickets shy of Courtney Walsh's record of 519 wickets in 132 Tests. If the fast bowler from England picks three wickets in Ahmedabad he will become the third-highest wicket taker amongst fast bowlers in Test cricket after James Anderson and Glenn McGrath.
1 Year, 2 Months and 25 Days: Time Period for which Kohli has not scored an international hundred
Virat Kohli last scored an international hundred in the Kolkata Test against Bangladesh which started on the 22nd of November, 2019. He did not score a hundred during the entire 2020. By the time the third Test against England starts on the 24th of February in Ahmedabad it would have been 1 year, 2 months and 25 days since Kohli registered an international hundred.
63.57: Rohit Sharma's Batting Average as Opener for India
Rohit Sharma has a staggering batting average of 63.57 in his new avatar as opener for India in Test cricket. Rohit has an aggregate of 890 runs in just 9 matches including 4 hundreds and a fifty opening the innings for India – still early days in the position for Rohit but it is the highest batting average for an Indian opener in Test cricket (min. 800 runs). His stunning hundred in the first innings of the second Test in Chennai was the main difference between the two sides on a difficult pitch aiding spin bowling.
2: Wickets Needed by Umesh Yadav to Reach 150 Test Wickets
Umesh Yadav has picked 148 Test wickets in 48 matches at an average of 30.54 and strike rate of 51.4. In fact, Umesh Yadav's strike rate of 35.1 is the best amongst the 37 bowlers who have taken a minimum of 40 wickets in this time-frame. That is how good he has been with the red ball during this period.
44.85: Rishabh Pant's Batting Average as Designated Wicket-keeper for India
Rishabh Pant has had a great start to his Test career. He has scored 1256 runs in just 18 Tests including two hundreds and 6 fifties. His batting average of 44.85 is the fourth-highest (min. 1000 runs) for all wicket-keeper batsmen in Test cricket history. Only AB de Villiers, Andy Flower and Adam Gilchrist have a higher batting average. Pant has been very consistent and hit a half century in his last 4 Tests scoring tough runs in high pressure situations for India including his match-saving and series-winning performances in Sydney and Brisbane in January.
9: Number of Wickets Needed by Jofra Archer to reach 50 Test wickets
Jofra Archer has picked 41 wickets in 12 Tests at an average of 31.21 and strike rate of 62.9. He could be a big threat in the Pink Ball Test with his extra pace and bounce.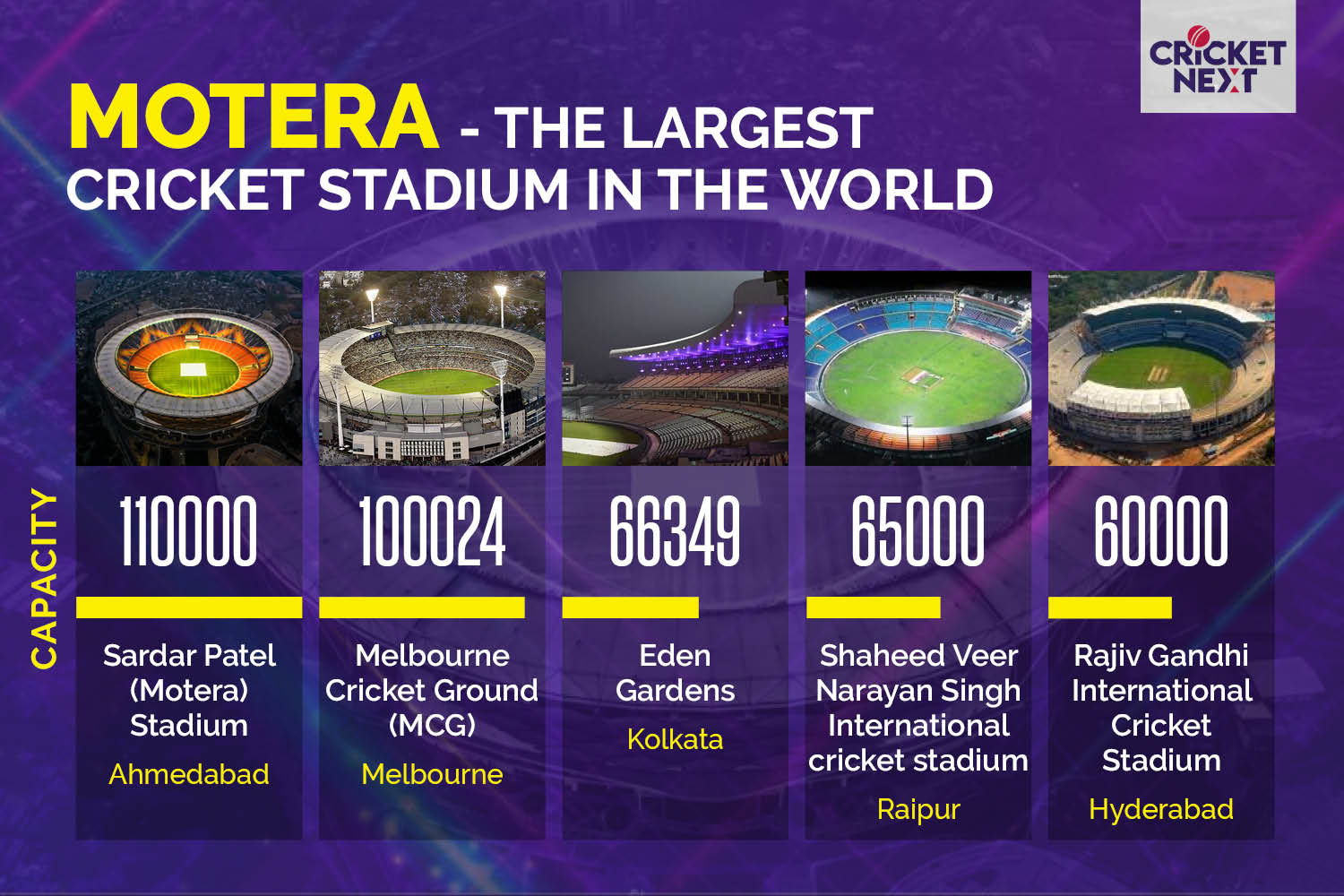 110000: The Spectator Capacity at the New Motera Stadium in Ahmedabad
The refurbished Motera Stadium in Ahmedabad in Gujarat is set to become the largest cricket stadium in the world with a capacity of 110000. MCG follows with a capacity of 100,024.
Get all the IPL news and Cricket Score here