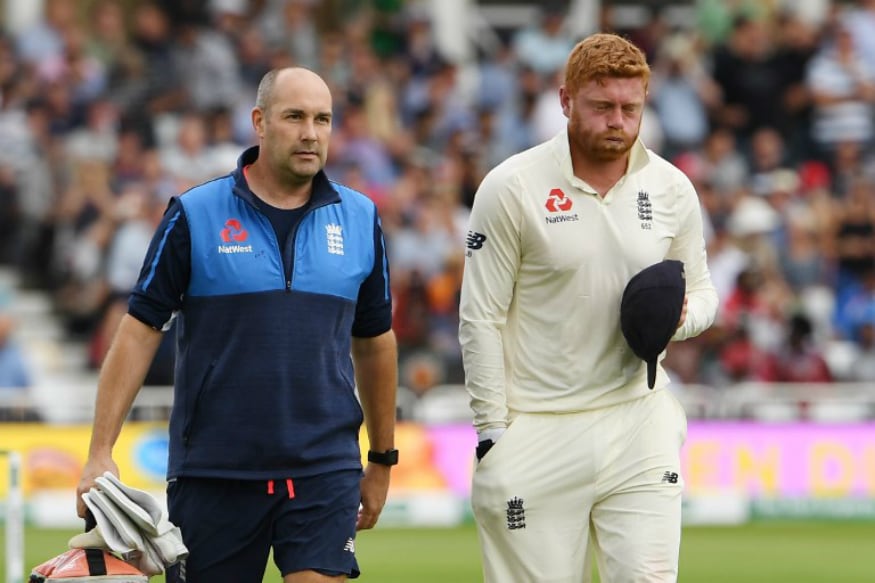 Nothing seems to be going right for England in the third Test against India at Trent Bridge, Nottingham. The English team suffered a huge blow on Day 3 of the Test when Jonny Bairstow suffered a nasty injury after he was hit on the finger while keeping wickets to fast bowler James Anderson.
Bairstow looked in excruciating pain the moment the ball hit him and was rushed to the hospital for an X-ray. Later England Cricket informed that the 28-year-old sustained a fracture to the tip of his left middle finger.
The wicket-keeper batsman said that the first 30 seconds after the ball struck him were "horrendous" but was hopeful that with a bit more ice overnight things might improve.
"It wobbled and I just copped it on the end [of my finger]," Bairstow said. "It is part and parcel of this job. We're going to see how it is in the morning. It is a fracture, but it's not displaced, and that's a big thing. We're hopeful, with a bit more ice overnight and some protection.
"The first 30 seconds were pretty horrendous. The pace of the pitch has improved. They left the ball well, and we know if we're going to save or win this game that's exactly what we have to do."
England's assistant coach Paul Farbrace confirmed that Bairstow will bat if needed but was unclear on the wicket-keeper batsman's participation for the last two Tests.
"The doctor's been working on him this evening to relieve a bit of pressure in the nail, so hopefully when needed he'll be OK," Farbrace said at the post-match press conference.
"A lot will depend on how the next few days go, and the soreness in terms of catching balls on a consistent basis. I'm no expert on broken fingers, but because it's not a displaced break, he should be OK, and it's just a case of managing the pain level as opposed to doing any further damage."
The right-hand batsman has been in decent touch in this series. After scoring 70 in the first innings of the Edgbaston Test, Bairstow played a major role in the second match at Lord's as well. It was his 189-run stand with Chris Woakes (137*) that helped England take a match-winning 289-run lead. He missed his century by seven runs but made sure England didn't have to sweat much to take a 2-0 lead in the series.
With England down in the dumps needing a further 497 runs to win the third Test and the series with two days to go, Bairstow's injury couldn't have come at a worse time for the hosts.