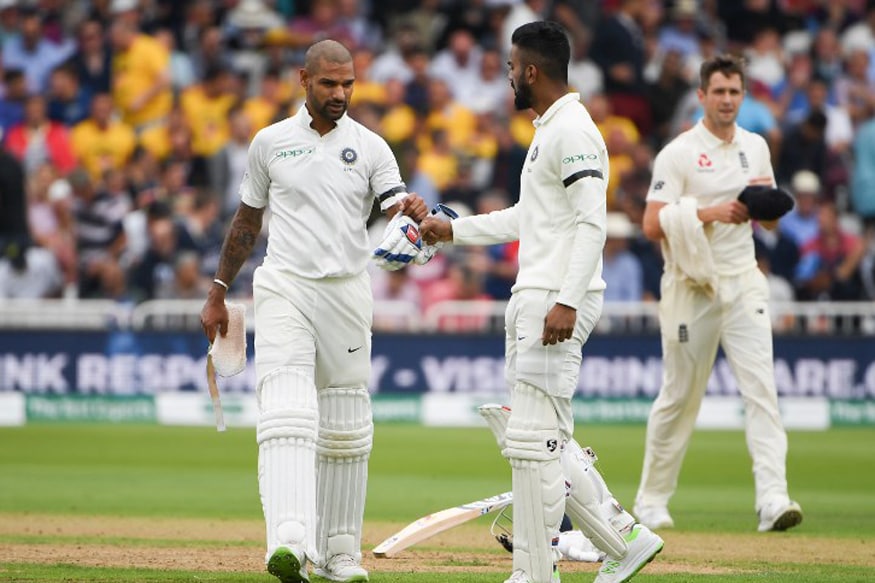 Less than a week ago, following their thrashing at Lord's, India's chances in this series looked like they were on their last legs. By the time England sent them in to bat under cloudy Nottingham skies this morning, the obituaries were being drafted.
However reports of their demise may, for now, have been exaggerated, after a first day at Trent Bridge that saw the tourists rediscover some semblance of form with the bat – passing 300 for the first time in the series and reapplying pressure on England for the first time since Edgbaston.
Ultimately Virat Kohli's 159-run partnership with Ajinkya Rahane, and the Indian skipper's so near yet so far innings of 97, will grab most of the headlines, but in reality, the foundations for India's success were laid much earlier.
The opening partnership has not proved a point of great strength for India so far on this tour and with the selectors showing almost as much indecision as the men they've picked have had outside off stump, this morning saw the third different pair of openers in as many Tests.
Third time lucky it seems for the selectors as Shikhar Dhawan and KL Rahul finally showed the concentration and application that India have been badly missing at the top of the order – a stand of 60 that might have lasted less than an hour and a half but that set the tone for the entire day.
It was in fact India's highest opening partnership away from home since last August, and up until Kohli and Rahane built and improved on its foundations later in the day, their highest stand for any wicket in this series.
But this was about more than just numbers for India. After problems at Edgbaston and Lord's, this was a moment that the tourists finally showed a coherent and effective strategy to combat England's previously seemingly unstoppable fast bowling assault.
They were perhaps helped a little by a drop off in quality from England's bowlers early on – only once since the 2015 Ashes has James Anderson bowled so many deliveries wide outside off-stump – but it was a respite they at least partially earned, frustrating the hosts with a combination of patience and quickly run singles.
Patience, particularly in swinging English conditions, has to be one of the opening batsmen's key weapons, and on Saturday at last India's pair managed to utilise it. After 10 overs they had left 44% of deliveries – only twice in the last four years have they left more at that stage.
But self-restraint was only one of the pillars from which India made their foundations, the other was an apparent alteration to the technique that has proved so ineffective thus far in the series.
As adjustments go, it was a simple one, India's openers waiting for the ball to come to them and playing it much later than they have up until this point in the series – CricViz data showing that the pair put bat on ball significantly later during their stand than their openers had in previous Tests – 1.70m from the stumps compared to their series average of 2m.
While it might have been simple, it was also mightily effective, and all the more impressive given the lavish movement through the air and off the pitch that England's bowlers were managing.
In fact, for all the early success of Edgbaston and Lord's, at no opening stage to any innings in this series have England produced more swing than they did in the first 25 overs here – an average 2.26º of swing significantly higher than even the start of the second innings at Edgbaston (1.92º) or the first at Lord's (1.53º) – while only once have they found more movement off the seam.
Ultimately when this game is looked back on Dhawan and Rahul's opening stand might seem insignificant – Kohli's 97, or a performance yet to come, more likely to seize a spot in the collective memory – but should India win this game and perhaps even go on to turn this series around then it is without doubt one that should not be forgotten.