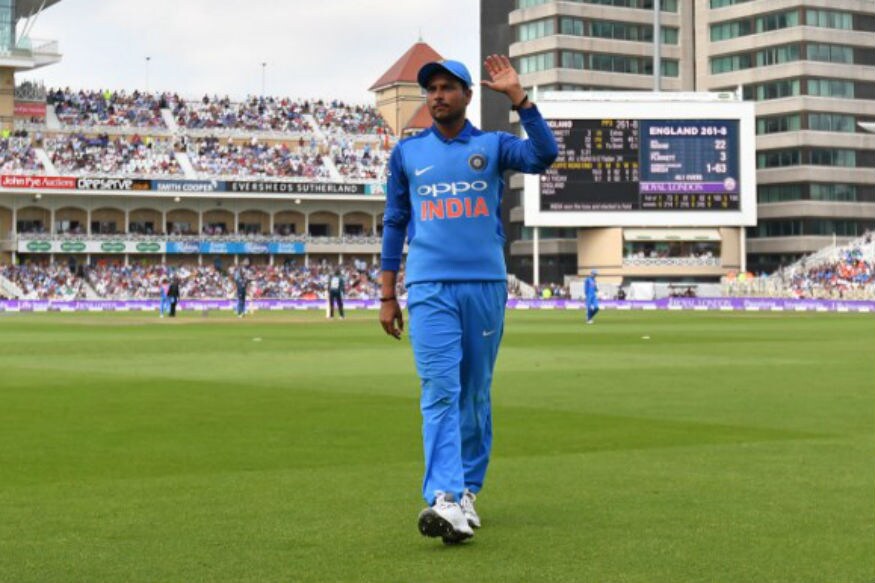 It was the end of the tenth over and India were starting to get worried. England were off to flier at the venue where in the last two completed ODIs, they had smashed world record scores batting first. 73/0 and India were desperate for a breakthrough.

In came Kuldeep Yadav. In the space of 17 deliveries, the left-arm wrist spinner triggered a mini collapse, grabbing three wickets to completely change the complexion of the game.

His first victim was Jason Roy, who was starting to look dangerous with 38 from 35 balls to his name already. Joe Root and Johny Bairstow returned to the pavilion shortly after that. Yadav came back later to take remove Jos Butter, Ben Stokes and David Willey, completing an unforgettable day at work.

"I think the wicket was good to bat, they were 73/0 in first 10 overs, we were hoping for a wicket and luckily I got three wickets in two overs and it changed the momentum for us," he said later. "Yes, I am enjoying English conditions."

Although Yadav's career-best figures were littered with some magical deliveries, it was the Bairstow wicket that stood out. He fed the right-hander a couple of deliveries that came into his pads, luring him into a false sense of security before unleashing the googly. Bairstow was flummoxed, used up the review unsuccessfully and walked back with his tail between his legs.





Just four balls ago Yadav had cramped Joe Root for room and made England's best batsman of spin look like an amateur. Root played the ball on the assumption that there will be no turn on backfoot, only to watch it spin back sharply into him and catch him plumb in front of the stumps.

Earlier, a well-set Roy was beaten in the air as he tried to execute a reverse sweep. Roy had had success with the shot already, finding the boundary with a reverse sweep off Yuzavendra Chahal earlier. When Yadav came on, Virat Kohli quickly moved the slip to leg slip and Roy fell in the trap, only to find Umesh Yadav at cover and open the floodgates.



In-fact, Yadav visibly gave the ball more air in Nottingham, trying to bowl as slow as possible. As replays pointed out, he used the entire range in his armoury - a classical leg spin delivery, a googly and a straight ball to toy with the bastmen. The first two were bowled with a side-on wrist action while the latter with the palm of the hands facing the batsman.





"I didn't try anything new," he said later. "I just stuck to my basics and bowled wicket to wicket and varied my pace."

Quite clearly, England's batsmen were failing to read him from the hand.

Meanwhile, Yadav was not done. He returned to jolt the England innings one more time as the hosts were looking to rebuild riding on Jos Buttler's half-century.

Buttler was desperate to give his team the final push. Yadav bowled a leg break which extracted bounce and turned sharply and in order to play it down the leg side, he ended up nicking the delivery which was safely pouched by MS Dhoni behind the stumps.

Ben Stokes had made a painstaking 50 in 103 balls to hold the England innings together, but just as he attempted to step on the gas, he too was outplayed. The reverse sweep off Yadav, to a more flighted delivery was taken at backward point by Siddharth Kaul. He completed his six-for when David Willey was caught at deep midwicket. The ball was pitched a little short and spun into the left hander who played it straight down to KL Rahul.

"Whatever cricket I played in my growing years, I played on cement wickets and I used to turn the ball there," he said. "So, I am grateful that I am playing on these wickets. You must have the ability to turn the ball. If you are giving your full effort, the ball will turn."

England's batsmen have dominated spin, especially at home, since the 2015 World Cup but clearly haven't faced anyone as skilled as Kuldeep Yadav so far. It could be a long, dreadful summer unless they are able to demystify the trickery of the 23-year old from Kanpur.


First Published: July 13, 2018, 12:21 PM IST