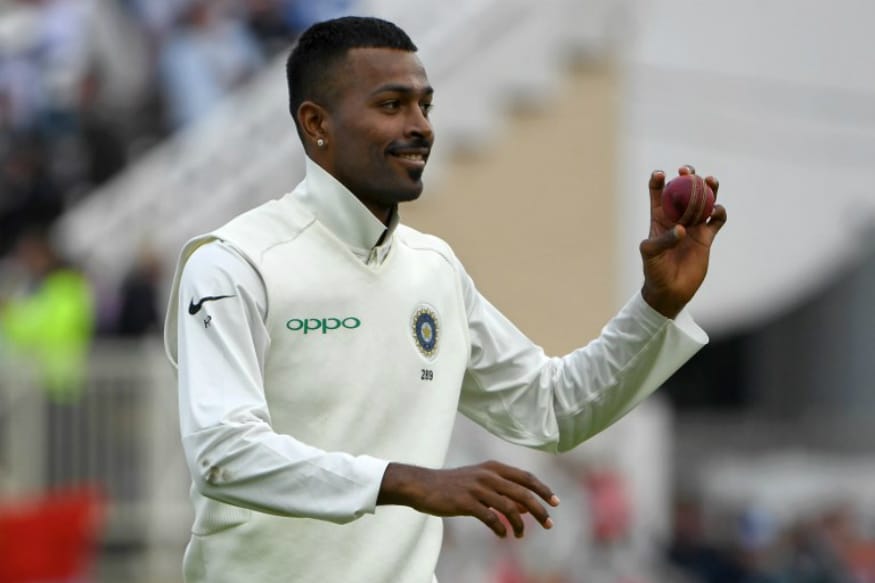 "It seems as if he's the golden boy in this team. Everyone thinks he's going to be the next Kapil Dev. He hasn't shown that yet."

Michael Holding's comments about Hardik Pandya before the third Test backfired spectacularly as the Indian seam bowling All-Rounder ripped through England's middle-order to return with figures of 5 for 28. To follow that up, as if to underline an already emboldened statement, Pandya slammed a run-a-ball half-century in the second innings to produce a memorable display in the Indian victory.

While, however good it was, one performance does not exactly put a lid on the doubts about Pandya as a long-term prospect, it is worth analysing how he has gone so far in the longest format of the game.

BATTING COMPARISON WITH PEERS

While there have been a few excellent batting performances from Pandya such as his maiden hundred against Sri Lanka in just his third Test, where does he actually stand in comparison to his team-mates?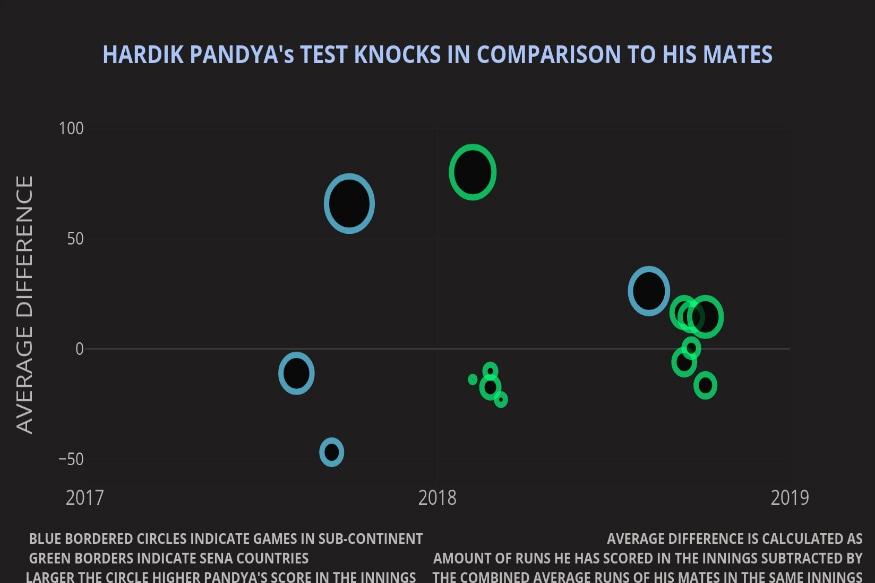 The plot clearly shows while there are a few times where Pandya has been dismissed for less than the average score of the other players in the side, he has managed to average almost as good as his fellow players, if not above them, on most occasions.

It must be remembered that Pandya bats behind a pretty settled top-order which further reduces his chances of catching up to the remaining batsmen in terms of runs or average.

The 93 at Cape Town against South Africa was perhaps his most impactful knock for India in Tests for it came at a time the rest of the batting failed to click (India scored just 203 in that innings). Expectedly, the average difference between his colleagues for this knock is his highest in Test cricket.

BOWLING IMPACT

"Why not pick a batsman? Pandya got a few runs in the second innings but is he a better batsman than Pujara? I don't think so, and you don't need him as a bowler in my eyes," Holding had said.

Quite a few observers are of the view that Pandya has very little impact with the ball, his Trent Bridge heroics notwithstanding. But perhaps there is another story hidden behind those assumptions that is worth exploring?

Pandya has never bowled over 20 overs in an innings in a Test. Of the 17 innings, he has played in, he has bowled more than 10 overs just six times. When bowling more than 10 overs in an innings, Pandya has gone wicketless just twice.

To examine his impact, it is essential to check what kind of batsmen he has dismissed. Of Pandya's 16 Test wickets, he has dismissed the top three run-scorers of a team seven times. 10 of the 16 wickets are that of batsmen in the top five.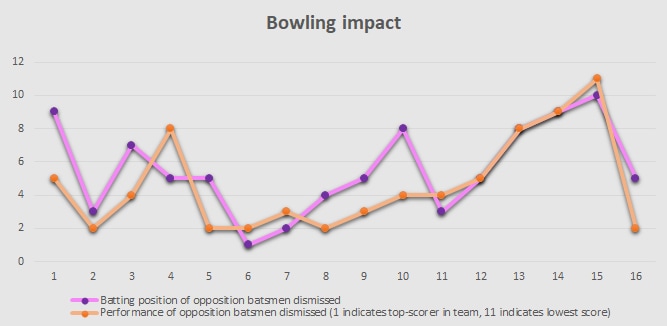 While his 5 for 28 at Trent Bridge is the most obvious example, another one that stands out was his effort at Cape Town when he sent back South Africa's openers Dean Elgar and Aiden Markram in quick succession to break a defiant half-century stand in the second innings.

The duo were South Africa's second and third highest run-scorers in the innings, which gives Pandya a high impact value. Even his 3 for 66 in the second Test at Lord's ranks pretty high when you consider the scores of batsmen he dismissed - Pope (28 - fourth highest), Bairstow (93 - second highest) and Curran (40 - third highest).

ALL-ROUND IMPACT

When scrutinising the performance of an all-rounder we need to be clear on what he brings to the table in each game. Unlike a pure batsman or bowler, an All-Rounder has a second chance to influence the game and is expected to make it count.

We categorise each of Pandya's Test matches and identify which games he has affected positively (green) and which games he has had little impact on (red).




Like the table shows, only thrice has Pandya had little impact in a Test match - at Centurion, Johannesburg and Birmingham. In the Johannesburg Test, Pandya was hardly used in the first innings, bowling just two overs, which greatly minimised his chance to make any kind of impact with the ball. At Centurion, he was outstanding with his line and length, although the wickets column had nothing to show for. This leaves Birmingham, where he wasn't even bowled in one innings.

WHERE HE STANDS AMONG OTHER CURRENT ALL-ROUNDERS

While Pandya is just 10 Tests old, an average of 35.2 with the bat and 27.69 with the ball (positive value on subtracting batting and bowling averages) does showcase him in a positive light. For reference, after the first 10 Tests of his career, Ben Stokes averaged 36 with the bat and 40 with the ball (negative value on subtracting batting and bowling averages).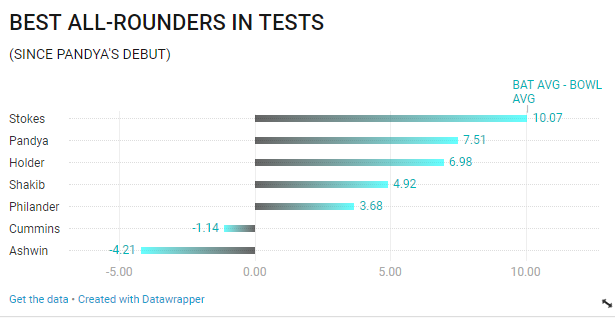 Pandya has also played just one of his 10 Tests in India. The remaining have come away from home (six outside Asia and three in Sri Lanka). Since Pandya's debut, only Ben Stokes has better numbers as an All-Rounder. The likes of Shakib Al Hasan and Vernon Philander are often spoken of highly, but numbers show that Pandya makes a stronger case, though admittedly the sample size is smaller.

There haven't been many Test all-rounders in the mould of Jacques Kallis, Gary Sobers, Ian Botham, Kapil Dev or Imran Khan in the modern game. Times have changed and so has the role of the All-Rounder. It is more about making an impact than racking up striking numbers and contrary to common notion, Pandya has managed to do that with aplomb.

As he himself said after the Trent Bridge Test, "I have never wanted to be Kapil Dev. Let me be Hardik Pandya, I am good at being Hardik Pandya."


(Rohit Sankar is a freelance cricket journalist stuck in a love-hate, live-in relationship with the game. To rile him, bring up the 1999 World Cup semi-final. He tweets @imRohit_SN)

First Published: August 25, 2018, 8:40 AM IST