All the other four Indian bowlers conceded above six runs per over and had a combined economy rate of 7.225. Jasprit Bumrah bowled his 10 overs and gave away just 44 runs at an economy rate of 4.4. That was the difference between Bumrah and the other Indian bowlers against England at Birmingham on Sunday, the 30th of June. That was the difference between India chasing 338 and 375!
This performance epitomizes Bumrah in World Cup 2019 – although he has not taken a huge number of wickets, he has got the important breakthroughs and has been phenomenally restrictive.
Bumrah has picked 10 wickets in 54 overs in 6 matches at an average of 24 and strike rate of 32.4 in this World Cup. But what stands out is his economy rate of just 4.44.
Bumrah has been the third-most restrictive bowler in World Cup 2019 (min. overs bowled 30 and wickets taken 5) only behind Colin de Grandhomme and Mujeeb ur Rahman.
He has been Virat Kohli's go-to bowler in all situations in all phases of play – first powerplay, middle overs and the death.
Bumrah bowled 4 overs and conceded just 8 runs in the first powerplay against England – against the likes of Jonny Bairstow and Jason Roy – no mean achievement. He bowled as many as 19 dot balls including a maiden. This means that 79.16% of his balls weren't scored off – that too when the fielding restrictions were in place.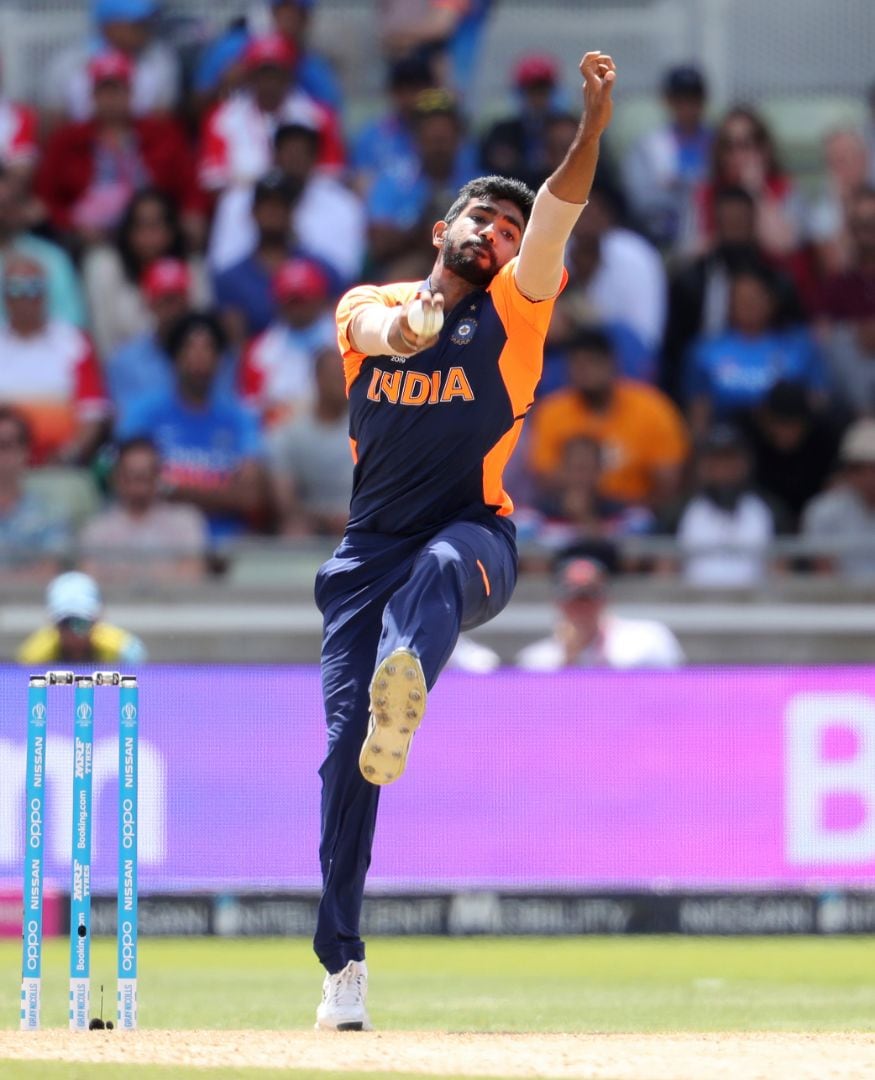 Bumrah was equally brilliant at the death. He bowled the 41st, 43rd, 46th, 48th and 50th overs and went for 8, 3, 4, 9 and 3 – ie just 27 in 5 overs when the English batsmen were on the rampage and hammering the other Indian bowlers at the opposite end. He gave away just one boundary in this period and got the wicket of Ben Stokes. Just for perspective, the other five overs at the death cost India 65 runs at the rate of 13 per over – that was the difference between Bumrah and them! Bumrah consistently produced the yorkers and slipped in the occasional slower one and bouncer.
2-35 in 10 overs against South Africa – these included the wickets of Hashim Amla and Quinton de Kock, 3-61 in 10 against Australia, a match-changing over where he picked the wickets of Rahmat Shah and Hashmatullah Shahidi against Afghanistan and 2-9 in 6 overs against the West Indies – Bumrah has been phenomenal in World Cup 2019 picking up crucial wickets for India at important junctures in the match and being remarkably restrictive.
Bumrah has an incredible economy rate of just 2.79 in the first powerplay in World Cup 2019 – out of a total of 144 balls bowled in this phase of play he has bowled 108 dot balls – ie 75% - this is a mind-boggling statistic! And conceded just 1.33 boundaries, on an average.
He has been brilliant at the death too with an economy rate of just 5.6. Out of a total 90 balls bowled between overs 41-50 in the World Cup, he has delivered 39 dot balls and given away just 1.5 boundaries per match in this phase of play.
Overall, in his career, Bumrah, has picked 95 wickets in 55 matches at an average of 22.34 and strike rate of 29.7. His average is amongst the top 10 of all-time for fast bowlers and is better than the likes of Wasim Akram, Waqar Younis, Brett Lee, Curtly Ambrose amongst other greats.
The average economy rate since 1st January 2010 is 5.24. Bumrah, at 4.5 is way better than the norm of his times. In fact, his economy rate is the best for a pace bowler since 2010 – which means he is the most economical fast bowler of his period.
Overall in his career, Bumrah has bowled approximately 65% of his overs in the first powerplay or death – the two most challenging periods for a bowler. He has picked 26 wickets in the first 10 overs at an economy rate of 4.02, 22 wickets in the middle overs at an economy of 4.19 and 47 wickets at the death at an average of 14.28 and economy of 5.71.
He has been lethal, both in terms of picking wickets and being restrictive in the first powerplay. Since 2017, he has a strike rate of 42.24 in the first 10 overs – amongst the best 5 bowlers in the world. And his economy of 4.05 is the best for a pace bowler in this phase of play in this time-frame.
Bumrah's strike rate of 15.75 at the death since 2017 is third only to Liam Plunkett and Rashid Khan and economy of 5.9 is second only, again, to Rashid in this period.
India has won 30 of the 33 ODIs in which Bumrah has picked 2 or more wickets in the match and 19 of the 20 ODIs in which he has conceded less than 30 runs in a match – these showcase how dependant India have been on Bumrah and what a great match-winner he has been for India.
Bumrah's average of 19.46 in India's wins is the greatest for an Indian bowler in ODI cricket.
Bumrah is a once in a generation kind of bowler. A maverick who has the potential to go down in history as an all time great!