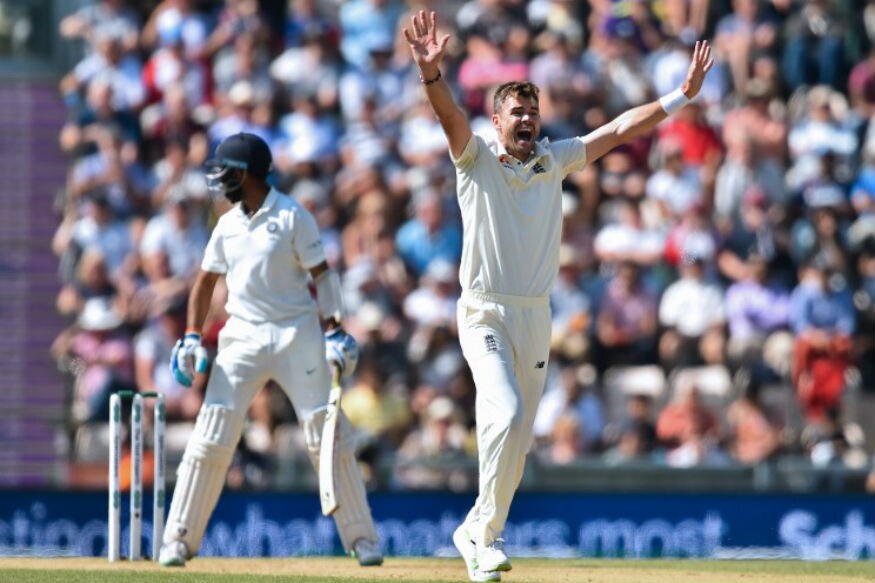 The 60-run loss against England at Southampton in pursuit of 245 is the fourth time this year that India failed to gun down a fourth innings target. Although Virat Kohli and Ajinkya Rahane - two of India's most successful fourth innings batsmen - oozed class in their 101-run stand, it only delayed the inevitable.
First, let's examine the basic numbers that establish why India were always unlikely to get past the finish line at Southampton:
- India last chased down a target of 200 or more outside Asia in 2003 at Adelaide.
- Outside Asia, India have won just three matches when set a target of 200 or more. Only two have come in SENA (South Africa, England, New Zealand & Australia) countries - in Dunedin 1968 and Adelaide 2003.
- Since 2010, India haven't chased down a single fourth innings target away from home.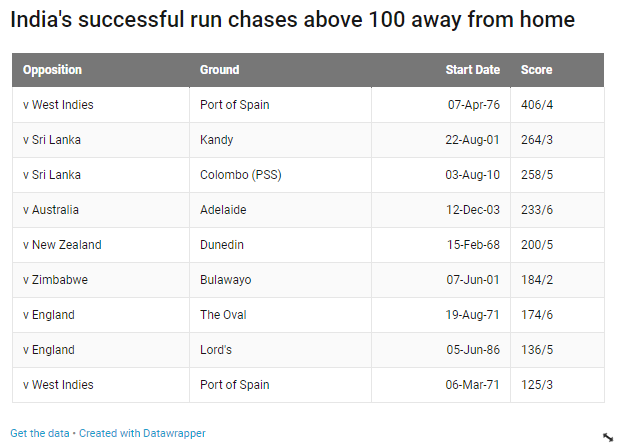 While India's unimpressive record in run-chases in Test cricket is evident, we could categorise it further in terms of how they have performed in the fourth innings away from home.
Since 2010, India have won just two of 19 matches when chasing a fourth innings score away from home. Incidentally, both of them came in 2010 itself - against Sri Lanka at Colombo and Bangladesh at Dhaka - which gives them a win/loss ratio of 0.16. Only New Zealand, Bangladesh and Zimbabwe have poorer win/loss ratios.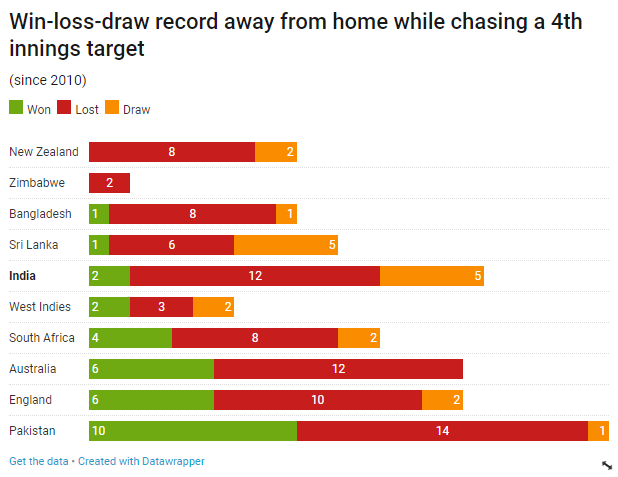 Of late though, India have managed to come closer to their target in the fourth innings. In this series for instance, India came within 31 runs of victory at Edgbaston and at Southampton lost by 60 runs. Earlier this year, at Cape Town, they had come within 72 runs of winning in a closely fought opening Test of the series.
This trend of raising hopes for a win and then eventually losing began in 2014 when they made praise-worthy attempts at chasing down targets in Auckland and Adelaide. On those occasions, India came painstakingly close to sealing off games only to falter at the final hurdle.
2018 seems to be going on similar lines after their fourth unsuccessful run-chase with only one of them by a margin greater than 100.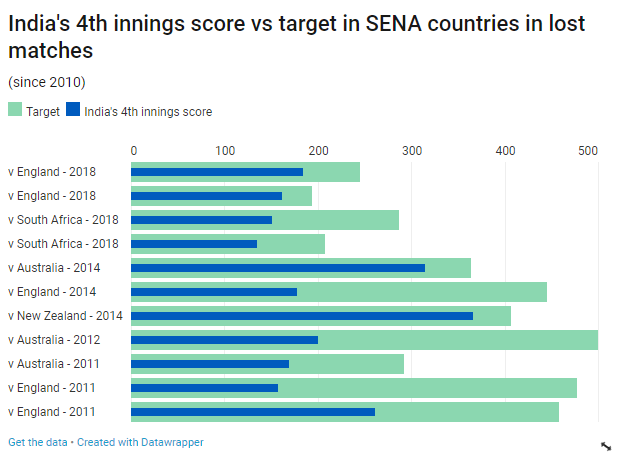 Another key metrics here is India's batting average in the fourth innings. They make an average of 23.83 runs per wicket away from home in this innings of a Test match since 2010 and have been bowled out for less than 200 eight times in this period.
Curiously, since Sydney 2015, India haven't managed to make more than 200 in away Tests in the fourth innings. Starting at Galle in 2015 where they failed to chase down a modest 175 to Southampton, India have been bowled out for less than 200 five times out of five.
However, this is an area no team in the world can claim to have had great success in. Since 2010, India's fourth innings average of 23.8 away from home is better than the likes of Australia, New Zealand and South Africa, despite it not being overly impressive.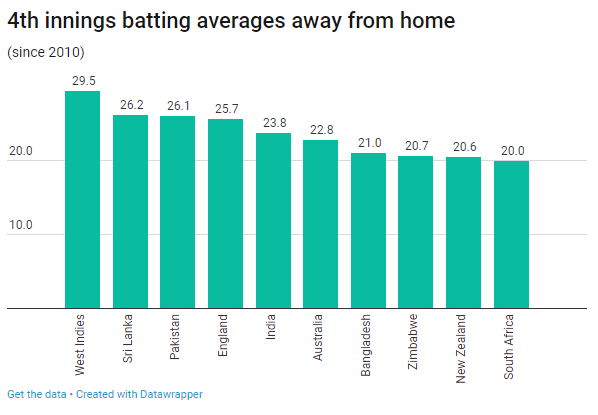 But is this just a problem away from home?
Since 2016, India have had eight run chases of which they lost five. The two wins - against Australia at Dharamsala and England at Mohali - came while chasing scores of 106 and 104 respectively. India haven't managed to score more than 200 in the fourth essay in any of these eight matches. Their average in this innings of the Test drops to an appalling 18.68, worst among all Test playing nations.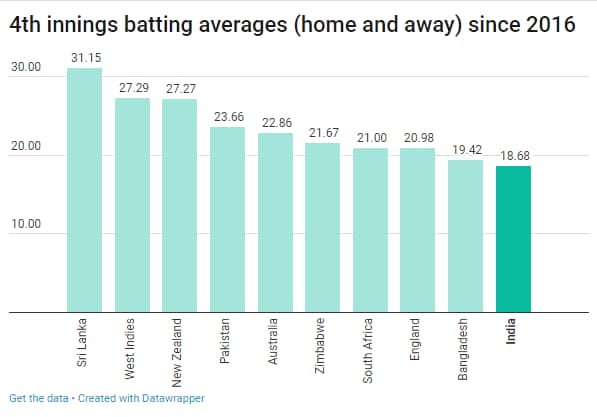 Quite clearly, these numbers under the pressure of a fourth innings chase show India in poor light. This is heightened by the fact that their top three batsmen (read before Virat Kohli) average 9.91 in the fourth innings of Tests this year. There hasn't been a single score of over 20 by India's top 3 in 2018 in the fourth innings.
In this series, in the two games where India had to bat in the fourth innings, the top order made scores of 6 (Vijay), 13 (Dhawan), 13 (Rahul), 17 (Dhawan), 0 (Rahul) and 5 (Pujara).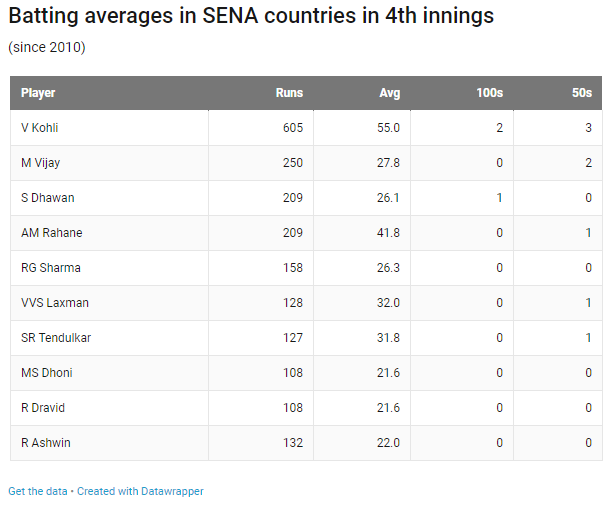 Though this series is over, India still have a Test left to play at the Oval and a tough challenge against Australia coming up later in the year. On the evidence of these numbers, they definitely have to find a formula to get past the line when a fourth innings chase is upon them, or else the disappointments will continue to mount.
(Rohit Sankar is a freelance cricket journalist stuck in a love-hate, live-in relationship with the game. To rile him, bring up the 1999 World Cup semi-final. He tweets @imRohit_SN)