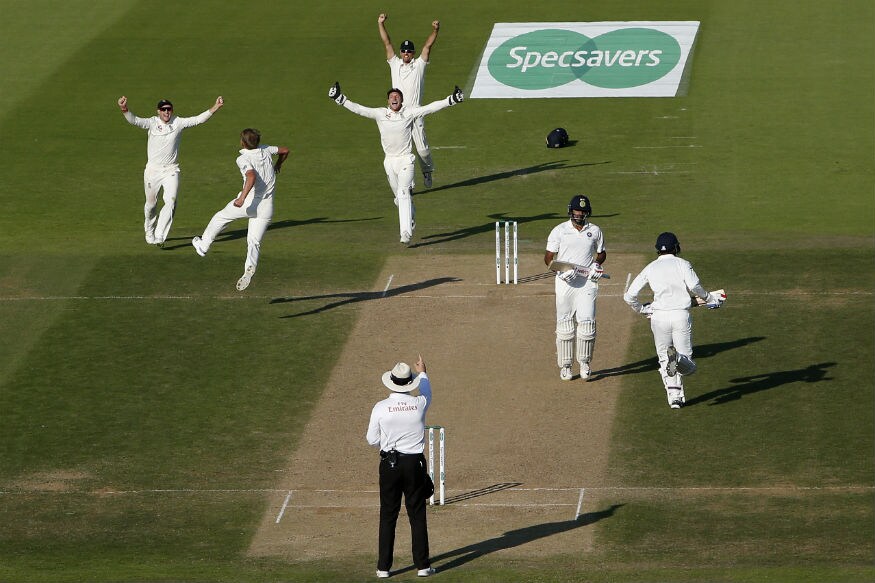 There was talk about this Indian team emulating the achievements of the Don Bradman-led Australian side of 1936-37 who managed to win the five-match Test series after being 0-2 down. After losing the opening two encounters of the series, India bounced back at Trent Bridge and reduced the deficit to 1-2. When Virat Kohli's men arrived in Southampton for the fourth Test, they had the momentum on their side but failed to capitalise on it. India didn't pounce on key moments and that cost them the game as England pulled off a 60-run victory to take an unassailable 3-1 lead in the series.
There were some fine moments of individual brilliance but India failed to click as a unit. Here's Cricketnext's report card of Kohli and his men:
Shikhar Dhawan - Rating: 3, Verdict: Poor
Image: AP
Comes out, gets beaten, plays a couple of delightful shots, and then nicks it behind - This has pretty much been the story of Dhawan in this series. Not once in this series has the left-hander got out for a single-digit score, but neither has he gone on to build on any of those starts. Dhawan's 35 and 44 in the two innings at Trent Bridge turned out to be handy but India needed much more than 23 and 17 from the opening batsman in Southampton. In the first innings, Dhawan played a nothing shot off Stuart Broad's delivery and ended up edging the ball to the wicketkeeper. The story was no different in the second essay where he poked one to the slip cordon. What makes it worse for India is that his partner's form has been even worse.
KL Rahul - Rating: 2, Verdict: Poor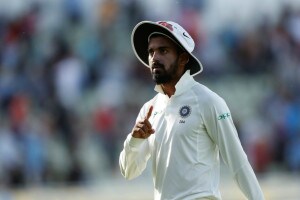 (Reuters)
One out of two is for his slip catching. Hands down, Rahul has been the best slip catcher in this series. While he has effectively done the job with bare hands in the slip region, the problem arises when he wears batting gloves and takes a guard in front of the stumps. The Karnataka batsman, who scored 19 and 0 in the fourth Test, averages less than 15 in the series and is yet to breach the 40-run mark. In his defence, the ball which dismissed him in the second innings stayed very low. Rahul has been struggling with deliveries that have landed on the fourth-fifth stump and dart in. He is a generational talent but still needs some work to survive in seaming conditions.
Cheteshwar Pujara - Rating: 8, Verdict: Very Good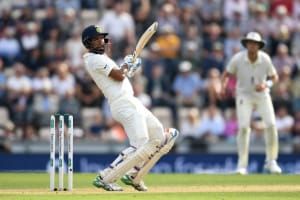 (Twitter/ ICC)
The No.3 batsman showed tremendous guts and calmness to single-handedly take India past England's first innings total. If it wasn't for his unbeaten 132, the visiting side would have been knocked out of the contest even earlier. This was only his second century outside Asia. The 30-year-old didn't go for any unnecessary drives, or cuts, or pulls at the early stage of his innings and allowed Kohli to dominate. Once the captain departed, India lost four wickets in a cluster and Pujara was forced to change his game plan. He added close to 80 runs with the last two batsmen and did it with some uncharacteristic boldness. India would have wanted Pujara to do the same in the chase as well but the right-hander got schooled by a brilliant inswinger from James Anderson.
Virat Kohli - Rating: 7, Verdict: Good
India skipper Virat Kohli plays a shot on day two of Southapmton Test.(Twitter/ ICC)
Kohli has scored 544 runs at an impressive average of 68 in the series, more than double the next highest run-scorer - Jos Buttler (260 runs). Everytime he has come out to bat he has looked determined and positive. He has been the only player who has scored consistently throughout the series. The 29-year-old scored 46 and 58 and was involved in two big partnerships with Pujara and Rahane in the first and second innings respectively. And it was his wicket that completely changed the course of the match on both occasions. In the fourth innings, just when India were starting to get on top, Kohli fell to Moeen Ali and allowed England to regain control of the match. As a captain, there were a couple of decisions that raised eyebrows - like over-bowling R Ashwin in the second innings and not playing Ravindra Jadeja.
Ajinkya Rahane - Rating: 6, Verdict: Average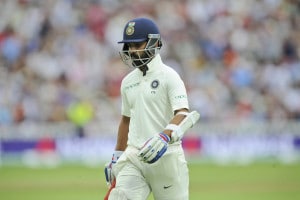 (AP Photo)
Not yet back to his fluent best but Rahane showed grit in the second innings to score his 14th half-century. He gave good support to captain Kohli and when the two were batting, India looked like getting close to the target. He was eventually dismissed for 51 and India's hopes of victory also vanished with his departure. According to Cricviz, Rahane's false shot percentage of 11% has been the lowest of any batsman on either side. The Mumbai batsman will be looking to build on this innings now and end the series on a high at the Oval.
Rishabh Pant - Rating: 3, Verdict: Poor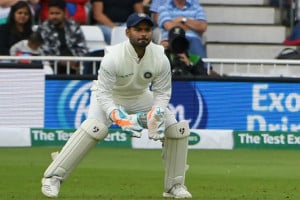 AFP
Pant had a game to forget as he registered a 29-ball duck - the slowest in Indian cricket - in the first innings, and also didn't look comfortable behind the stumps. India conceded 30 byes in the game, though it wouldn't be right to blame all on Pant as many deliveries swung late and not many wicketkeepers in the world would have stopped them. Though, questions were raised about his positioning behind the stumps. He didn't look comfortable against Ashwin either, as he failed to collect the ball neatly on many occasions. In the second innings, Pant came out all guns blazing but failed to make a significant impact as he was dismissed for 18, earning the ire of observers for his hell-for-leather approach.
Hardik Pandya - Rating: 1, Verdict: Very Poor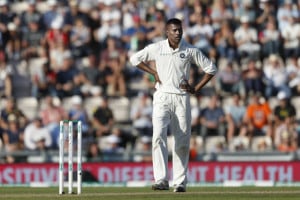 Image: AP
After registering a five-for at Trent Bridge, Pandya's inconsistency came to the fore once again as he struggled with both bat and ball. He conceded 51 runs in eight overs in the first innings and 34 runs in nine overs in the second. With the bat, he was even poorer, scoring 4 & 0 in the two innings. What was even more disappointing was the way he was dismissed, playing loose shots in both the innings. First, he looked to target Moeen Ali but walked right into the trap set by England as he holed out to Root at short mid-wicket. In the second innings, he pushed at a ball he could have left and edged it to slip. Pandya's place in the Test side will certainly come under the radar if India choose to go with two spinners for the final Test, making him the most likely candidate to be discarded in favour of Ravindra Jadeja.
R Ashwin - Rating: 3, Verdict: Poor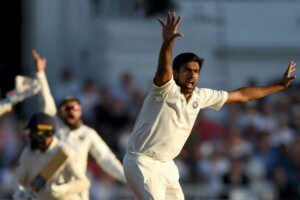 (Twitter/ ICC)
Ravichandran Ashwin had a game to forget and his failure hurt India the most as Moeen Ali spun England to victory. Ashwin was expected to be the difference for India, especially in the second innings but he ended with figures of 1/84 in 37 overs. He didn't look 100% fit, probably because he was carrying a hip injury from the previous game. What's even more worrying for the Indian team is that after a fine performance in the first Test, Ashwin has somewhat tapered off in the series with questions again rising about his effectiveness outside Asia. He will certainly have a point to prove in the final Test.
Mohammed Shami - Rating: 7, Verdict: Good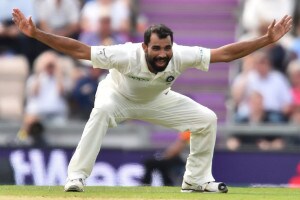 (Twitter/ ICC)
Mohammed Shami has been somewhat of an unheralded star for India in the series and has looked liked picking a wicket every time he has come on to bowl. He picked 2/51 in the first innings followed by 4/57 in the second innings. He got the ball to move and was bowling consistently in the mid 130s. No matter what time of the day, he was charging in with the ball and often provided crucial breakthroughs to India at regular intervals. He was on a hat-trick twice in the game and it looks like he has put his personal issues behind him, looking more like the bowler we know him to be.
Ishant Sharma - Rating 7, Verdict: Good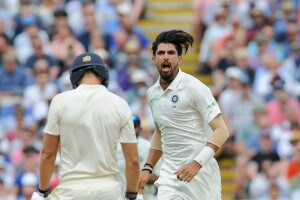 (Image: AP)
Sharma was given the new ball in the first innings and he showed great control, conceding at a rate of only 1.32 runs per over. Though he was not among the wickets, he still kept the pressure on from his end and didn't bowl many loose deliveries. He also contributed with the bat in the first innings, scoring a valuable 14 and providing late support to Pujara. The two put together 34 runs for the ninth wicket and that played a key role in helping India take the first innings lead.
Jasprit Bumrah - Rating 6, Verdict: Average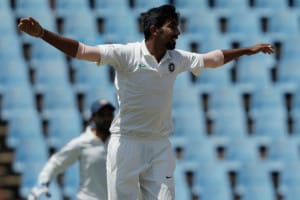 (AP Photo)
Bumrah has emerged as Kohli's go to bowler when it comes to picking wickets and he certainly lived up to the billing, at least in the first innings, picking 3/46. He also had a 46-run stand with Pujara while batting which came as a pleasant surprise considering his batting skills. In the second innings he picked up only one wicket but was largely playing a supporting role to Ashwin - who bowled the majority of the overs.
*Rating chart: Very poor 0-1, Poor 2-4, Average 5-6, Good 7, Very good 8-9, Excellent 10.