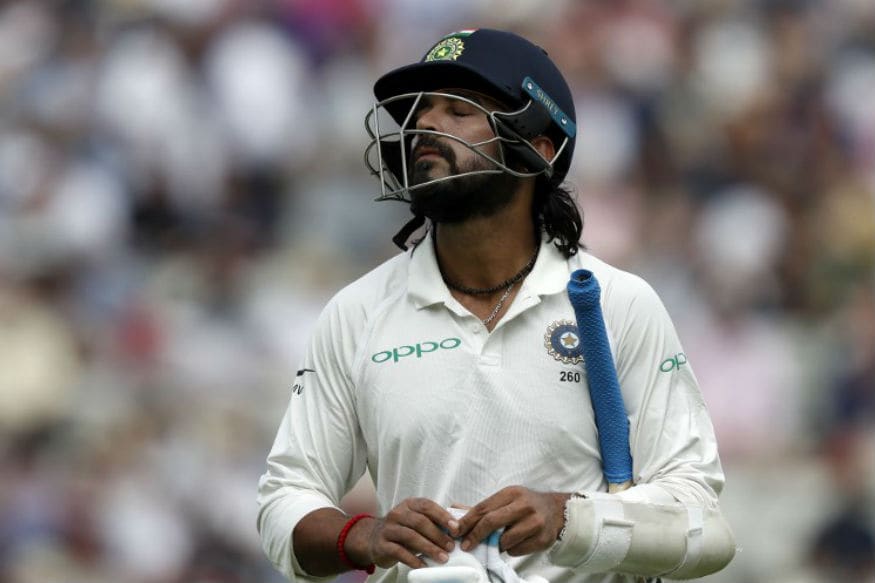 When India started their Test series against South Africa in 2018 – a beginning of what was to be a huge year for the team, with away Tests in South Africa, England and Australia, one man skipper Virat Kohli would have looked up to deliver would have been opener Murali Vijay.

However, after a poor show in South Africa, Vijay's failure in the first two Tests in England has now cost him his place in the side with Shikhar Dhawan replacing him for the third Test at Trent Bridge.

Vijay was among the few batsmen who delivered in 2014 in tough places like Australia and England even though India didn't go on to do anything substantial in the series. 402 runs in five Tests in England followed by 482 runs in four Tests in Australia showed that Vijay had the game required to succeed abroad. Also, his form in the past few years has seen him become a strong pillar in the Test team.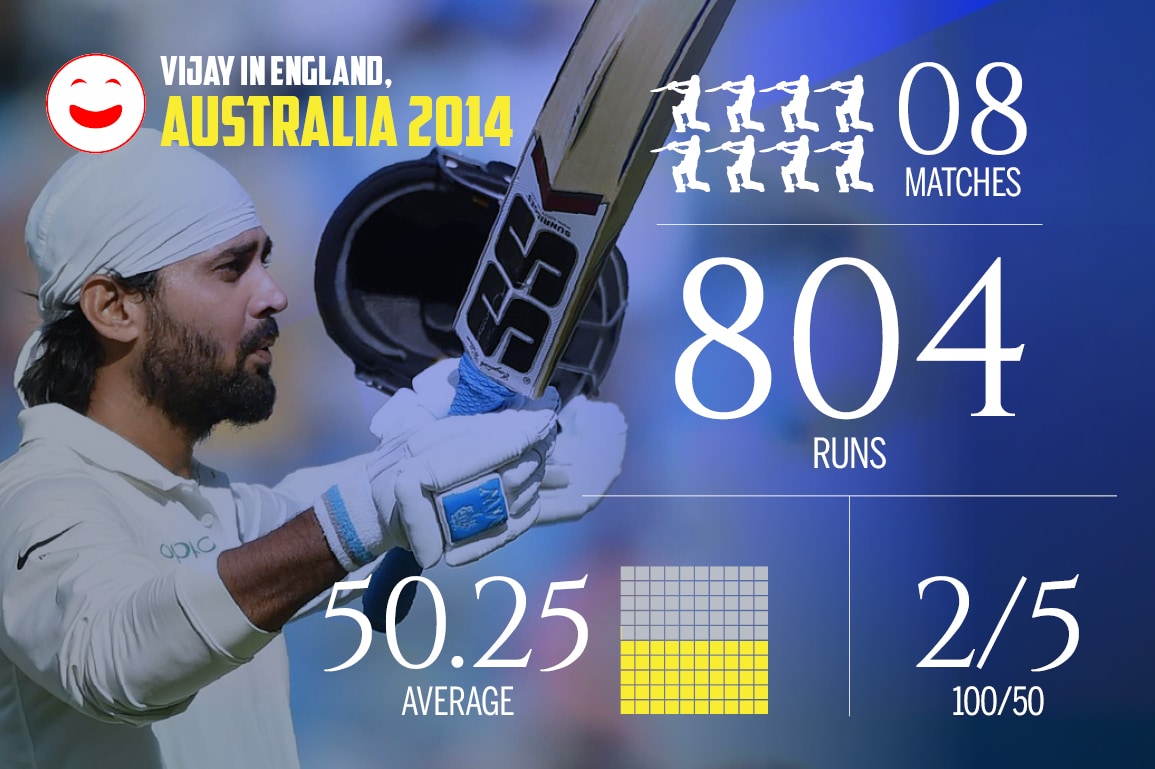 "He's a fine 'leaver' of the ball, handles the short ball well. For an opener, he is a terrific player of spin. He's just a solid player who makes runs in all conditions. Vijay is mentally strong and will be around for some more time," head coach Ravi Shastri had said ahead of Vijay's 50th Test in 2017.

However, just when it looked Vijay would finally cement his legacy as one of India's finest Test openers, things have gone a bit haywire for the Tamil Nadu star.

A change of technique in South Africa, which saw him shuffle across his off-stump, led to his downfall but that was something he realized and admirably improved. Though he didn't make many runs in the Johannesburg Test, he faced 127 balls in the second innings which played a crucial role in India's victory.

In England though, Vijay has again failed to provide India with solid starts. What's more worrying for India is his mode of dismissals — with the opener being troubled by the ball coming in after pitching around off-stump. His shot selection too has left many wondering whether Vijay is trying to score quickly as compared to grinding it out – something he was known for. An attempted flick on the fourth delivery of the Test against James Anderson at Lord's in overcast conditions, only to see his off-stump rattled, left observers wondering whether the Vijay of 2014 would have played that shot.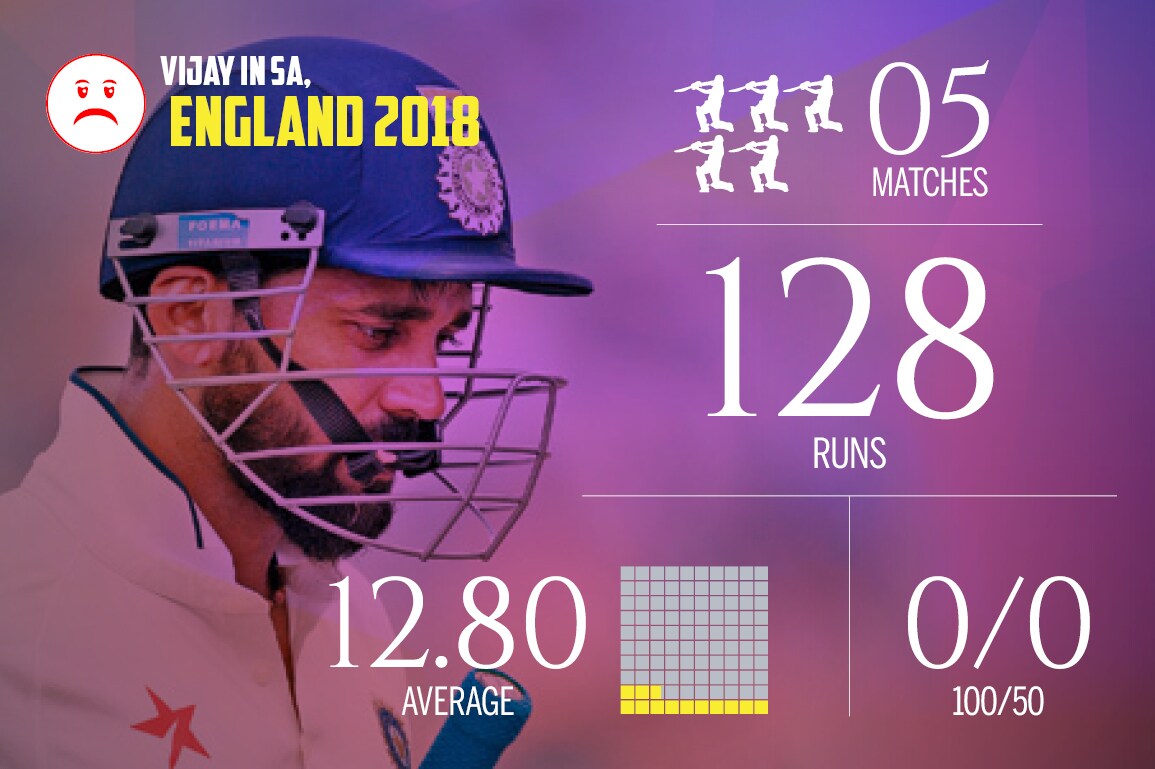 "There are no glaring technical flaws I see, people who tend to leave a lot are always a bit susceptible to the ball that comes in," says former India opener Aakash Chopra. "That has already happened to Vijay a few times here (in England). It is also down to conditions, when you play so much in the sub-continental conditions, you get mentally tuned to playing a certain way and it becomes difficult to change."

Between 2015—18, India played 30 Test matches, all in the sub-continent barring West Indies – where the pitches are more similar to the sub-continent than England or Australia. Chopra is also of the opinion that the Vijay of 2014 was a bit more raw and someone who had the mental toughness to succeed in England and Australia.

"He was at the beginning of the Test career, mentally prepared to play abroad but after that, if you play so much in the sub-continent and keep on scoring big runs, you don't even contemplate your technique, this is why I feel tour games and preparations are all the more important for Test specialists," Chopra said.

The upcoming three Tests are all the more crucial for Vijay. With team confidence taking a hit and situation looking remarkably similar to 2014, Vijay will have to dig deep in his mental reserves to be able to deliver as an opener. Someone who has followed Vijay's progress from close quarters is his former India fast bowler Laxmipathy Balaji who has played a lot of cricket alongside him for Tamil Nadu. Balaji is in no doubt that Vijay is more than capable of turning things around.

"Vijay is someone who takes pride in performing overseas, he was very much looking forward to perform in England," Balaji said. "It is important to accept responsibility but at the same time not be too harsh. He is someone who has delivered for India in the past, many cricketers have gone through a slump and bounced back. Vijay will need to introspect and then mentally adjust to the conditions. It is something he is capable of doing and I hope he can turn things around quickly and help India get off to good starts.

"He should look to play hours instead of focusing on runs, even if he doesn't get big hundreds but if he plays four-five hours, he will make the job of other batsmen easier and also set the tone for the innings."

Not long back, Vijay would have been one of the first few names on the team sheet, especially in away Tests considering his excellent numbers. But, now having being dropped the whispers for opportunities to younger players like Mayank Agarwal or Prithvi Shaw might start to grow that much louder.  At 34, failures are often looked at differently than when you're 24 and it is something Vijay will know well. After all, he cemented his spot in the team only when India finally started looking beyond Virender Sehwag and Gautam Gambhir as the opening pair.

First Published: August 22, 2018, 8:08 PM IST