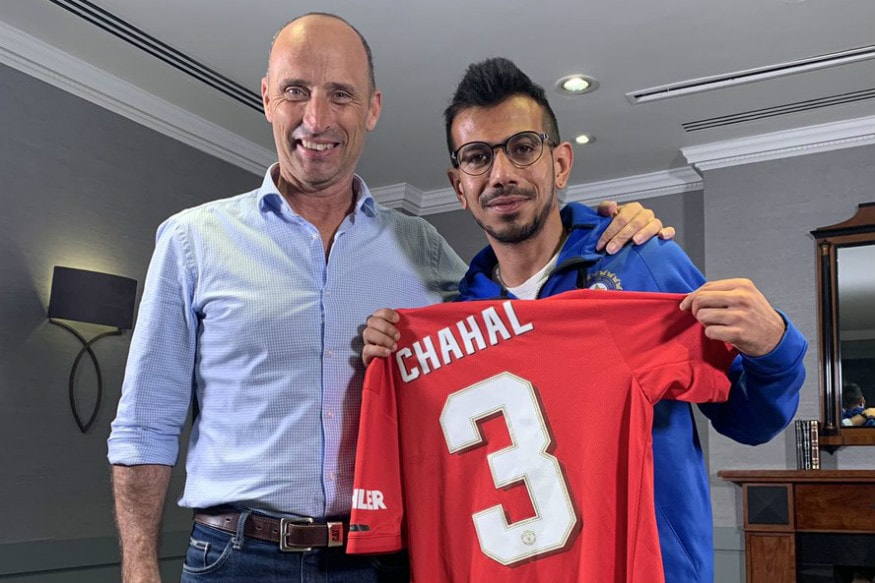 India leg-spinner Yuzvendra Chahal is the leading wicket-taker for India with 10 scalps in five games of the ICC World Cup heading into their clash against hosts England at Edgbaston on Sunday (June 30). Chahal believes his job is to take wickets for his captain Virat Kohli in the middle overs, whether it's three wickets a game or one it doesn't matter to him.
The Royal Challengers Bangalore (RCB) leggie sat down with former England captain Nasser Hussain for an interview with Sky Sports ahead of Sunday's game in Birmingham.
"My job is taking wickets in the middle-order. If I take two wickets or three or even one, my job is done," Chahal told Sky Sports.
The leading wicket-takers in the World Cup so far are paceman from Australia and New Zealand but Chahal believes that with weather getting warmer in the United Kingdom, spinners will have a bigger role to play in the second half of the tournament.
"The last two matches we played, the wicket was totally different to the ones we started on earlier in the tournament. Now they are little bit more dry and turning more. It's going to be more helpful to the spinner for sure in the later half of the tournament," Chahal felt.
The Haryana tweaker believes England are fine players of spin with so many of their batsmen like Eoin Morgan, Ben Stokes and Jos Buttler regular part of the Indian Premier League.
"Australia and England are two of the best side, from England so many people are playing IPL, they have played me and Kuldeep (Yadav) there. Even last year when we came here they played us very well. Their middle-order and openers are good against spinners," he said about the England batsman.
Former India captain and wicketkeeper Mahendra Singh Dhoni plays a big role in success of the Indian spinners with his inputs from behind the stumps.
"Dhoni is watching the wicket very closely. He's watching what the batsmen are doing and he's already batted on that wicket. He knows what pace the ball is coming and told me on the Manchester wicket you can vary your pace. Dhoni told me to bowl little bit slower and quicken up for a couple of overs," he said about Dhoni's inputs.
On help from his skipper Kohli, Chahal said, "I have played under Virat bhaiya for six seasons in IPL for RCB, so we have a good bond. He trusts me a lot and if I am getting hit, he won't get abusive but says it's fine. That's the back up you need from your captain."
Chahal also revealed to Hussain his tryst with chess board before he took up cricket full-time.
"In 2012, I was Under-12 chess champion and next year I went to Greece for Chess World Cup. When I came back I needed to choose between chess and cricket. Chess needed 12-13 hours a day, so I didn't have time to play both. So I told my dad I was more interested in cricket," he said.
Finally, on his visit to the Manchester United's Old Trafford stadium before the game against Pakistan earlier this month, Chahal said, "Visiting the Theatre of Dreams is one of the things ticked off my bucket list. The last time I came I didn't have time to visit. I started following when David Beckham was there. I was feeling goosebumps when I got there."