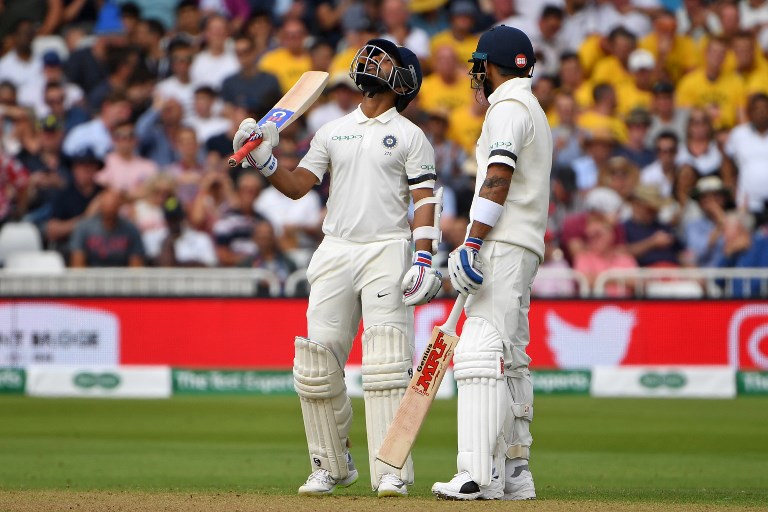 India and England shared the honours on Day 1 of the third Test, with the visitors managing 307 runs for the loss of six wickets after being asked to bat first at Trent Bridge.
Post a gritty opening stand between Shikhar Dhawan and KL Rahul, three wickets in a short span of time pegged back the visitors at lunch. But Virat Kohli and Ajinkya Rahane combined together to push India to a comfortable position courtesy a 159-run stand for the fourth wicket. Both batsmen, however, failed to convert their knocks into three-figure scores, with Kohli falling just three short of his 23rd Test century and the latter getting dismissed for 81.
Speaking about his innings post the day's play, Rahane revealed that he and Kohli were looking to keep the score moving once they were settled in. "Our intent was to continue batting throughout the day," he said to bcci.tv. "When Virat Kohli and myself were batting, we were trying to build a partnership and as soon we both got set, our focus was to keep the scoreboard ticking."
"That partnership with Virat Kohli was very crucial for us. When Pujara was unfortunately dismissed before lunch and I went on to bat, my intent right from the outset was to keep batting and scoring runs. Strike rotation was important in the partnership with Virat Kohli."
The 30-year-old said that his poor showing in the second Test at Lord's prompted him to take a closer look at his batting prior to Trent Bridge. "After my Lord's innings, I kept on analysing how my good batting innings were. I was never bogged down by my performances and kept my calm."
The vice-captain reckoned India's performance on the day was good but lamented the late wicket of Hardik Pandya. "I think the first day's total is quite decent. If the total would have been at 307/4, it would've been great. Hardik Pandya got out in the last over but at the end, this is a good score at the end of the first day", he said.