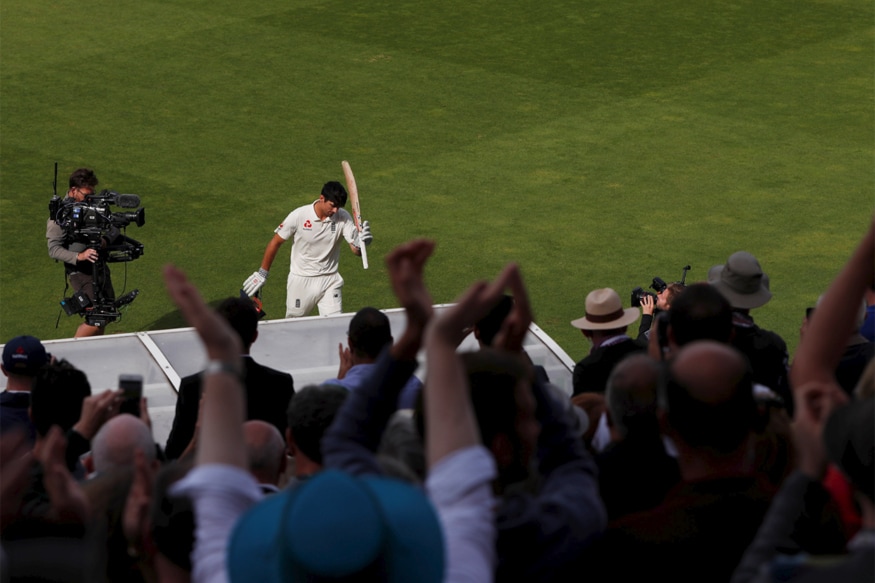 From Leyton to Brixton they came, united in one purpose, and they were not disappointed. A thousand sick days taken, dozens of hastily scribbled notes to schools written – from babies barely a month old to elderly fathers with their middle-aged sons and everyone in-between – The Oval filled to bid farewell to Alastair Cook.

Standing ovations were soon the order of the day – Cook received two having faced as many balls – 17,000 people on their feet as he made his way to the wicket perhaps for the final time, then again an over later as he brought up his 50 with a signature flick off his pads.

That four, the 1432nd of his career, made him only the second man in history to reach at least a half century in both innings of his first and last Test, the first milestone reached in a day that was soon full of them.

India were a bowler down and for what felt like the first time in a while England were finding runs easy to come by, Cook slowly building towards the score that everyone gathered was urging him to reach.

The ground might have been nearly full, but at times you would have had no idea, the eerie silence of tens of thousands of people not wanting to miss a thing descending before every ball Cook faced, as if somebody was twisting a volume dial down whenever the bowler started to run in.

A third standing ovation of the morning was not far off, a scampered single from an inside edge squirted into the leg-side and Cook passed Kumar Sangakkara to become Test cricket's highest-scoring left-hander of all time and its fifth highest of either persuasion – the proclamation of which on the big screens was all the encouragement an increasingly frenzied Oval crowd needed to rise to their feet once again.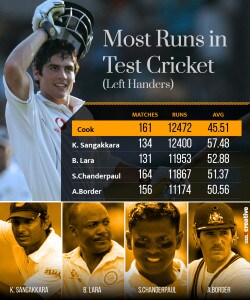 At the other end Joe Root was going well, but like the front man of a band with a much better looking bassist, he wasn't getting much attention, his half century a minor interlude in another man's day.

Over by over Cook ticked off the runs, tension mounting, the silence before every ball and the collective exhalation of breath tinged with ever-increasing degrees of skittishness.

Suddenly he was 10 runs away, appearing perhaps the calmest man there, but then what else would you expect from a man who literally doesn't sweat. Fortunately for the heart rates of those watching, the nervous nineties did not have to be endured for long – after four balls faced Cook had 96.

Then came the moment, a richly deserved freebie for a man who has asked for little from a game that he has given so much, an otherwise innocuous single transformed into five runs as a hilariously wayward throw from Jasprit Bumrah flew wide of its intended target and skidded away rapidly to an unguarded boundary.

There was a roar first from Root as he realised what had happened, echoed seconds later by a jubilant crowd who had witnessed the moment of history that they had all been collectively willing to happen, a release of nervous energy and delight for one of the game's all time greats.

Helmet and bat held aloft in outstretched arms Cook saluted the assembled cheering horde, a celebration through 360º, no corner of the ground left unacknowledged, the ground once again all on their feet as the arena showered their Victor Ludorum in applause, he finishing with a trademark tug on the ear.

Well practiced by now, the crowd's fourth standing ovation threatened to never end, a slightly sheepish Cook forced to acknowledge them one more time with a laugh and a rather embarrassed final wave of the bat.

Play did ultimately resume, and before long Root had a hundred of his own. England amassing runs with a fervour rarely seen this decade, India's spirit broken, the end of the tour not able to come soon enough.

All things must end and eventually Cook's innings did have a conclusion, edging a cut shot through to the keeper to fall for 147. A quick dejected slump of the head and then he turned and walked off as a Test batsman for the final time.

After 26,562 balls, 12,472 runs, 1,442 fours, 11 sixes, 5283 leaves, nine ducks, 57 fifties and crucially, thanks to the labours of the day, 33 hundreds – the kitchen was finally closed.

First Published: September 11, 2018, 8:00 AM IST