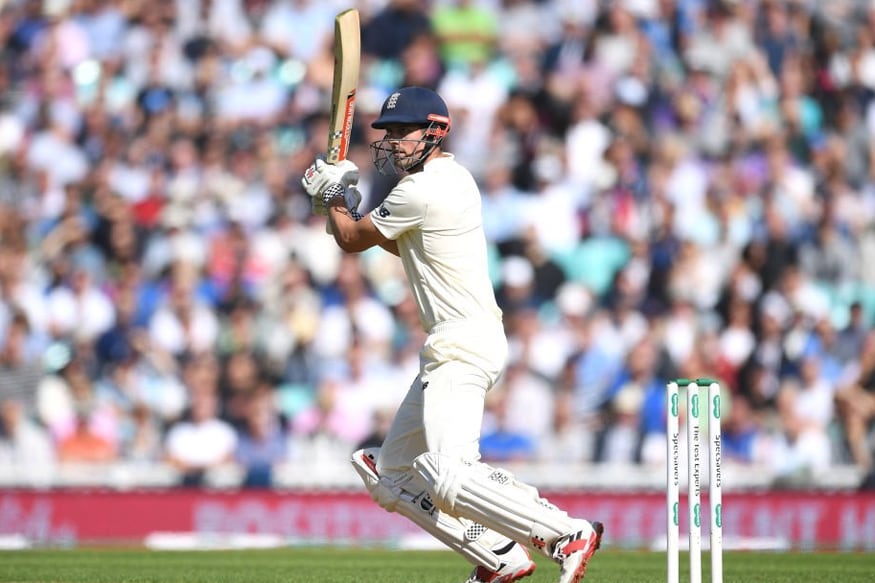 As the last embers of a once-in-a-generation summer briefly sparked into life to bathe a sold-out Oval in early autumn sunshine, so too the final cinders of Alastair Cook's career fleetingly reignited, teasing the final fairytale hundred, but tantalisingly burning out 29 runs short.
With the fate of the series decided last week, there could be no mistaking the focus of this match. A dead rubber lent a little meaning by virtue of being Cook's last Test – 24,000 people gathered in south London hoping for one last hurrah from an all-time England great.
From Mick Jagger to Lawrence Dallaglio, it seemed everybody was watching on, even Kevin Pietersen appeared to have put old animosities aside, perhaps remembering the 3558 runs that the two scored together as he looked on from a perch in the OCS Stand.
A hearty cheer greeted Joe Root's decision to send India into the field, they had after all, to paraphrase WG Grace, come to watch Cook bat not England bowl – the crowd imbued with a strangely contagious mixture of celebration and anxiety.
The tourists gave Cook a guard of honour as he walked out onto the field, and for a while it seemed like their bowlers decided to keep it going through the opening overs – England's flaky opening pair given the gentlest of introductions into proceedings on day one.
Rising to the occasion, soon Cook was rattling off his greatest hits, fittingly off the mark with a cover drive that wasn't quite timed, then ticking off his signature shots with the first three boundaries of the game.
First up the clip off the pads, midwicket and mid on bisected, a little later came the cut for four, followed immediately by a pull shot that had the ball racing to the opposite boundary and the crowd enthusiastically roaring its approval.
Cook batted on, the hopes of those watching swelled – relief palpable when Rahane shelled him on 37 in the gully, elation visible by the standing ovation handed out when he reached 50.
Fittingly it was, at least to begin with, Test cricket in Cook's image, patient and watchful, with the run rate unimportant – Moeen Ali celebrating his elevation to number three by curbing most of his swashbuckling instincts.
As Cook moved past 50, the first an opener has managed in this series, he looked untroubled, that dream send off moving closer into view with the sort of inevitability that the best players seem to manufacture for themselves.
Ultimately it was not to be, a ball from Jasprit Bumrah played onto his stumps on 71, The Oval sighing en masse then rising unanimously to applaud Cook from the field. For a man who usually keeps his emotions pretty close to his chest, the slight kick of the turf and reluctant waving of his bat as he walked off gave away just how disappointed he was.
Disappointment was a sensation that England's fans would soon become even more accustomed to, 133/1 became 133/4, then 198/7 by the close – a batting collapse as familiar as a Cook single clipped off his hips.
Even extreme optimists might have struggled to claim this was just England ensuring they would have to bat again to allow Cook a second crack at a century, as it was their collective failure on what looked a good batting track might have increased his chances of one final bowl in desperation should India really rack up the runs in reply – one positive at least for their fans to cling onto.
The brittleness of their batting continues to be England's biggest concern, showing at least a new variety to their game, here their middle and lower order threw away the diligent start made by their top three – still finishing the day well under par, just by different means.
For those gathered then they were treated to a glimpse of both England's past and their possible future, an alluring nostalgia trip back to a time of Cook's runs and a dependable top order, followed by the nauseating comedown of yet another collapse.