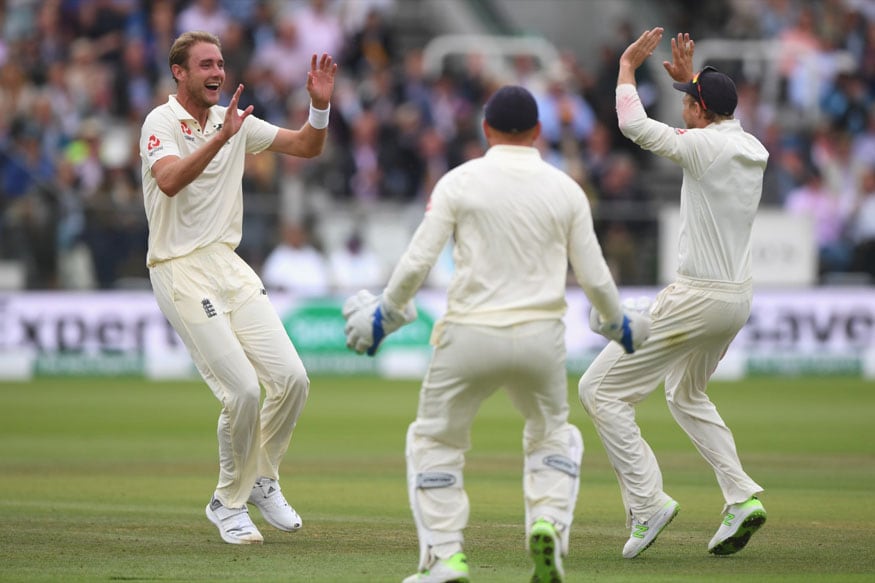 Two Tests played, two Tests won. Things, it has to be said, are going pretty well for England and nowhere more so than in the bowling department.
Batting concerns remain, but with the ball in hand England have been rampant, with almost everything going their way.
Perhaps nothing sums this up better than the performance of Stuart Broad on the final day at Lord's on Sunday.
While for two Tests the majority of England's bowlers had been firing on all cylinders, Broad had looked far from his best. There had been a lively spell at the start of India's second innings at Edgbaston, but that was about it. By the time India's second innings at Lord's started he had three wickets in the series at an average of 40.
That innings started inauspiciously too, the new ball taken out of his hands after just three overs and handed to England's new golden boy Chris Woakes, and while he returned and picked up the wicket of Ajinkya Rahane – for the fifth time in Tests – that was more a case of a loose shot than brilliant bowling.
Just moments after scoring his first Test 💯 @chriswoakes was presented with his 25th cap from the skipper @root66! 👏 pic.twitter.com/dbKwlAVOuv

— England Cricket (@englandcricket) August 13, 2018
Things were not looking great for Broad, who had at this point found the least swing and the least seam movement of any England bowler in the innings. Might he be dropped or perhaps, more tactfully, 'rested' for the next Test? It did not seem beyond the realms of possibility.
Broad though had other ideas, producing a spell to ensure that he was no longer being left behind by the exploits of his teammates. First he removed Cheteshwar Pujara, who had until that point been leaving well and looked the most capable Indian batsman at dealing with England's swing assault. He had not however counted on Broad producing the ball that swung more than any other in the innings, an enormous in-swinger that promptly cannoned into his off stump.
Not content with just prodigious swing, Broad then removed Virat Kohli with a delivery that jagged back sharply off the seam – no ball did more off the pitch in the innings – before producing the second biggest swinging delivery of the innings the very next ball to remove Dinesh Karthik.
Unfortunately for Broad, he neither completed a record-breaking third Test hat-trick, nor got to continue bowling much longer, rain forcing the players off for an early Tea. However, in that spell before the break he sent down seven overs with four maidens, taking four wickets for just seven runs – during which he produced 11 other chances that didn't lead to wickets, all while India only managed to score runs off three balls.
While Broad's dramatic rediscovery of his magic touch highlights how well just about everything seems to have gone for England's bowlers so far, the evidence has been there throughout the series.
Before it began however there were legitimate concerns about the strength in depth of England's bowling attack – the new ball pairing of Anderson and Broad might be fearsome, but after them was the cupboard looking a little bare? The inclusion in the first Test squad of uncapped and untested Jamie Porter and 20-year-old Sam Curran – with just one cap to his name and consensus being his future might predominantly be as a batsman – seemed to indicate it might be.
Concerns over Anderson and Broad's recent injury troubles, a relentless schedule of five Tests in six weeks and injuries to Chris Woakes and Mark Wood only exacerbated this suggestion – with some even theorising that England's fast bowling, long believed to be their biggest potential weapon against India this summer, could prove something of an Achilles heel.
That has dramatically proved not to be the case. Any worries about England's strength in depth for now sated by performances with the ball that have seen India only manage totals of 274, 162, 107 and 130 in their four innings so far.
When India's openers originally saw off Broad and Anderson in their first innings at Edgbaston, it was Curran who stepped up, removing the entire top three. When Kohli looked as if he would single-handedly lead India to victory on day four of the same Test, it was the turn of Ben Stokes to perform, backing up the masterful display of swing bowling he'd produced during India's first innings.
Even with a fast bowling attack that appeared to be firing on all fronts, England were shorn of Stokes for the second Test, surely his absence would have some impact? Given how well everything else has gone so far with the ball for England, that the answer was a resounding no seems inevitable, but before Lord's that was far from obvious.
Ultimately as anyone who paid even a fleeting moment's notice to the second Test could tell you, everything worked out all right for England, Woakes coming in, bowling beautifully and making 137 not out as well.
Suddenly from worrying about strength in depth, England, should Stokes become available again any time soon, now have potential concerns about who to leave out of their side – not to mention the option of blooding Porter, whose recent County Championship record would suggest that he might also pose more than a fair share of problems to India's batsmen.
As problems go it is not a bad one to have, and with the ball so far dominating the bat and India reeling from a fairly humiliating defeat at Lord's, suddenly it looks like it is going to take something special to stop England's bowlers running away with the series.