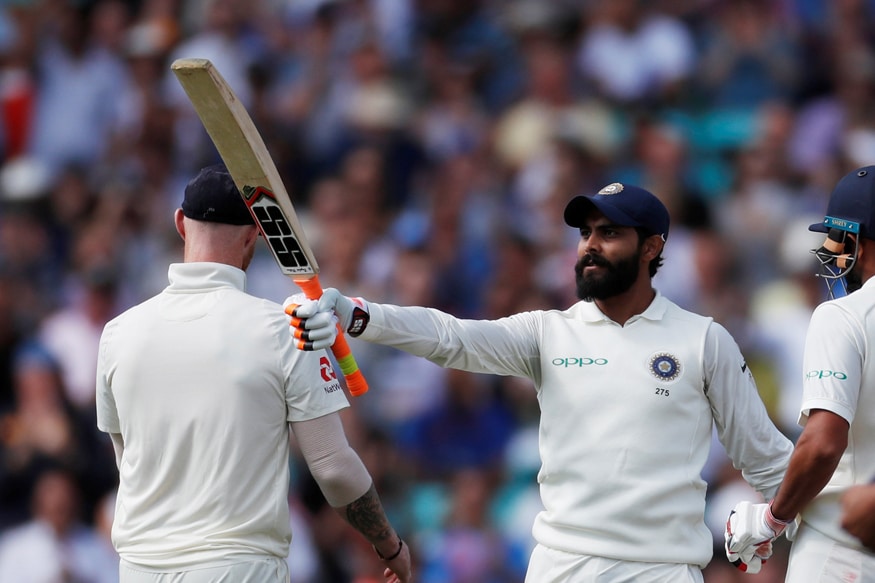 William Blake almost certainly wasn't discussing India's selectors when he said "hindsight is a wonderful thing, but foresight is better", but after day three at The Oval it is a quote they would do well to ponder.
Giving the men picking India's teams cause to look back ruefully was Ravindra Jadeja, a man making his first appearance of the series and in no mood to waste it.
In a closely fought series, it has been the difference between England and India's tails which has gone a long way to deciding things. Going into today, the hosts had seen their final four batsmen face 850 balls and produce 463 runs, by comparison India's had managed just 218 runs and only faced 423 balls.
It is not as if Jadeja is an unknown quantity, he has 36 Test caps for India, and is currently ranked number three in the Test bowling rankings – had he been picked for the first Test at Edgbaston who knows how this series might have panned out.
With India lacking lower order runs all the way through the series, Jadeja would have been an obvious salve – since 2016 no man that has batted at least 20 times at number eight or lower, averages more than the 43.43 that he does.
Day three saw Jadeja clearly in a mood to prove the wondrousness of hindsight. India began it 174/6, 158 runs behind and with few expecting anything else than a skittling of their final four wickets and a hefty lead for England.
Jadeja though had other plans, and along with Hanuma Vihari, set about trying to drag India back into the game. As anyone who has watched it could tell you, this has not been an easy series for batsmen, with patience and abstinence being the qualities most rewarded, lessons a man who has been a spectator for almost all of it had clearly learned.
India's moustachioed number eight had made eight Test half centuries coming into this game, and yet in none has he left a higher proportion of deliveries, a telling stat especially considering that the last part of his innings was spent attempting to score some quick runs.
Jadeja recognised the situation required patience and played accordingly, facing only four fewer balls than India's top three put together, helping India coax 132 runs out of their last four wickets, and more impressively 55 of those with the extremely flaky final three.
It was this diligence and skill which made Mohammed Shami's dismissal all the more criminal, his ugly and brainless hoik down the ground off Adil Rashid undoing much of the hard work being done at the other end by Jadeja.
With only Jasprit Bumrah – a rabbit of Watershed Down-worthy proportions – to come, Shami may well have cost Jadeja his maiden Test hundred, not to mention India a shot at lessening their eventual 40-run first innings deficit.
When India got their hands on the ball, Jadeja was again at the heart of the limited success that they enjoyed, picking up one of the two wickets the tourists claimed. His delivery to dismiss Moeen Ali was a beauty, tossed up into the rough and turning sharply – no ball to England's number three spun more.
The desperately unlucky and wicketless Shami aside, Jadeja was also arguably the pick of India's bowlers in their first innings, rattling his way through 30 overs and collecting figures of 4/79 – including popping up to finally stop Jos Buttler in his tracks.
Time and time again in this series India have been forced to look on jealously as one of England's star all-rounders has turned the tide decisively in almost every Test – perhaps with a little more foresight they would have realised that they've had one of their own all along.