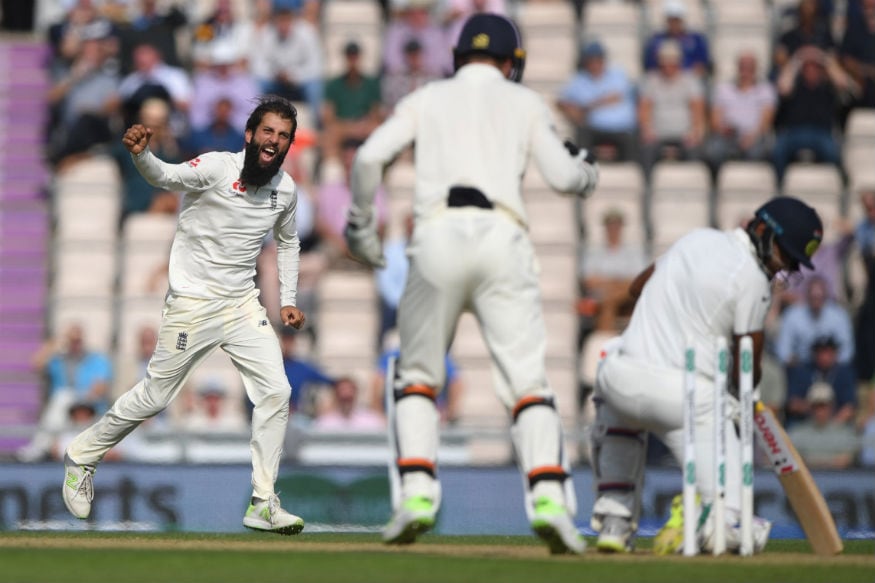 Southampton: Thursday saw Indian fast bowling run rampant against England, on Friday an English spinner tore through India's batsmen – is this cricket's equivalent of cultural appropriation?
This has now become a series that refuses to conform to expectation – that is unless it concerns the success of England's top order. No sooner has one side looked dead and buried than the next minute they have come roaring back into things – on day two at Southampton it was Moeen Ali in the Lazarus role.
This match already marked the resurrection of Moeen, dropped after a wretched winter, he has resumed his Test career in style, first a valuable 40 with the bat when all above him had failed, and now just when England needed him he has spun them right back into contention.
From 181/4 to 227/9, Moeen struck five times across the afternoon, each victim dragging England further and further back from the brink, each blow chipping away at the commanding position India had built for themselves on day one.
Making any predictions about this series has proved to be a risky business, India were whitewash material after Lord's, a Test later it was England who looked hopeless – now the much expected Ageas Bowl batting track has proved anything but, and for the second day in a row it has been the bowlers who've prospered.
That is of course doing Cheteshwar Pujara a disservice, a man on a comeback mission of his own, having been left out of the first Test, whose superb hundred has almost single-handedly kept India still in this fascinatingly poised match.
Pujara's runs helped India crawl out of a hole that was almost entirely dug by Moeen, his five wickets the most by an English spinner in a Test innings for over 12 months and his third five wicket haul in as many first-class games.
This was Moeen's fifth five wicket haul, and perhaps more remarkably his second in three Test innings bowled at Southampton, both coming against India.
Just as India's seamers out bowled their English counterparts, here Moeen comfortably outdid Ravichandran Ashwin's first innings output – capitalising perhaps on a slight change in the condition of the surface to find the requisite turn to trouble the opposition. It was in fact the most turn Moeen has found in the first innings since 2016, and he exploited it to the full.
Rishabh Pant might have made his name bludgeoning IPL attacks, not to mention got off the mark in Test cricket with a six, but he remained neutered, his 29-ball struggle to score a run ended without success by a beautifully flighted ball from Moeen that thudded into his pads and trapped him LBW.
Moeen might be the most mild mannered of assassins but that doesn't render him any less deadly, flight again proving his most effective weapon as he lured Hardik Pandya into clipping the ball straight to short midwicket.
If India were on the backfoot, Moeen's next over practically knocked them to the floor, Ashwin then Mohammed Shami removed by consecutive deliveries, three wickets lost in the space of 16 balls.
Suddenly it was India's batsmen whose minds looked scrambled, there was more than a note of comedy to Ashwin's dismissal, toe edging it onto his own stumps as he attempted to play the reverse-sweep, then Shami followed with simply no response to a straight one first ball.
Only Pujara held out, and only Pujara looked secure in the face of England's surprise spin success – playing only 3% false shots against spin – and forging invaluable partnerships with India's last two to give them a first innings lead that for a long time looked unlikely.
If the recent weeks have taught us anything it is that it would be dangerous to guess quite where this Test is heading next, this has been a series of notable comebacks and today Moeen wrote his name firmly onto that ever-growing list.