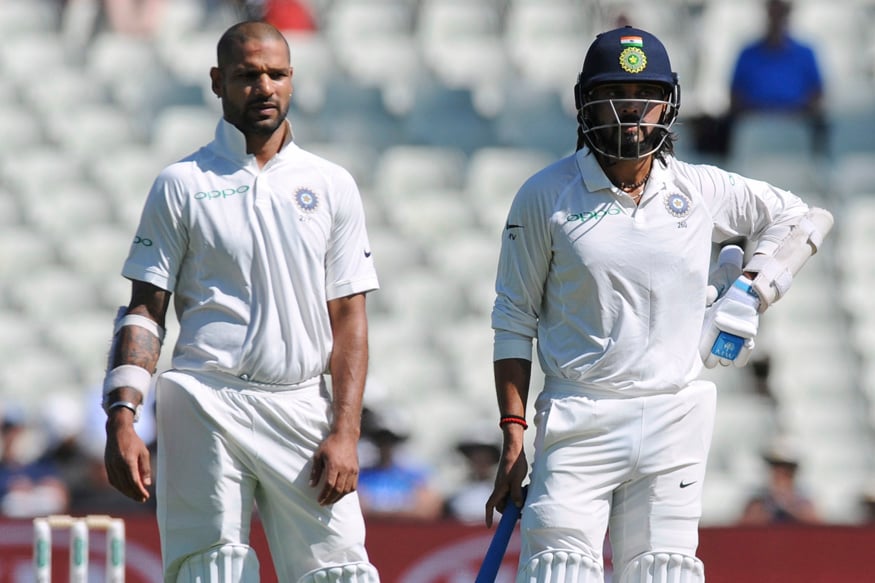 Six hours, 266 balls, 146 unbeaten runs. Yet, all Rahul Dravid could manage was get India to 300 in reply to England's massive 591 in the first innings. The Oval Test of 2011 is well known for a masterclass from India's 'Wall'. Opening the batting, Dravid scripted his third hundred of the series, remained unbeaten on 146 and contributed to nearly half the team runs. India lost by an innings and 8 runs but Dravid's innings was a lesson in opening batting in overseas conditions.
It was an anomaly like no other. Dravid wasn't India's regular opener. Of his 286 Test innings, 219 have come at No.3. Yet, on that tour, the Oval ton was his second as an opener. India's openers aren't known to thrive on overseas adventures, in particular, tours to SENA (South Africa, England, New Zealand and Australia) countries.
Since the start of 2011, Dravid is the only Indian opener to average over 35 in SENA countries in Test cricket. He has two hundreds in five innings and averages a whopping 79.50. The next best is Murali Vijay with an average of 34.51. The global average of openers in SENA countries - calculated as the mean batting average of all opening batsmen in SENA countries - since 2011 comes to 35.39. Not one Indian batsman, barring Dravid, has breached that.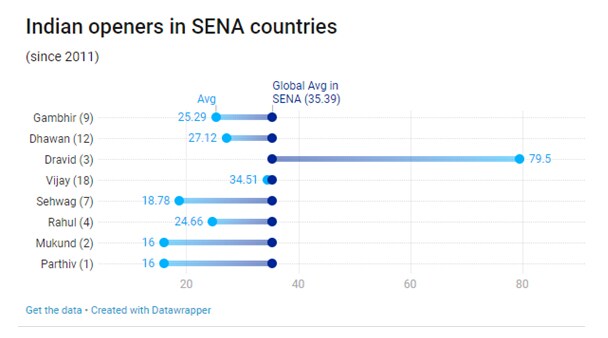 (SENA - South Africa, England, New Zealand, Australia)
It isn't that India haven't had decent openers in this time period. Vijay, Shikhar Dhawan and Gautam Gambhir have all played considerable amount of Tests and averaged pretty well at home. But, their average in overseas conditions hasn't always been ideal. Just take the home against away averages of India's prominent openers in this time frame and the picture is clearer.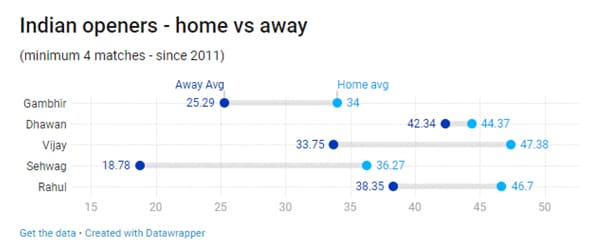 There is a vast difference in the home and away averages of almost every one of India's regular openers. However, even this overseas average is boosted by runs in other subcontinental countries. Dhawan, for instance, has a pretty good away average of 42.34 but in SENA countries it stands at 27.12. For the record, he averages 61.00 in the subcontinent.
The foremost expectation from opening batsmen in conditions where the ball moves around extravagantly early on is to survive. Balls faced or minutes batted is an ignored factor in batting these days. Dravid's composed 146* was built on the back of some exceptionally judged leaves outside his off-stump and solid defense. He batted time and balls and then went for the runs.
Indian openers have been guilty of not spending enough time at the crease. Since the start of this year, India's opening partnerships have survived an average of 39 balls on away tours. In the sole home game, against Afghanistan, the openers, Vijay and Dhawan, made hundreds and batted together for 28.4 overs, scoring at a rapid rate of 5.86. In the nine innings outside India, the openers have scored at a run rate averaging 2.67. They have survived a total of 350 balls in these matches while in the one innings against Afghanistan, they faced close to half of that.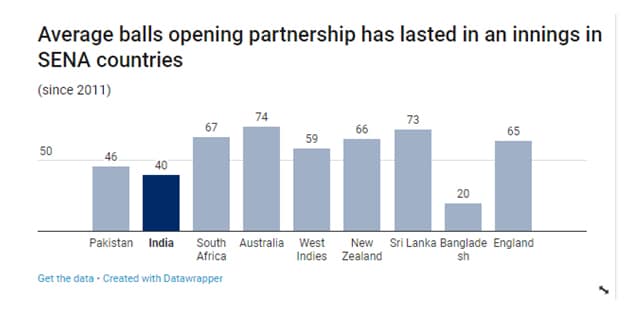 Since 2006, there have only been three century partnerships for India in SENA nations. Two of them have come from a rather unconventional pair - Dinesh Karthik and Wasim Jaffer - more than 10 years back. The last time India's openers put on a century stand in SENA countries was in 2010 when Virender Sehwag and Gautam Gambhir managed to put on 137 at Centurion. There have been just ten opening stands in these countries since 2006 that have gone past the 50-run mark.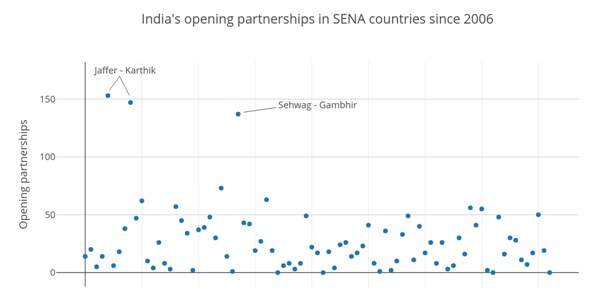 Shift focus to all away games and India's openers have fared among the worst. They have just eight stands of 50 or more to show for since 2011 with just two of them (both within the subcontinent) going past the 100-run mark. When Vijay and Dhawan put on 50 at Edgbaston last week, it was India's fourth half-century opening stand in SENA countries since 2011. The highest remains a 63-run stand that Abhinav Mukund and Gautam Gambhir were involved in.
Except Bangladesh, all other major Test playing nations (Afghanistan, Ireland and Zimbabwe excluded) have equal or better contributions from their opening pair. Even the often criticised Pakistan have managed nine stands in excess of fifty with three of them converted to hundreds.

In terms of averages, India are the second worst among the top nine Test nations away from home since 2011. India average a paltry 26.1 with Pakistan's 24.62 being the lowest. Teams like Australia and England have been rather good at the top of the order in away tours unlike India.
The lack of stability from the openers has affected India's chances massively. With the ball swinging around, India would ideally want the likes of Virat Kohli padded up and watching the action from the balcony. Instead, the skipper has found himself facing the music rather early in the innings with the openers wilting quickly.
After England's humungous effort on day 3, there is only one way the Lord's Test is headed. When India do come out to bat, the onus will be on their opening batsmen to safeguard the likes of Pujara and Kohli from the new ball. If they can't do a Dravid, it is understandable. But can they survive a lot more than they do currently?
(Rohit Sankar is a freelance cricket journalist stuck in a love-hate, live-in relationship with the game. To rile him, bring up the 1999 World Cup semi-final. He tweets @imRohit_SN)