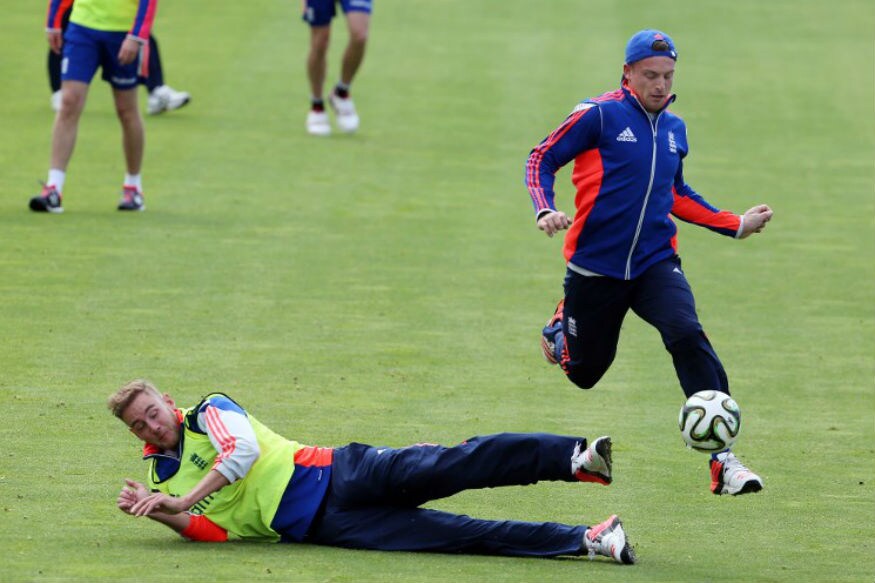 English fast bowler Stuart Broad was seen in a different avatar along with wicketkeeper-batsman Jos Buttler ahead of the first England vs India Test at Edgbaston, with the former turning interviewer and Buttler answering questions for The Daily Mail.
The duo enjoyed a round of golf at The Belfry in Birmingham, before they sat down to discuss Buttler's return to Test cricket, learning from Shane Warne and how playing with confidence helps, among others.
"Confidence is the golden egg. At the IPL, Shane Warne at Rajasthan Royals was someone I loved getting to know. He was talking to me about Test cricket and saying, 'You're good enough to play it, and that should still be your ultimate aim'. So the seed was planted," Buttler answered when he was asked about how he has managed to take his IPL form and confidence into the international arena.
"Then for (national selector) Ed Smith to phone me and say, 'I think you're good enough to play Test cricket for England and I'm not fussed you haven't played much red-ball cricket recently', that gave me a huge amount of confidence."
Buttler also spoke about how his experiences at Rajasthan Royal with Shane Warne and performance coach Anand Chulani helped to improve his game.
"Whoever you are, it's good when people massage your ego a little! But it depends who, so for someone like Shane Warne to have that opinion... It's a skill of his to make everyone feel 10-foot tall. I took a lot of that in. And the same for Ed Smith.
"For me, the consistency has been pleasing. I've worked on simple things. My diet has been better, my training more consistent. I've also been a lot more consistent with the mental side of stuff. Rajasthan Royals had a performance coach called Anand Chulani who talked about things in an interesting way.
"For example, sportspeople talk about the zone: I was in the zone, so it was my day. But I think you can be in the zone more often than not if you want to. I think it's more accessible than you think. Anand talked about how an actor can go from being themselves to being the character they need to be. You can be who you want to be sat on the balcony, then when you get to the middle you make that space what you want it to be. The zone doesn't have to be something you don't know how to get to. I watch you when you bowl — you do the same routines, which take you to the right place."
Stuart Broad then went on to talk about how his confidence is "skills-specific", and cited Virat Kohli as a good example of a cricketer who always remains "hungry".
"Cricket is fascinating. It's not like one opportunity, a gold medal at the Olympics. It comes round thick and fast. You fail at Lord's, but you've got Leeds in two days' time. Virat Kohli's a good example. He's just so hungry every time he goes out. It sounds easy, but when you're in competition 80 per cent of your time, it's not. That's an interesting point about what motivates you and makes you want to push forward," he said.
"My confidence is skills-specific. I get it from training, so that when I bowl my first ball in a Test, I know I've been there and done it. I do my mental work the day before: I bowl four overs in the middle to a wicketkeeper, I imagine the crowd, I imagine the pace of my run-up, everything. One thing you said to me really rings true: running for an hour on the treadmill is important, but so is doing an hour's psychology and being clear about your role in the team."
Both Broad and Buttler are expected to start for England when they take on India in the first Test beginning August 1 at Edgbaston.