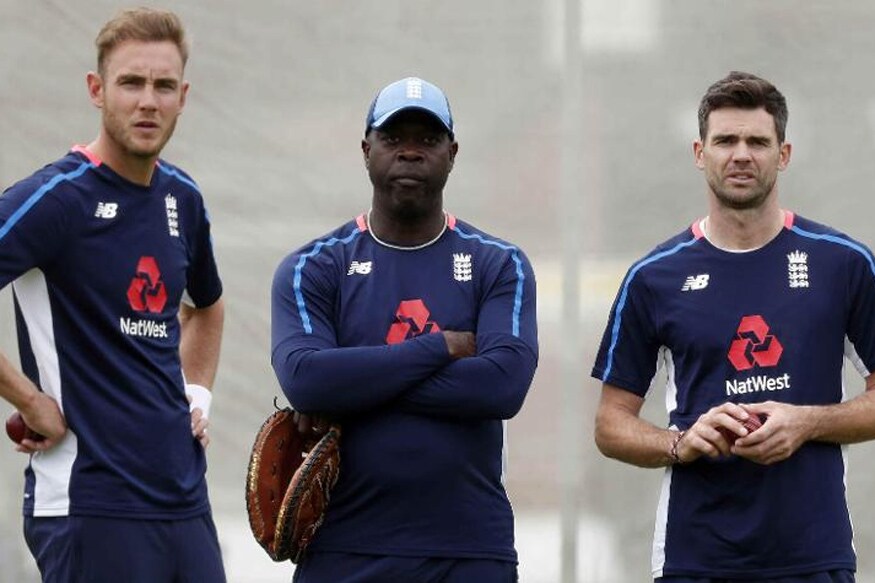 Injuries are injuries and you have to take heed of them, says Nottinghamshire coach Peter Moores.
Stuart Broad had to get scans done on his left ankle after complaining of soreness while bowling for Nottinghamshire against Worcestershire in their County Championship match last week.
Though Peter Moores, the Worcestershire coach, called Broad's ongoing problem with the ankle 'manageable', there will be concerns in the national set-up with the first Test of a five-match series against India starting on 1 August and James Anderson also off the field in the interim to deal with his long-standing shoulder condition.
Broad returned 2/52 in 14 overs in the Worcestershire first innings but could send in only eight wicket-less overs in the second as the match ended in a draw at Trent Bridge.
"Stuart's sore ankle has been ongoing and it was stirred up a little bit when he landed in the footholds, so it made sense for him to come off the field when it was too sore for him to bowl," said Moores.
"It is manageable, but he has a lot of cricket to play in the rest of the summer. It was disappointing for him because he was desperate to get out there and was prowling around the dressing room, but injuries are injuries and you have to take heed of them."
Anderson, meanwhile, has been given a month-and-a-half off by Lancashire following a request from the England and Wales Cricket Board (ECB).
The 35-year-old paceman, England's all-time leading wicket-taker in Test cricket, has a long-standing shoulder injury, and "will take a six-week period of rehabilitation", said an ECB statement on 10 June.
"We have five Tests against India in a six-week period from August 1, which will be an intense and challenging period for all our bowlers, and therefore it's vital that we ensure Jimmy goes into that series in the best possible condition," said Trevor Bayliss, the England coach, at the time.
Anderson and Broad are expected to lead the England bowling attack against India, starting with the first Test at Edgbaston at the beginning of August.