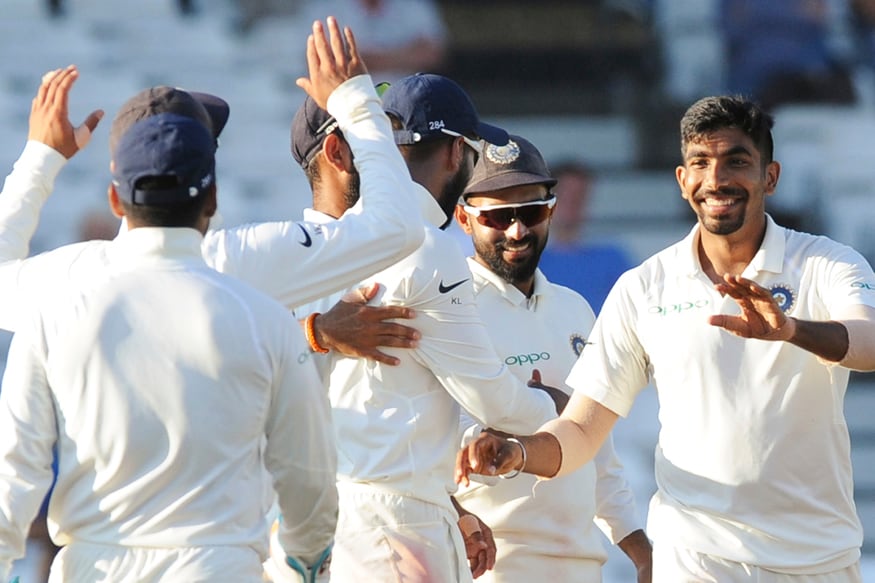 India crushed England by 203 runs in the third Test at Trent Bridge on Wednesday to stay alive in the five-match series. Having set a target of 521 on the back of Virat Kohli's 23rd Test century, India dismissed the hosts for 317.

After the win, Twitter was abuzz with congratulatory messages for India.

Former Indian middle-order batsman VVS Laxman wished the side on their victory. He wrote, "Many congratulations to the Indian team on the victory at Trent Bridge. They showed a lot of character after being 2-0 down and am very happy with the way most of the batsmen applied themselves, and the bowlers were clinical too. Well deserved !"




Many congratulations to the Indian team on the victory at Trent Bridge. They showed a lot of character after being 2-0 down and am very happy with the way most of the batsmen applied themselves, and the bowlers were clinical too. Well deserved ! #ENGvIND


— VVS Laxman (@VVSLaxman281) August 22, 2018

Former Indian opener Virender Sehwag expressed his delight with India's performance and was looking forward to the remaining games. He said, "Well done! Congratulations to the Indian cricket team on the resounding win at Trent Bridge. Great team effort to win this after being 2-0 down, must be an exciting remaining 2 test matches. Best wishes."


Well done! Congratulations to the Indian cricket team on the resounding win at Trent Bridge. Great team effort to win this after being 2-0 down, must be an exciting remaining 2 test matches . Best wishes. — Virender Sehwag (@virendersehwag) August 22, 2018




Harbhajan Singh, who is a part of the Sky broadcast team for the series, reckoned there were a lot of positives for the visitors heading into the remaining two Tests.




Job done..Big win.. Congratulations Team India for winning the 3rd Test.. lots of positives going forward✅ indian seamers❤️ 🔥🔥🔥 🔥


— Harbhajan Turbanator (@harbhajan_singh) August 22, 2018

Here are some of the other reactions on social media.


Fabulous spell of fast bowling by @jaspritbumrah93. A good fightback by #TeamIndia with every player contributing. #ENGvIND pic.twitter.com/BLv1khrq3y — Sachin Tendulkar (@sachin_rt) August 22, 2018
Congratulations Team India. Gives me immense joy to see Indian fast bowlers pick up19 out of the 20 wickets. The series has surely opened up now! #ENGvIND — R P Singh (@rpsingh) August 22, 2018



Openers. Pujara and Rahane. Hardik and Bumrah. Ishant and slip catching. And Run Machine Kohli. Lots of positives from just one Test match. #EngvInd


— Aakash Chopra (@cricketaakash) August 22, 2018
No rain, no anxious moments, no resistance from last pair, victory achieved quickly, clinically. Congrats India. Marks a major turnaround in the series too. England beware! — Cricketwallah (@cricketwallah) August 22, 2018
And it's all over. Congratulations India.for the great fight back to win this test. This was a clinical victory and good to see so many players contributing well. — Mohammad Kaif (@MohammadKaif) August 22, 2018


After the game, members of the team also expressed their delight on an exceptional victory.  India captain Virat Kohli, who picked up the player of the match award for his 200 runs in the game, shared some on-field moments with side during the game and said, "Top performance by the boys! Amazing game and a great win."


Top performance by the boys! Amazing game and a great win. ✌️ pic.twitter.com/QXlULwh7PW — Virat Kohli (@imVkohli) August 22, 2018


Cheteshwar Pujara, whose contributed with a vital 72 in the second innings, expressed that he was 'thankful to be a part of this brilliant squad'.




A great win by the team! So thankful to be a part of this brilliant squad. Onto the next one! #ENGvsIND pic.twitter.com/FM2Epm9gDx


— cheteshwar pujara (@cheteshwar1) August 22, 2018

Opener Shikhar Dhawan shared an image of him and Murali Vijay sharing a drink after the final wicket on Day 5.


Celebrating a good victory with a good mate! 🍻 #TeamIndia #ENGvIND pic.twitter.com/N8KxCDCm1f — Shikhar Dhawan (@SDhawan25) August 22, 2018


Ajinkya Rahane, whose 81 was instrumental in India posting a massive total after being put in by England skipper Joe Root, also shared a selfie and said, "Satisfying feeling after a fantastic team effort! Will enjoy this win today and take it one game at a time. Thanks to all the fans who've stood by us."




Satisfying feeling after a fantastic team effort! Will enjoy this win today and take it one game at a time. Thanks to all the fans who've stood by us. #ENGvIND pic.twitter.com/z68VqxgpB9


— ajinkyarahane88 (@ajinkyarahane88) August 22, 2018
First Published: August 22, 2018, 5:03 PM IST