It is said that the first ball of an innings of a Test often goes a long way in setting the tone for the game. At Trent Bridge, in the third encounter of the ongoing series between India and England, Mohammed Shami had Alastair Cook edging through the slip cordon for a four first ball.
The initial signs were promising but unfortunately for India's frontline paceman, that theory didn't quite work out. The next five balls of the over were all angled down leg or onto the batsman's hips. Shami ended with rather unimpressive figures of 1 for 56 in 10 overs and was once again guilty of wasting the new ball.
Often described as the X-factor in the current bowling attack, Shami was the pick of the pacers in India's long home season, toiling hard on unresponsive wickets and creating breakthroughs with zip off the surface and later on getting the ball to reverse quite effectively as well.
However, the 28-year-old has quite often failed to make an impact with the new ball, and this tendency does cost India in the ultimate analysis.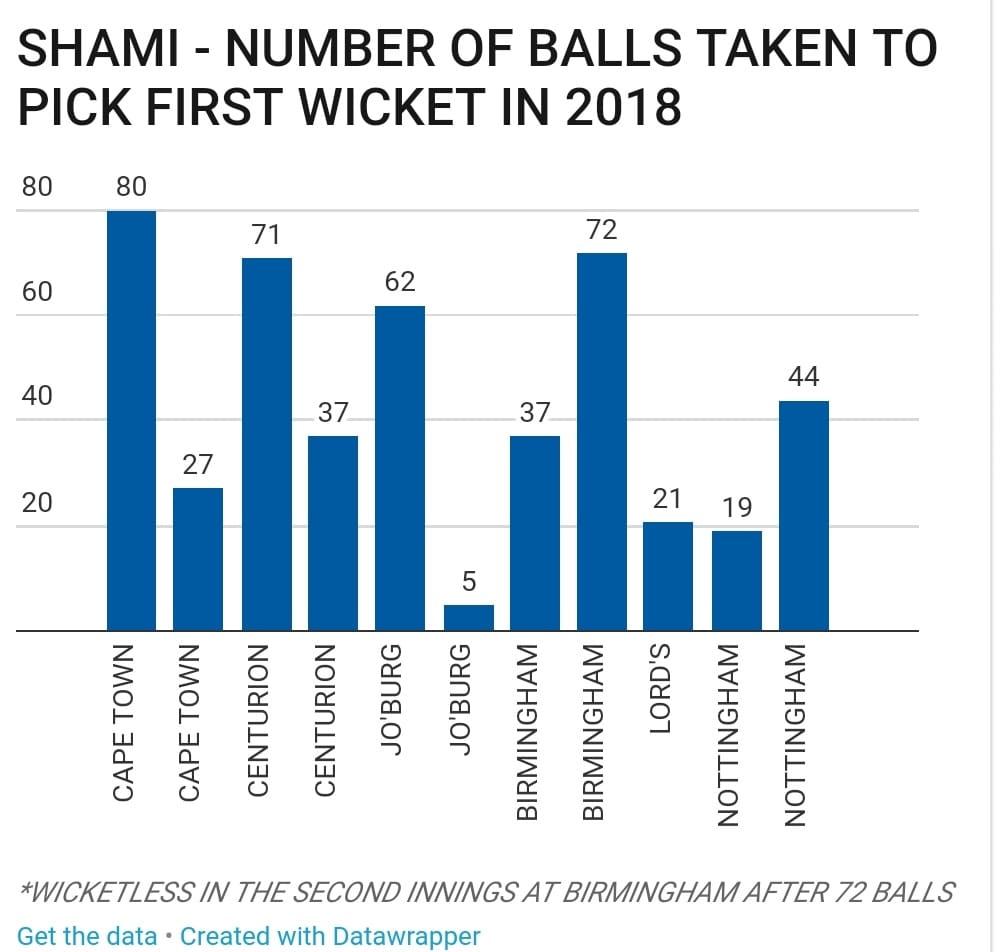 The graphic above shows the number of balls Shami has taken to pick his first wicket in an innings this year.
Over his 33-Test career, Shami on average, takes 42 deliveries to draw first blood. He generates good pace but often has a history of building it up rather leisurely, perhaps a tad too slow for India's liking.
As the graphic shows, he has picked up wickets early in his spell (within the first 20 balls) just twice in 2018. This is rather surprising when you consider how good his overall statistics read. An average of 25.56 and a strike rate of 43.6 are world-class but somehow his predilection to hit full throttle at a leisurely pace affects India's chances of striking up front.
Scan his records across the four innings of a Test and the picture is more vivid. The average drops from 32.32 and 35.25 in the first two innings to 27.58 and 21.66 in the third and fourth innings. This year, the contrast has been even more striking.

Even by global standards, Shami's performance in the first two innings of a Test is ordinary. The wide gap between averages across innings is also an indication of his style of bowling.
More than a swing bowler, Shami is a workhorse who prefers to work batsmen over with patience and sustenance. He generates seam movement off the surface but without combining it with a good length, the effort often goes wasted. Early in his spell, he tends to be slower and when not hitting the right channels, he can go for runs, evidenced by economy rates of 5.6 and 4.1 at Nottingham.
As Nathan Leamon pointed out in his piece in The Cricket Monthly, the ideal length to bowl in England is a full to good length. The batting averages in that zone varies from 24.5 to 34.4 while that for shorter length moves from 38.1 to 67.5.
In this part of the world, where overhead conditions are more often than not overcast and pitches green, the best way to hurt the opposition is to strike with the new ball. With Shami's relaxed build-up, India are perhaps denying themselves of the chance to pull England down early. The length difference is even more telling when you compare his record outside the Indian sub-continent with that of someone like Umesh Yadav.
Umesh, at least 5mph quicker on a consistent basis and generally someone who loves to pitch it up to the batsmen, is more successful on greener pastures. When the pitch is flat and there is less movement, the extra pace can be a key tool to rattle the batsman.


After India's well-rounded display in Nottingham, the onus has suddenly shifted on England's batting which has been quite ordinary at home of late. But their pretty good win/loss record suggests that their bowling has been able to make up for their batting frailties. So should India sit back and relax without sharpening their bowling attack?
The ground presents pretty good batting conditions and with the series on the line this is where India need to ensure their bowling is right on top. It might be setting the cat among the pigeons to bench Shami for Umesh at this stage of the series, but where the extra 40-50 balls or runs make a huge difference, it may well be a risk worth taking.