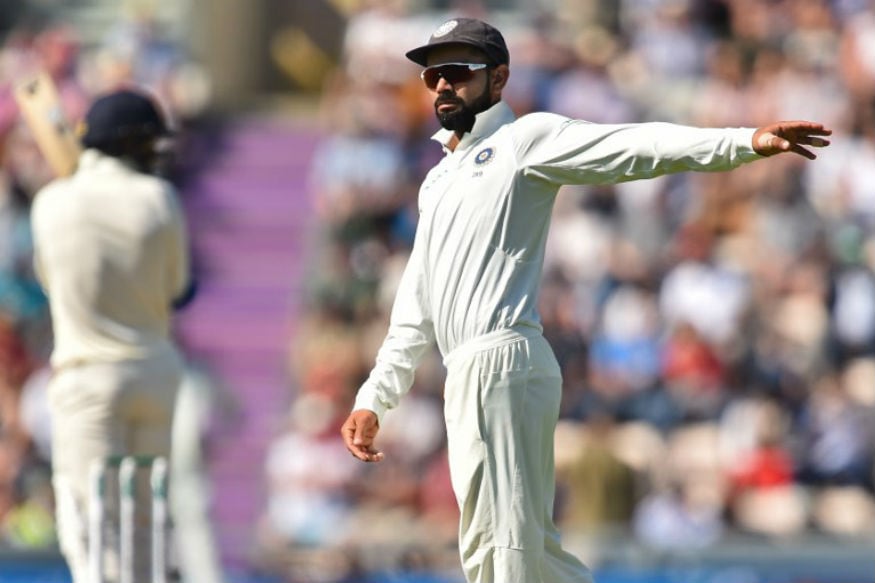 England secured a 118 run victory over India in the fifth and final Test match of the series at The Oval, to seal a comprehensive 4-1 series victory. The match saw Alastair Cook score a century in the final Test of his career, and James Anderson become the highest wicket-taking fast bowler in Test history.
Speaking in the post-match presentation, India captain and India's man of the series Virat Kohli said: I think a lot of credit has to go to the two young guys (Rishabh Pant and KL Rahul. The kind of cricket we have played might not show on the scorecard. But both the teams know this series has been a competitive one. This has been a great advert for Test cricket. The basic idea was to go out there and play the cricket we are supposed to do. England are a professional side and we realized that as the game changed within two-three overs.
Pant showed a lot of grit and character. We have character in the team and we just need some experience. When you get into a zone when you are not thinking about the result, things go your way. I am delighted for both the guys and it speaks of India's future. We did not take our opportunities. England played some fearless cricket and so did we, England don't go in for draws. That is why you won't see draws in these kind of series. We can take a lot of heart from this but apply ourselves better the next time around.
There is a reason why we voted Sam (Curran) to be the Man of the series. It takes character to come in and play like that. He put England forward in the 1st and 4th Test match. There should be exciting pitches all over the result. The fans will come and watch if both teams play for a win. Just one word for Cook. You have had a great career. All the best for all your future endeavours.
England captain, Joe Root: It has been a very tough series. India have played some exceptional cricket. Everyone watching it would have been thrilled as well. India batted really well to get into that position in the final session. On Alastair, I mean he has been such an exceptional player for a long time. He has been a huge part of our dressing room.
Jimmy has a lot left I am sure. To achieve what he has is unbelievable. He has been bowling as well as he ever has. Hopefully, he can continue for many more years. We are growing all the time. Some young guys have stood up and performed, and we have a lot of learning to do.
Alastair Cook, who was named man of the match in his penultimate Test: It has been the most amazing week. Got a text from Beefy (Ian Botham) and he said 'Can I have your script writer?' The memories shared with my team is what I'll miss the most. Some very good moments. Today it showed how tough Test cricket can be. I leave with great memories. To see Jimmy go past Glenn McGrath was brilliant. Just has been a privilege to have played with England's greatest cricketer. No disrespect to any other cricketer. He almost takes it for granted that he will hit the length from ball one. It is fitting that he got the last wicket. You miss all the highs. I would miss playing for this team. This week can't be beaten. I can walk away with my head held high.
Sam Curran, England's man of the series: It is just nice to be involved in such a historic series. To win the series and send off Cookie, it is phenomenal. Playing with the likes of Broady, Jimmy and Stokes, It has been a good learning curve. I think consistency is the main thing. I Don't look too far ahead. Hopefully, I can keep contributing. Missing out on the second game and then coming back to contribute was a great thing for me.
James Anderson, who became the highest wicket-taking fast bowler in Test history: Happy to see that Cookie was on the field to see that wicket. I am happy to win the game. When they were building a partnership, I think it looked that they will get close. My job was to hold an end. I was going through good rhythm and thankfully Joe let me take the new ball. And eventually, it gave me half-a-chance to get that wicket. On Cook, yes, he is my best mate and I am going to miss him. He has been brilliant and has been there for me all the time.