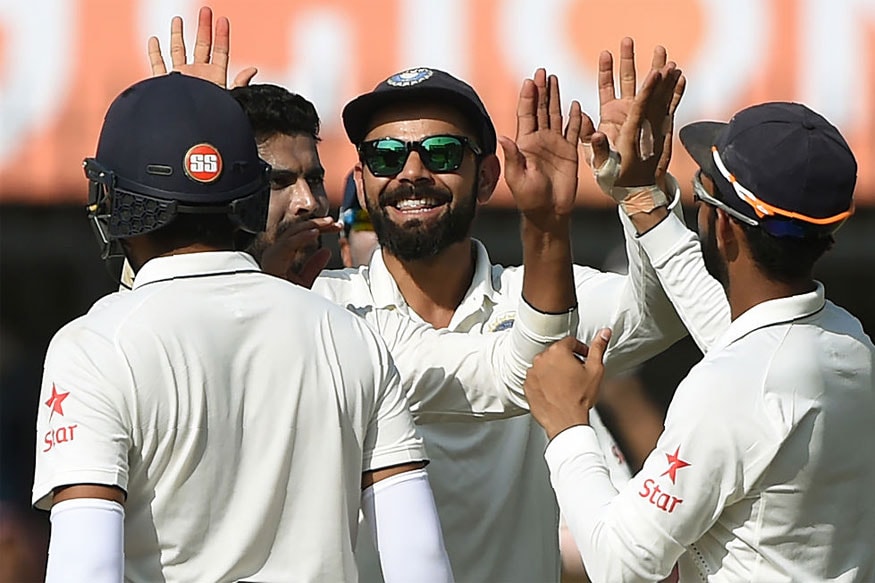 Virat Kohli's Team India completed a clean sweep over New Zealand after their 321-run win in the third and final Test at Indore's Holkar Stadium on Tuesday. The series saw some top quality performance from the Indian players. Here's CricketNext's 'Report Card' of Team India for the series. Let's find out who was hit, who was a flop and who fared just about average.
1) KL RAHUL: Rating: 5/10 Verdict: Average
The Karnataka batsman looked in rich vein of form in the two innings that he played in Kanpur. Rahul though could not go beyond the thirties in both his knocks and was ruled out of the remaining two Test matches due to an injury. At a time when there is tough competition for the opener's position, Rahul needed a big knock under his belt, which he could not get.
2) MURALI VIJAY: Rating: 5/10 Verdict: Average
Murali Vijay has been India's most consistent Test batsman over the past couple of years now and the team depends on him to provide a solid foundation at the top of the order. The Tamil Nadu batsman was in great knick in Kanpur and looked in control for the majority of his stay at the crease in both the innings. Vijay scored two consecutive fifties but couldn't cross the three figure mark at the Green park Stadium. He couldn't continue with his run-scoring ways in the next two Test matches. A run out in the second innings in Indore put paid to his chances of scoring a Test hundred for the first time since June 2015. With 186 runs in 6 innings, Vijay had a just about average series.
3) SHIKHAR DHAWAN: Rating: 2/10 Verdict: Flop
Shikhar Dhawan got a lucky break in the Kolkata Test as Rahul was sidelined due to injury. But the Delhi batsman couldn't make the most of his comeback. While it was poor shot selection in the first innings, it was his lack of footwork that dismissed him in the second innings. An injured thumb ruled him out of the third Test and might have saved him from further embarrassment. With only one score of 50-plus in the last 14 innings, Dhawan should consider himself lucky if he gets picked for the series against England.
4) GAUTAM GAMBHIR: Rating: 6/10 Verdict: Above Average
They say making a comeback for a seasoned player is the toughest thing to do. Ask Gautam Gambhir that and he will say the same. Gambhir is a man who achieved success at the highest level, and then came a slump which resulted in his ouster from the team. A bunch of youngsters arrived at the international scene and did well, and it seemed the Delhi opener's Team India days were all but over. But Gambhir kept at it and injuries to two of India's openers meant he made a comeback in the Indore Test. The southpaw showed glimpses of his class as he scored 29 in the first innings. But the real Gambhir put his hand up in the second innings as India needed quick runs. Gambhir played shots all around the ground to score a quick-fire fifty. With a performance like that, Gambhir is very much in the mix for the remaining 10 Test matches in this long home season.
5) CHETESHWAR PUJARA: Rating: 8/10 Verdict: Hit
In a nutshell Cheteshwar Pujara can be described as the soul of Team India's Test batting unit and he showed why. Pujara started the series with three consecutive half-centuries. His knocks came in pressure situations when wickets were falling at the other end. He provided the adhesive that kept India's innings together. A few questionable decisions from the umpires meant Pujara was staring at yet another series without a century to his name. But that changed in Indore as 'Che' raced to his 8th Test ton in the second innings to set the stage for India to complete a whitewash. With 373 runs he was the highest run-getter in the series.
6) VIRAT KOHLI: Rating: 7/10 Verdict: Hit
Virat Kohli is a batsman who is in complete control of his game in the shorter versions of cricket. But his aggressive nature and strokeplay means producing the same kind of consistency in Test matches becomes a bit difficult. Three disappointing knocks were followed by a gritty 45 on a difficult Eden pitch in the second innings and that was just the trailer. Virat made up for the flops with a mammoth 211 in the first innings of the Indore Test, making him the first Indian captain to hit two double centuries. Add to that his fearless and decisive captaincy and we have a man who is ready to keep India at the zenith of Test cricket.
7) AJINKYA RAHANE: Rating: 8/10 Verdict: Hit
The backbone of India's batting unit, Ajinkya Rhahane is a proven talent at the top level and he had a good series with the bat, finishing as the second highest run-getter with 347 runs. With India in trouble in the first innings in Kolkata, Rahane produced a top quality knock under pressure and took the home team to safety along with Pujara. His 77 allowed India to post a total in excess of 300. But the real treat came in Indore as Rahane produced a strokeful gem. His mammoth partnership with captain Kohli laid the foundation of yet another Test win. Rahane was unlucky to miss out on his first double century.
8) ROHIT SHARMA: Rating: 7/10 Verdict: Hit
His critics believe he has been given too many opportunities in Test cricket without any favourable returns. But the captain and the management continue to have faith in his abilities and Rohit proved them right as he scored half-centuries in Kanpur and Kolkata under pressure situations to help India post fighting totals. His 82 in in Kolkata was the cornerstone of India's second innings after the top order had failed to fire. Rohit, the Test batsman, has got a new lease of life.
9) WRIDDHIMAN SAHA: Rating: 8/10 Verdict: Hit
He has been called the 'best wicket-keeper in India' by his captain and Wriddhiman Saha surely is a reliable glovesman behind the stumps. What makes him an invaluable member of this squad is his ability to grind it out as a batsman lower down the order. Saha showed great skills as a batsman to score two unbeaten fifties in the Eden Test which led him to bag the 'Man of the Match' award, making him only the 4th Indian keeper to score fifties in both innings of a Test.
10) R ASHWIN: Rating: 10/10 Verdict: Super Hit
If it's a series in India, it has to be Ravichandran Ashwin's. A man at the top of his craft, Ashwin had the Kiwis on the mat. With 27 wickets in the series, the offie was a nightmare for the touring New Zealand batsmen. It was a series full of landmarks for Ashwin as he became the second quickest bowler to pick up 200 Test wickets. He is now also the third quickest to completing 20 five-wicket hauls in his career. While some of the sheen from his performance against South Africa was lost after a lot of questions were raised about the quality of the pitches, the same cannot be said this time around as all three pitches were sporting. While Ashwin the bowler was in top form, as batsman, his ability as a batsman allows Kohli to go ahead with his 5-bowler gameplan.
11) RAVINDRA JADEJA: Rating: 8/10 Verdict: Hit
Ravindra Jadeja is the perfect foil for Ashwin on Indian tracks and he showed that yet again, bagging 14 wickets in the series. A quick-fire unbeaten 50 as a batsman meant Jadeja was doing exactly what was expected from him. A real asset for the team, Jadeja will be expected to continue supporting Ashwin in the upcoming series as well.
12) BHUVNESHWAR KUMAR: Rating: 7/10 Verdict: Hit
Bhuvneshwar Kumar's return to form in Test cricket is great news for India as the competition increases amongst the pacers for a slot in the playing XI. Bhuvneshwar's five-wicket haul in the first innings at Kolkata broke the back of New Zealand's batting unit. An injury forced him to sit out of the next Test.
13) MOHAMMED SHAMI: Rating: 6/10 Verdict: Above Average
Mohammed Shami is the leader of India's pace attack and he showed just why in his comeback series at home. An exponent of reverse swing, Shami bowled his heart out in both the innings in Kolkata to pick up 6 wickets in the match. With the pitches providing little or no support for the pacers, Shami's ability to bend his back and swing the ball will be crucial for Team India in the long home Test season.
14) UMESH YADAV: Rating: 3/10 Verdict: Flop
Umesh Yadav had yet another forgettable series picking up only 2 wickets in the 2 Test matches that he played in. His inability to bowl a consistent line and length has been his biggest bane and Umesh is running out of time at the top level.
First Published: October 12, 2016, 1:17 PM IST