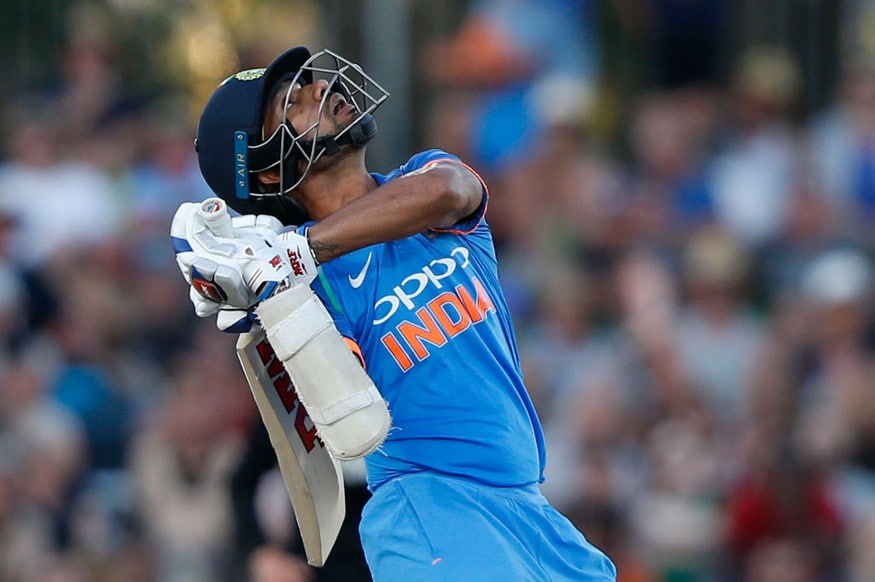 Shikhar Dhawan has a stupendous ODI record. 5172 runs in 121 innings at an average of 45.36 and strike rate of 93.59, including 15 hundreds and 27 fifties.
Amongst all openers who have scored a minimum of 3000 ODI runs, Dhawan's average places him at number 6 only after Rohit Sharma, Hashim Amla, Sachin Tendulkar, Tillakaratne Dilshan and Gordon Greenidge. The product of his average and strike rate places him at number 5 only after Rohit, Amla, Quinton de Kock and Tendulkar. These numbers comfortably place him in the pantheon of all-time great ODI openers.
Dhawan's partnership with Rohit is one of the most successful stands for the opening wicket in the history of ODI cricket. Dhawan has been consistently scoring big in the format at a phenomenal rate – as his numbers from the last three seasons reveal.
In 2017, he scored 689 runs in 14 innings at an average of 53 and strike rate of 106.32, in 2017-18 he aggregated 582 in 12 innings at an average of 58.20 and strike rate of 99.65 and in 2018 he tallied 462 in 8 innings at an average of 57.75 and strike rate of 104.76. In each of these three seasons, the Indian southpaw registered two hundreds each – these are outstanding numbers.
However, his numbers have taken a beating this season (2018-19) and have fallen sharply. The downfall started against Bangladesh in Dubai in the Asia Cup Final (28th September, 2018) where Dhawan registered 14. Since then, in this season, he has scored just 349 runs in 12 innings at an average of 31.72 and strike rate of 83.49. He has managed just two fifties (in the first two ODIs against New Zealand) and has no three-digit score in this period.
This is the worst season of his ODI career by far. Dhawan has never scored at less than an average of 40 and strike rate of 90 in any of the 7 previous seasons where he has batted in at least 5 innings.
In 2013, he averaged 54.38 and had a strike rate of 93.51. In 2013-14, he averaged 40.44 and struck at a rate of 90.88. The corresponding numbers in 2014-15 were (47.11, 90.40), 2015-16 (41.30, 91.57), 2017 (53, 106.32), 2017-18 (58.20, 99.65) and 2018 (57.75, 104.76).
2018-19 is also the only season where he has failed to register a hundred. He has the lowest frequency of registering a fifty-plus score this season – one every 6 innings.
As mentioned above, not only is Dhawan not scoring big runs consistently this season, his strike rate has also fallen quite dramatically. From a mean average of 55.90 and strike rate of 103.58 in the last three years (when Dhawan was at the peak of his prowess), the left-hander has an average of 31.72 and strike rate of 83.49 this season – that is a massive fall!
Not surprising then, that his boundary per innings is also the lowest this season – Dhawan, on an average has hit 3.5 fours per innings in 2018-19. His boundary frequency has never been less than 5 per innings in any of the previous 7 seasons.
If we consider the two years period till the final of the Asia Cup in Dubai, Dhawan was the fourth-highest scorer in ODI cricket in the world with an aggregate of 1730 runs in 35 innings at an average of 54.06 and strike rate of 102.73. This included 6 hundreds and 8 fifties.
Since then, Dhawan has managed to aggregate just 364 runs in 13 innings at an average of 30.33 and strike rate of 84.25. His two fifties against New Zealand suggested that his wretched run of form was over but he could only muster 28 and 13 in the third and fourth ODIs.
Amongst the 17 batsmen who have scored a minimum of 300 runs in this period, Dhawan's average is the lowest. His strike rate is also amongst the bottom five.
The disappointing thing for Dhawan and India is that in 8 of the 11 innings, where he registered a score of less than 40, he has got a start but then squandered the opportunity and not carried on to convert it into a substantial innings – he has three scores in the 30s and 20s each and a 15 and a 13. There have been only three outright failures – where he has registered a single-digit score.
This suggests that Dhawan is not quite out of form. And just a knock or two away from returning to his consistent best.
That may be the silver lining for India.
* Statistics Before Fifth ODI in Wellington