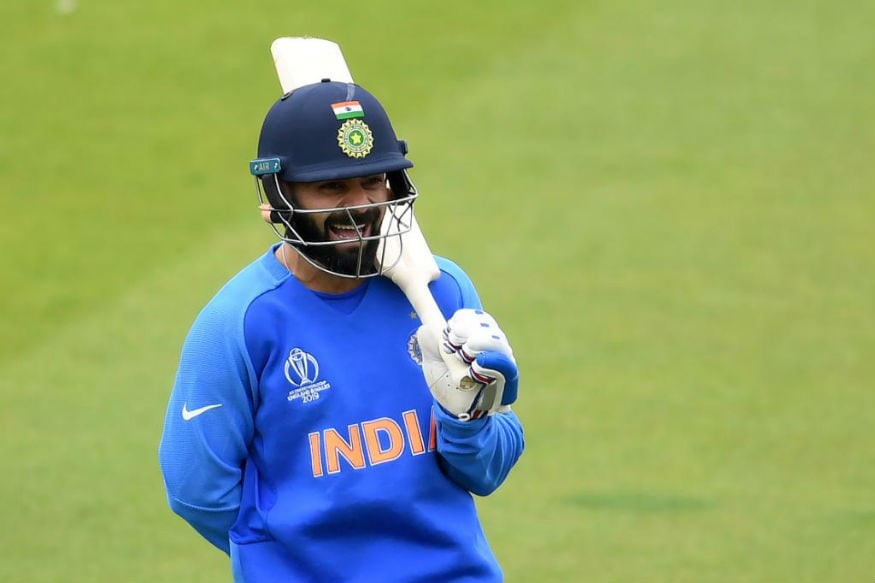 Virat Kohli and Kane Williamson were both left bitterly disappointed as rain once again had the final say in what promised to be a riveting clash between India and New Zealand on Thursday.
The only two unbeaten sides so far in the tournament, India and New Zealand, were forced to split points as intermittent rain forced another game into abandonment in Nottingham. While it was not ideal for the fans, Kohli said that considering the amount of rain that had fallen, it was a "sensible decision" by the umpires to call off the match.
"Disappointing not to get any game time at all but if you look at it from the player's point of view and where the two teams stand, the sensible decision was to not go onto a field where it was not suitable to play," Kohli said at the post-match presentation ceremony. "Especially because it is so early in the tournament and you don't want to have an injury or a niggle at this stage."
With both teams placed rather comfortably on the points table - New Zealand are leading with seven points from four games while India are third with five points from three - Kohli remarked that in some ways a point each wasn't entirely a bad result for either side.
"It is unfortunate, you can't really control the weather but a point each is not really bad for teams that have already won the games they have played," the Indian captain noted.
Kohli also provided an update on Shikhar Dhawan's injury stating that the opener has a plaster on his thumb and that the injury which will be assessed in two week's time. The captain was hopeful that Dhawan will be available for India in the latter half of the league stage games and certainly for the semi-finals in case India qualify.
"Dhawan is going to be in a plaster for a couple of weeks. After that we will assess where he stands," said Kohli. "Hopefully, the injury heals quickly and he will be available for the later half of our league games and semifinals for sure.
"From that point of view, we want to hold him back, keep him here because he wants to play. I think that kind of mindset will help in healing the injury as well as he really wants to play."
New Zealand captain, Kane Williamson, too sounded disappointed at not getting any game time but wasn't too surprised at the washout result. He further suggested that this extra time off will eventually help the players in taking care of any niggles and hoped the players return for the next game refreshed.
"Obviously you turn up hoping to compete but we have been here for about four days and we haven't seen any sun so it doesn't come as too much of a surprise," quipped Williamson. "There will be some sun in future but not in our trip here.
"It is not ideal but at the same time having some time off is also important. We do have a little break now, which I guess is an interesting phase sort of mid-way in the tournament. Having not played this game we have about five or six days off. So, it is a good chance for the guys to freshen up."
New Zealand next play an embattled South Africa on June 19 in Birmingham. Despite not getting the results their way in the recent past, Williamson insisted that his side were in no way taking South Africa lightly at any stage.
"South Africa are a very good side and every time we play with them, they are extremely competitive," he remarked. "There are a few days before that so a good opportunity for the guys to get away, refresh and then come back and get ready for a couple of training sessions for the challenge.
"Every game in this competition is tough, every game has a similar worth in terms of the points that are on offer."