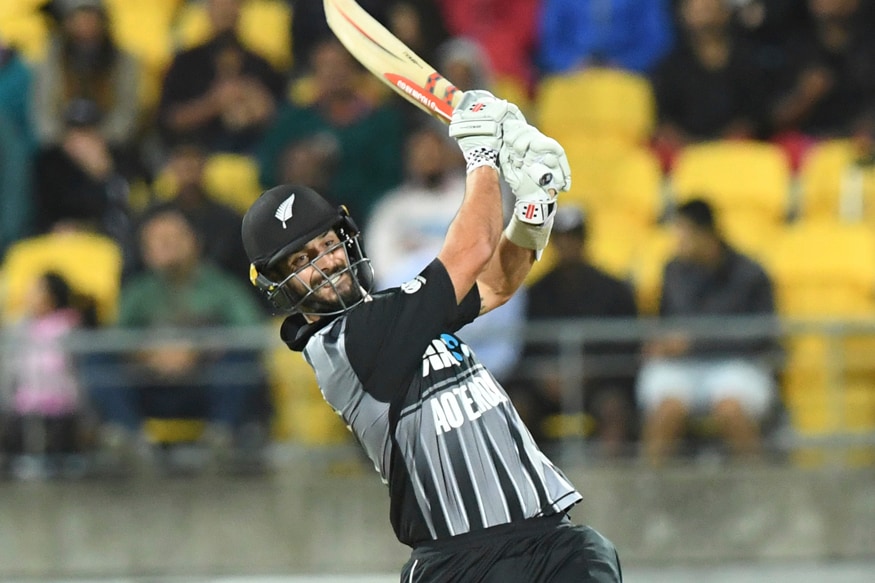 The second T20I between New Zealand and India was marred with a DRS controversy early in the game. Krunal Pandya trapped Daryl Mitchell in front and umpire Chris Brown immediately raised his finger.
After consulting with his captain Kane Williamson at the other end, Mitchell asked for a review. Initial replay showed that it was plumb. But once hotspot was used, a mark was visible on the bat, and the crowd cheered on after seeing it on the big screen.
But on using the Real-Time Snickometer, there was no spike on the graph as the ball passed the bat.
Instead of going back to the on-field umpire, third Umpire Shaun Haig went ahead with ball tracking and unsurprisingly, it was all red.
After going through the system, word was conveyed to the on-field umpire and he raised his finger. Williamson looked in disbelief, so did Mitchell. The on-field umpires Chris Brown and Wayne Knights got together for a discussion. Indian captain Rohit Sharma also joined for a while before returning to the Indian team's huddle.
Mitchell showed his displeasure as he walked off the field.
Given out LBW!! This is ridiculous.. #NZVIND pic.twitter.com/XXVdPVvGf4

— Nibraz Ramzan (@nibraz88cricket) February 8, 2019
I can understand if the 3rd umpire says the two resolution methods are in conflict and so I will go with the on-field decision. But he doesn't say that. https://t.co/cJ8l5wnrcl

— Harsha Bhogle (@bhogleharsha) February 8, 2019
"That is absolute ridiculous," Former New Zealand international Simon Doull said of the decision on commentary.
"Daryl Mitchell has only gone to Kane Williamson because he wasn't sure of the system. A clear inside edge and this is a horror of a mistake from Shaun Haig."
"I don't know what they can do to overturn it," Ian Smith said.
"They've asked for the guy upstairs, the guy upstairs has said that is out. They can't do anything about it, he has to go.
"He can't call him back. What does that make the umpiring look like if the fielding captain calls him back."