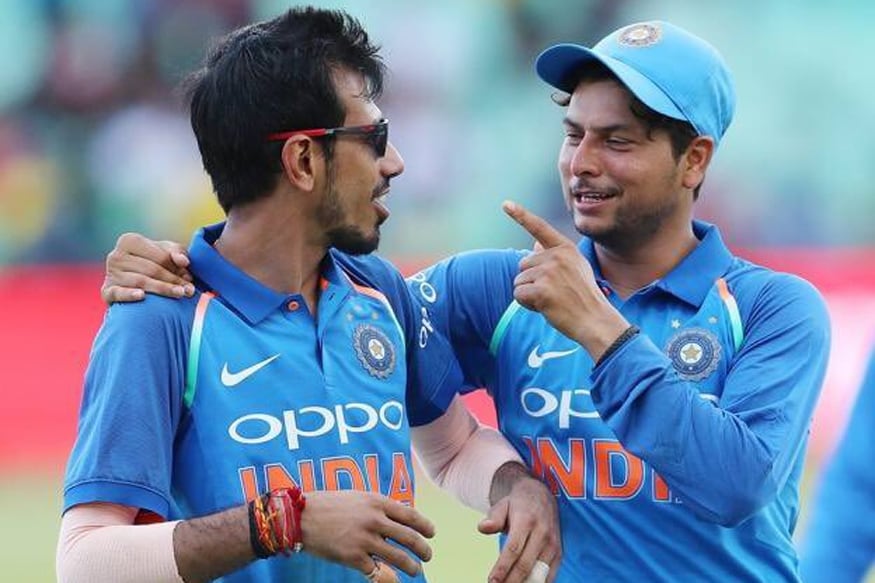 20 Overs. Six Wickets. Just 82 Runs.
In Napier, Kuldeep Yadav and Yuzvendra Chahal were reunited as India's spin twins and sent out an immediate reminder of just why they are such a potent force, dismantling New Zealand for a mere 157.
The introduction of Kuldeep and Chahal into India's playing XI after the 2017 Champions Trophy in England made a dramatic impact on the team's results. While two wrist spinners in an ODI XI was once a potentially huge risk, wicket-taking has become such an essential skill for spinners in this age of booming totals, that any bowler who can do so consistently is worth his weight in gold.
So, as India head into the World Cup, they have their spin platter overflowing with options but given the conditions in England, it is unlikely that they will play more than two spinners in an XI. Of late, Kuldeep and Chahal haven't been used in tandem as much with Ravindra Jadeja making a return during the Asia Cup and edging out one of these two owing to his batting abilities, dynamic fielding and stump to stump lines with the ball.
With Hardik Pandya forced to miss out, Jadeja's batting ability also allows him to sneak in ahead of one of the two wrist spinners to shore up India's lower middle order batting.
However, what do India do at the World Cup? Stick with a containing option in Jadeja and one of the wrist spinners? Or continue to operate with Kuldeep and Chahal? To analyse their best options, we dig into the numbers for India since the two came together after the Champions Trophy in 2017 and study what combinations have worked best.
Kuldeep + Finger spinner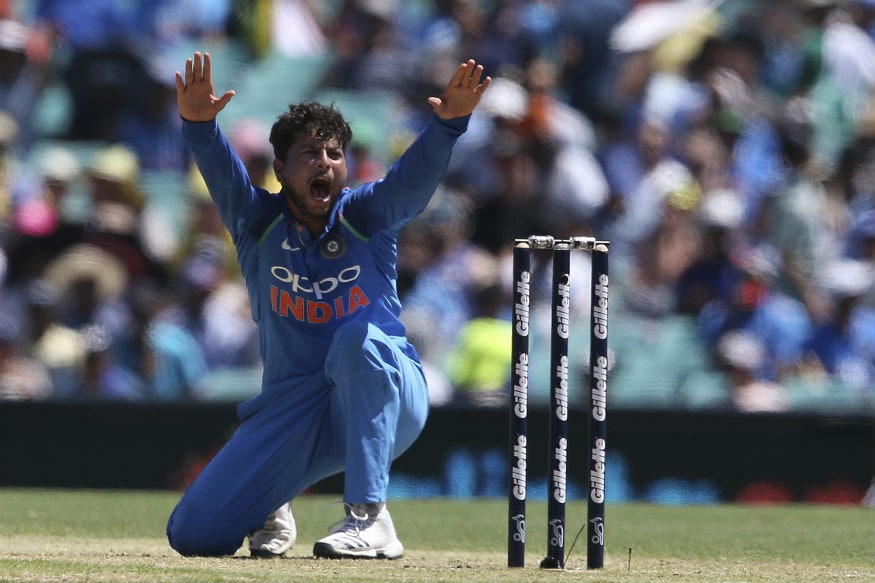 India have gone into 11 of their 44 ODIs since the Champions Trophy with this particular combination. This combination has a record of 8 wins in 11 matches and has taken 36 wickets with the economy of 4.36.
While the quality of the opposition - six matches against Windies and one each against Afghanistan and Sri Lanka - largely skews this result, it is a combination India will look to steer clear of given that in matches against a good opponent – Australia - they weren't particularly penetrative. And Kuldeep in particular appeared to lack zing.
It is unclear how it such a combination may fare against a team like New Zealand or England due to a small sample size but with the World Cup looming, there isn't a lot of time for experimentation.
Individual numbers
Kuldeep - Mat - 12, Wickets - 18, Avg - 25.27
Jadeja - Mat - 7, Wickets - 10, Avg - 29.10
Ashwin - Mat - 3, Wickets - 4, Avg - 18.75
Axar - Mat - 2, Wickets - 4, Avg - 23.25
Chahal + Finger spinner
Yuzvendra Chahal appeals during the third ODI (ICC)
This combination was used rather successfully at Melbourne in the series decider against Australia. Chahal picked up six wickets while Jadeja went wicketless in his nine-over spell, conceding at a rate almost touching six. In nine matches since the Champions Trophy, this pairing has won India eight games, a whopping number when you consider that their no.1 spinner (arguably) is on the bench.
In nine matches India went on with this combination, they picked up 29 wickets at an economy of 5.09 and a tempting strike rate of 35.59.
Chahal with Jadeja, going by numbers, are the best duo in this category, with Axar Patel and Washington Sundar - aside from the fact that they do not seem to be in World Cup plans of as now - appearing less effective with Chahal. This has worked well for India against some good opponents. So, if indeed Kuldeep isn't fit or needs a break, this is their likely first back-up option. While the economy is a touch on the higher side, that is made up by the fact that Chahal is brilliant enforcer in Kuldeep's absence. More on that later.
Individual numbers
Chahal - Mat - 9, Wickets - 20, Avg - 21.60
Jadeja - Mat - 2, Wickets - 2, Avg - 59.50
Axar - Mat - 6, Wickets - 6, Avg - 43.16
Sundar - Mat - 1, Wickets - 1, Avg - 65.00
Kuldeep + Chahal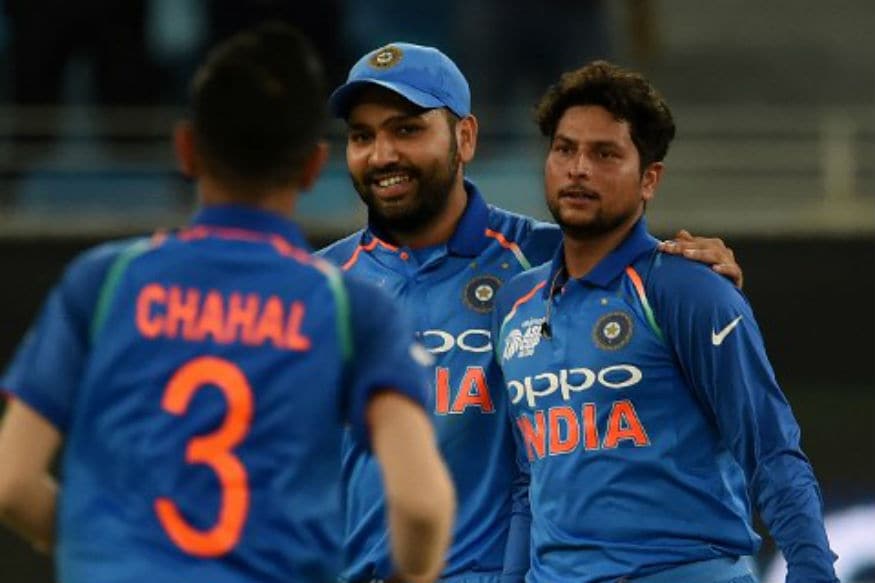 Kuldeep Yadav. (AFP)
Since they were brought into the mix after the Champions Trophy defeat, Kuldeep and Chahal have shown themselves to be match-winners.
They have, however, been used together only in 24 (19 without a third spinner in the team) of the 45 ODIs India have played since the Champions Trophy. With no third spinner in the side, they have picked 81 wickets in 19 ODIs at a brilliant economy of below 5. These outcomes have come at the best strike rate for any combination India have tried.
Playing Kuldeep and Chahal together has given India 17 wins in 24 matches with one game tied, a win percentage of 70.83%. Such has been the efficiency of this duo that dropping either of them seems unfair given the value they provide in the middle-overs.
Since the beginning of 2017, Kuldeep has taken as many as 46 wickets in overs 15-40 in an ODI while Chahal himself has 34. That both have economy rates of less than five in this time frame while striking at a rate of every 30-36 balls makes them invaluable in today's ODI structure.
Individual numbers
Kuldeep - Mat - 24, Wickets - 55, Avg - 19.07
Chahal - Mat - 24, Wickets - 38, Avg - 26.50
***
Individually, Chahal and Kuldeep thrive in each other's company but Chahal has a better record without Kuldeep in the side than with him. That, however, does not diminish the value they have when they play together. Kuldeep meanwhile enjoys bowling alongside Chahal and has better numbers then.
Chahal's Record (overall)
With Kuldeep: 24 Matches, 38 wickets @ 26.50
Without Kuldeep: 12 Matches, 26 wickets @ 19.57
Kuldeep's record (overall)
With Chahal: 24 Matches, 55 wickets @ 19.07
Without Chahal: 12 Matches, 18 wickets @25.27
The additional finger spinner seems unnecessary at the World Cup given the success the duo enjoy as a pair and how well it works out for India. After all, they have the best strike rate as a pair and their win percentage isn't too bad either.
Given the kind of surfaces that India are likely to counter in England, wicket-taking, more than containment, will be the much-sought-after skill and the duo adds that one-two punch which most sides lack in the middle overs in ODIs these days. In Napier, they gave further evidence, if any was needed, that when they play together, India become an even stronger ODI outfit.