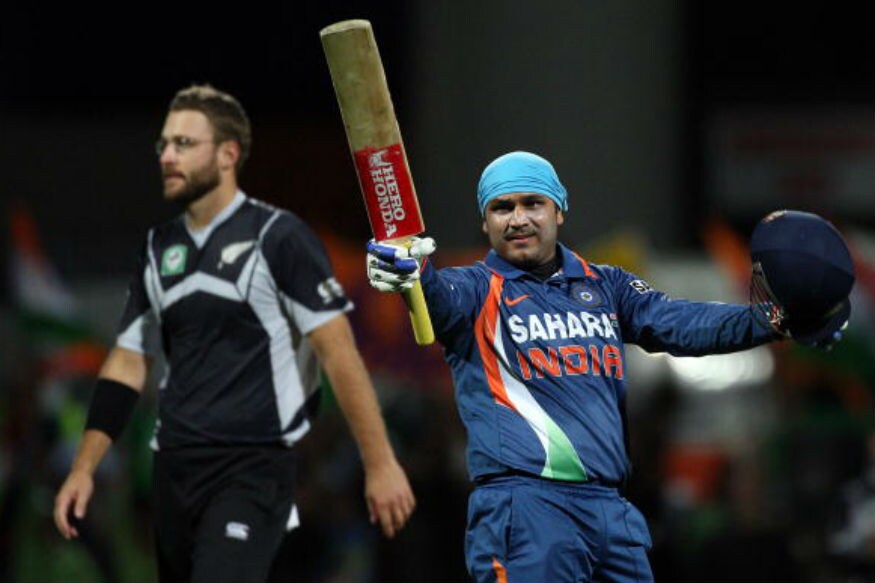 Kapil Dev stood at the top of his mark. At the striker's end stood Richard Hadlee, his moustache looking more imposing due to lack of headgear. Hadlee examined every corner of Basin Reserve. Then he slashed at the first ball of that over, the last of that 1990-91 Rothmans Cup league match. The edge ran for four.
That brought the target to seven off five. Eight years ago, Kapil had bludgeoned Hadlee on a Sydney evening to push India to the final of the World Series Cup. It was time for Hadlee to return the favour. Perhaps.
The duel had been on since morning. Hadlee had taken 2/27 in India's innings of 221 while Kapil had top-scored with a 38-ball 46. Then Hadlee had counter-attacked after a collapse as Kapil tried to keep him quiet.
Hadlee cut the second ball and went back and punched the third over Kapil's head. They fetched him two apiece. He smashed the fourth to long-off and they set off for the second, but Ajay Sharma's throw found Martin Snedden short.
So Danny Morrison walked out at No. 11, his John Travolta mane failing to conceal the fact that at that stage he had fewer runs than matches.
New Zealand needed two in two when Kapil pegged Hadlee's leg-stump back with a yorker. And India won their first ODI on New Zealand soil – in seven attempts.
India's Worst
India returned from that tournament with three defeats in four ODIs, two of them against Australia. It was not an aberration. Put a five-match cut-off, and India's ODI win-loss ratio of 0.56 in New Zealand is their worst in any country. And at that point the track record was even worse.
India had sunk without a trace in every single of their four matches across their first two tours, in 1975-76 and 1980-81. The only high point was Bhagwat Chandrasekhar's performance in his only ODI. He got 3/36 and then surprised everyone by scoring 11 – Bradmanesque by his standards.
After the Kapil-Hadlee duel, India next won a match in the 1992 World Cup. Zimbabwe needed 100 from 77 balls with nine wickets in hand when the existing rain rule deprived them of a win. Zimbabwe came last in the tournament.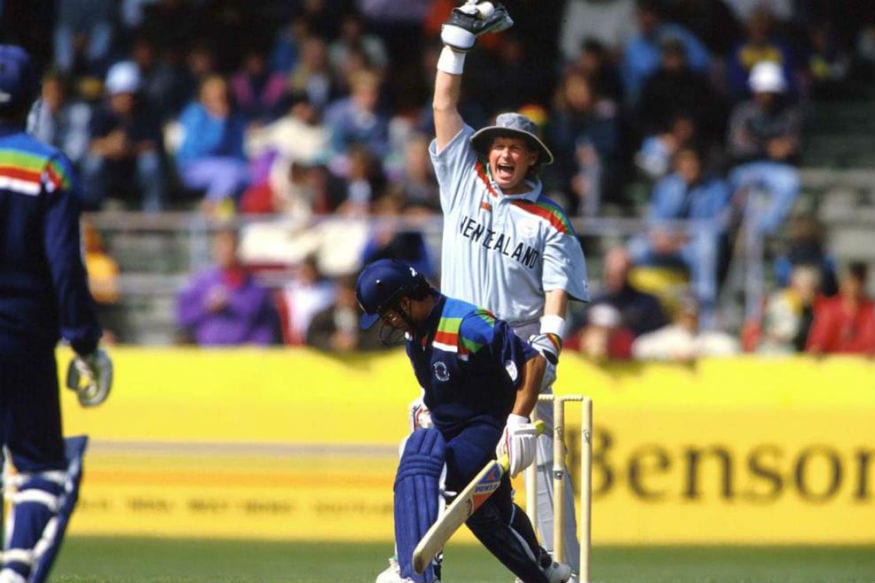 India lost to West Indies and New Zealand in the same tournament. So harsh were the conditions that Ajay Jadeja suffered cramps due to cold in the second match and had to retire hurt.
Interestingly, Zimbabwe almost got India in the 2015 World Cup as well. India were reduced to 92/4 after Brendan Taylor had taken Zimbabwe to 287. In the end Suresh Raina and MS Dhoni saw them through.
A Trend is Set
In 1993-94, Morrison claimed the first ODI hat-trick on New Zealand soil to put New Zealand ahead. At that stage India's record on New Zealand soil read 2 wins and 10 defeats from 12 matches.
New Zealand were bowled out for 142 in the second ODI. And perhaps because there was little at stake, India promoted Sachin Tendulkar at the top. This deserves special mention.
New Zealand had started the idea of promoting aggressive batsmen in ODIs. They had used Lance Cairns even in the early 1980s. Cairns' power, boosted by his Excalibur, meant that he scored at a strike rate of 113 when he batted in the top five – phenomenal for someone who last played in 1985.
Then Martin Crowe pioneered the concept of maximising the first fifteen overs on the small New Zealand grounds in the 1992 World Cup by utilising Mark Greatbatch and Rod Latham.
Others followed suit, England with Ian Botham, West Indies with Brian Lara, India with Kapil, Australia with Tom Moody, and Pakistan with Inzamam-ul-Haq. But none of them were permanent.
Not only did India promote their brightest talent to the top, they also allowed him to make the spot his own. And that started this day.
Tendulkar's smashed 82 in 49 balls that day, out of 117 runs India scored during his stay. Barring Chris Harris, nobody else made it to 25 in the match.
Armed with the licence to go for the kill, Tendulkar followed this blitzkrieg with 63 in 75 balls and 40 in 26. Anil Kumble's 5/33 – the only ODI five-wicket haul in New Zealand by a leg-spinner – put India 2-1 ahead. They returned with an unprecedented 2-2.
Tendulkar left the shores with a strike rate of 118. Of all overseas batsman who scored 200 runs in a series in New Zealand, this would remain a record till Virender Sehwag went past it in 2008-09.
The experiment changed the history of Indian cricket forever. Tendulkar was followed at the top by Sourav Ganguly, Virender Sehwag, and Rohit Sharma, all of whom had started their careers in the middle order.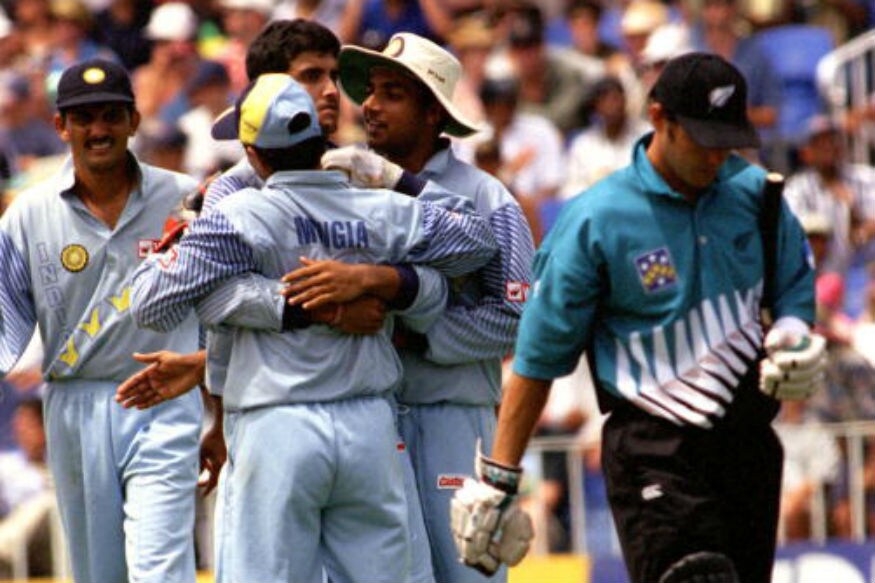 (Getty Images)
Fortunes Fluctuate
India returned next year to play the New Zealand Centenary Tournament where they lost to South Africa and New Zealand but were the only side to beat eventual champions Australia.
Here, too, Tendulkar went berserk after Australia set India 251. Sidhu, Manoj Prabhakar, and Vinod Kambli all scored fifties, and India won the inconsequential match easily.
India drew the 1998-99 series 2-2. Nayan Mongia guided India home in one of the matches, while Ganguly and Rahul Dravid set up the other. But the finest performance came in a defeat, when Dravid scored 123 to put Taupo on the world cricket map.
The Nadir of 2002-03
The 2002-03 tour, one of the last before the World Cup in South Africa, was played on the greenest of pitches. The conditions did not help them, either. They scored 108, 219, 108, 122, 169/8, 200/9, and 122 in the seven matches.
How ordinary was this batting display? India scored at 15.64 per wicket and 3.51 an over in the series. Both numbers are the worst by any side in ODI history with a seven-match cut-off.
But it was Sehwag who gave the entire series a surreal look. He finished the series with 299 runs, almost twice what anyone else from either side got. He slammed the only two hundreds of the series, helping India reach those 200s; and 45 when they scored 169.
To provide perspective, Tendulkar, Ganguly, Dravid, VVS Laxman, Yuvraj Singh, and Mohammad Kaif scored 404 between them. In fact, Tendulkar's three innings fetched him a total of 2.
India won the fifth and sixth matches, by 2 and 1 wickets respectively. Shane Bond, not fully fit, had three quiet outings, but the New Zealand seam attack was too strong under the conditions to be bothered by that. Six of them took at least four wickets but none of them averaged over 22.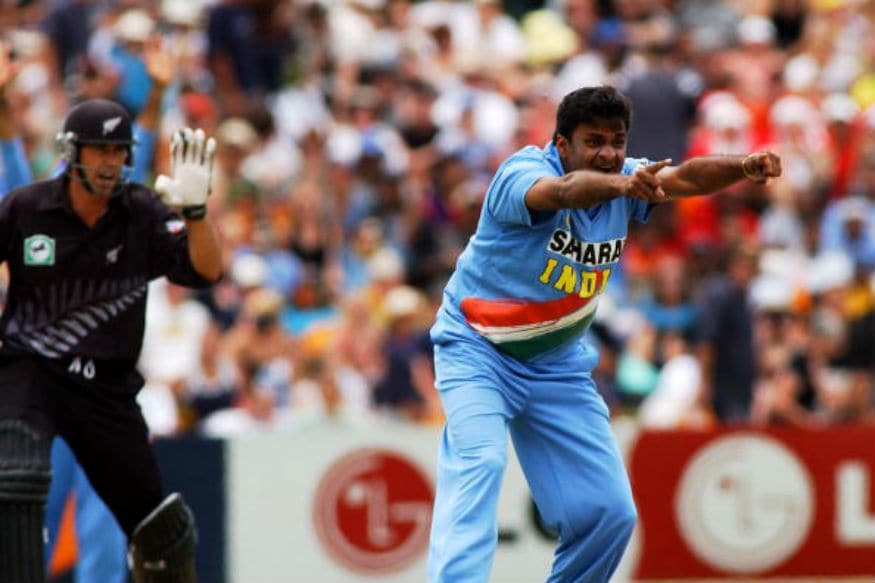 (Getty Images)
They found some solace in the performance of Javagal Srinath, by then in the last leg of his career. Srinath's 18 wickets at 11 apiece was the most for either side.
In fact, Srinath's 43 ODI wickets at 17 remain the most for any touring bowler in New Zealand. Only one other man – Wasim Akram (17 wickets at 15) – had breached the 30-wicket mark.
The Astonishing Turnaround
In 2008-09, India turned things around so drastically that it was almost impossible to believe that they were the same outfit. Of course, the pitches were flatter, and the new ball did not do as much in March as it had done in December last time.
But even then, few would have expected them to transform the worst ever batting performance in ODI history to the best. India scored at 6.81, which remained the best for any side in a series till the 2015 World Cup. In fact, after four matches the run rate stood at an absurd 7.52.
The trend had begun in the T20I series, where Sehwag had hit the first three balls he faced for sixes. Here, his finest came in the fourth ODI, where he smashed 125 not out in 74 balls.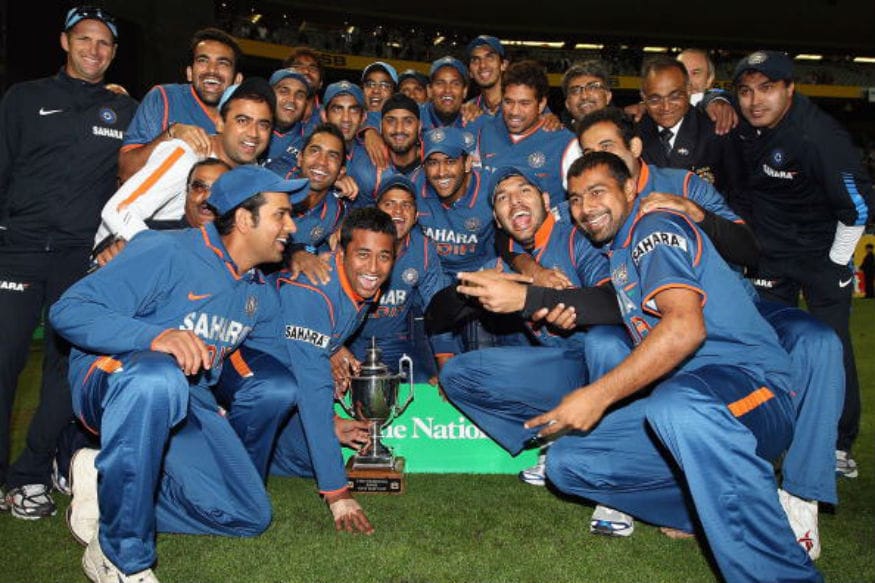 (Getty Images)
Before that, in the third match, Tendulkar was all set to score the first double-hundred in ODI history. Unfortunately, he had to retire 37 short due to stomach cramps, with five overs in hand. India got 392/4.
Sehwag, Tendulkar, Dhoni, and Raina all averaged in excess of 60 and struck at more than 98. Never before or after has India pulled off such batting display in a series away from home.
It remains the only time India won an ODI series in New Zealand. They followed it with their first Test series win in the nation in four decades.
Dawn of an Era
India could have won the first three ODIs of 2013-14. In the first match they needed 69 in 46 balls with six men standing, while in the second they needed 35 in 18 with 5 wickets in hand. They lost both and tied the third. They were outplayed in the next two.
It was a disastrous series, but one cannot help but notice the similarity between the core of the line-up in the series with that of the current ODI team.
M S Dhoni and Virat Kohli dominated the batting; Mohammed Shami took more wickets than anyone from either side; Bhuvneshwar Kumar was economical; Ravindra Jadeja was excellent with both bat and ball; Ambati Rayudu played his first major series; and while Rohit Sharma and Shikhar Dhawan had an on-and-off series, the management persisted with them at the top.
(Abhishek Mukherjee is a cricket historian and statistician. He can be followed on Twitter @ovshake42.)