Shikhar Dhawan
Rohit Sharma
Virat Kohli
Ambati Rayudu
MS Dhoni
Kedar Jadhav
Hardik Pandya
Bhuvneshwar Kumar
Kuldeep Yadav
Yuzvendra Chahal
Jasprit Bumrah
Mohammed Shami
Dinesh Karthik/Rishabh Pant
Ravindra Jadeja/Vijay Shankar
KL Rahul/Shubman Gill
That, in short, is the takeaway from India's eight One-Day Internationals in Australia and New Zealand. If the World Cup were to start now, India would feel ready, with the squad nearly set and in form. India have five ODIs against Australia at home to fine-tune their preparations further and test out a few more options for the World Cup.
Let's have a detailed look.
The top three is set, but who is the back-up opener?
In Rohit Sharma, Shikhar Dhawan and Virat Kohli, India have potentially the best top three in one-day cricket among all the teams. But the squad wouldn't 'feel' complete without someone backing them. Rahul was the man who was designated to do the job initially, but he has struggled on and off the field in recent times. A poor Test series was followed by a suspension for off-field reasons, and Rahul hasn't been able to make it back yet. His form against England Lions for India A has been poor too.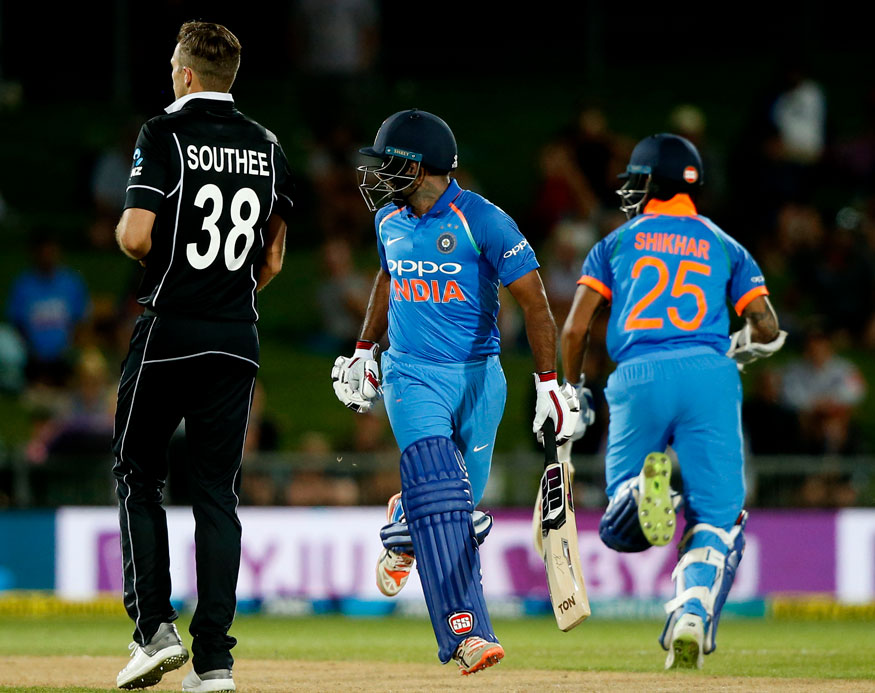 India used the opportunity to give 19-year-old Shubman Gill a go, but he has not taken his chances yet. He has scores of 9 and 7 in the two ODIs he has played. It's early times in his career, but it remains to be seen if India persist with him in the upcoming games.
Silently, Ajinkya Rahane has been making a case for the role as well, with two half-centuries in three one-dayers games against England Lions.
India do have a line up beyond Kohli
One of the biggest boxes India had to tick before the one-day games in Australia and New Zealand was the form of the middle-order. After eight matches, India seem to have identified perfect roles for each batsman in the line up. More importantly, each one has done the job asked of them too, making it easier for the management.
India will particularly be pleased with the performance in Wellington on Sunday. They were reeling at 18 for 4 with Dhawan, Rohit and Dhoni gone, but still posted 252 with contributions from Vijay Shankar, Ambati Rayudu, Kedar Jadhav and Hardik Pandya. The middle-order also stepped up in a couple of matches in Australia, which will make India breathe a little easier.
Dhoni's ideal position - four or five?
Much of the debate before the tour of Australia was on whether Dhoni deserved a place in the XI. After a Man of the Series performance, that changed to discussions around his batting position. Rohit said he personally feels Dhoni should bat at No. 4. Kohli says Dhoni's ideal position is No.5. Kohli's word is what India are going with for now.
The No. 4 slot has been all but sealed by Rayudu. He was left out for the third ODI in Australia after a couple of modest outings, but got it back in New Zealand. A zero in Hamilton didn't help, but the 90 in Wellington to revive India from the dumps should seal his spot.
That means Dhoni won't always have the time to settle in and take his time like he often desires. That's assuming India won't always be 17 for 3 like they were in Wellington! It's up to Dhoni now to find a way out to be quicker and rotate strike better at the start of his innings. It helps that India have Hardik Pandya back, and in good striking form too like he showed on Sunday.
Dhoni's form this year means Dinesh Karthik will continue to fight for a place in the XI, although he hasn't done too badly in the chances that have come his way. And what about Rishabh Pant? He had scores of 73* and 7 in the two one-dayers against England Lions while the seniors were in New Zealand. Will he break in to the World Cup squad, or is it too late?
Questions around batting first continue
India have batted first only 10 times in their last 28 ODIs. Setting a target and finishing innings strongly while setting targets are areas they won't feel completely confident about.
It's something India want to test themselves on, which was evident from Rohit's decision to bat first in tough conditions in Wellington despite being bowled out for 92 batting first in the previous match.
India have made progress in that aspect. They posted more than 300 in the second ODI and managed 252 on Sunday. But revivals from 18 for 4 don't always happen like they did in the final ODI. It must be remembered that India played an extra batsman in the final game at the cost of Kuldeep Yadav, which made it possible. That is unlikely to happen in the World Cup.
That India have such specific situations to address and prepare for while other teams are still identifying their first 15 show the strength of the side. The bowling attack is set, with Shami completing the package
India needed to identify a third pacer to back Bhuvneshwar and Bumrah, and Shami has taken his chances with 14 wickets from seven matches. Unless there's a late twist, he has left behind Khaleel Ahmed and Mohammed Siraj in the race to the third pacer's slot.
The strength of the Indian attack with Kuldeep and Yuzvendra Chahal is such that Shami might still have to sit out once Bumrah is back. Overall, India have a problem of plenty already. That is only likely to increase in the lead up to the World Cup.