New Zealand ended play at 211 for 5 in 46.1 overs on a rain-hit day in their semi-final clash against India in Manchester with the match to resume on Wednesday (10th July).
While it was cold and the conditions overcast with the pitch turning and slowing down as their innings progressed, there was a lack of aggressive intent from the New Zealand batsmen. They were a bit too cautious and left the acceleration for a bit too late in the innings.
Although Jasprit Bumrah and Bhuvneshwar Kumar were exceptional in the first powerplay bowling a tight line and length, to play out as many as 44 dot deliveries (almost 7 and a half overs) when the fielding restrictions were in place suggests that the New Zealand batsmen were a bit too conservative up front.
Martin Guptill's nightmare of a World Cup continued as he was removed by Bumrah for 1 off 14 deliveries in the 4th over – this was Guptill's sixth single-digit score in the tournament. Barring his unbeaten 73 in New Zealand's tournament opener against Sri Lanka, Guptill has been in terrible form in the World Cup aggregating just 94 runs in the remaining 8 innings at an average of 11.75!
Overall, his average of 20.87 is the third-lowest for a top-order (1-5) batsman in the tournament (min. 100 runs) – that is how poorly he has fared in the competition.
35, 0, 12, 0, 5, 29, 2, 1: These have been the opening-wicket partnerships for New Zealand after their thumping 10-wicket win against Sri Lanka (partnership of 137). That is an aggregate of 84 runs in 8 innings and a partnership average of 10.5 per match!
Overall, the New Zealand openers, have combined to average 20.50 – the lowest in the tournament – lower than even Afghanistan - with just two individual fifties (both in the opening fixture).
Henry Nicholls and Kane Williamson resurrected the innings with a solid 68-run stand in 89 deliveries (run-rate of 4.58) laying a platform for the Williamson-Ross Taylor partnership – New Zealand's two world-class batsmen - to accelerate the innings – but the impetus never came!
The pair added just 65 runs in 17 overs at a run-rate of just 3.82. Taylor faced as many as 33 dot balls and was unbeaten on 25 off 52 deliveries when Williamson was dismissed. A total of just 5 boundaries were hit in the 17 overs of the partnership – the majority overs during which were bowled by Yuzvendra Chahal, Ravindra Jadeja and Hardik Pandya. Not only were the duo unable to hit the big shots – in fact they did not even attempt to – they also were stuck at the crease unable to rotate the strike.
Post Williamson's wicket, New Zealand scored 77 runs in just 65 deliveries at a run-rate of 7.11 before rain stopped play for the day.
Overall, New Zealand played out as many as 153 dot balls in their innings – ie in effect 25 and a half overs weren't scored off of a total of 46.1 they batted – as much as the slowness of the wicket it also shows the mindset of the New Zealand batsmen. They wanted to preserve wickets to have a crack in the last 10.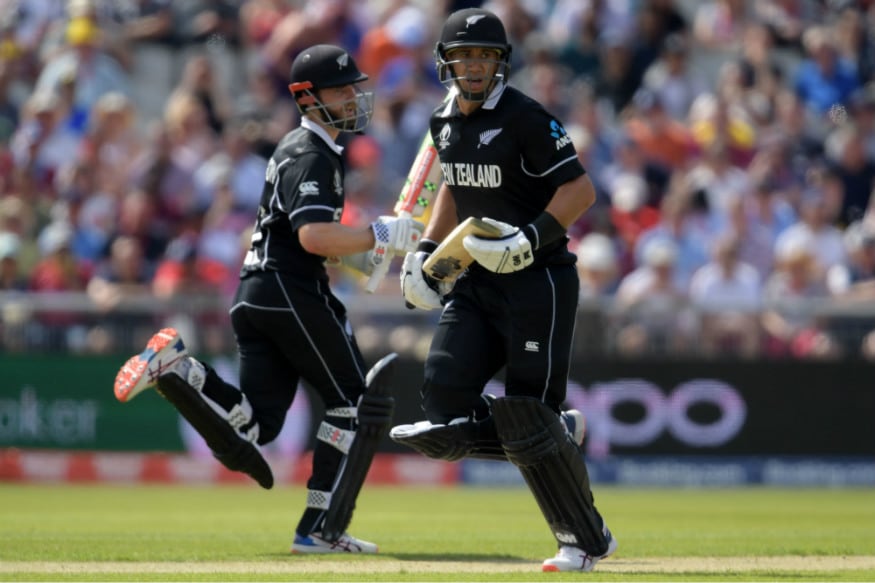 Their lack of initiative is further highlighted by this staggering statistic – New Zealand's run-rate crossed 4 per over for the first time in the innings only after 41.3 overs!
New Zealand's overall strike rate in the tournament is just 78.35 – second-lowest after Afghanistan.
Barring Afghanistan, they are the only team in the tournament to not register a single 300-plus total.
Although New Zealand have accelerated well in the last 5 overs of their innings, their tentativeness in the first powerplay and the cautious approach of the Taylor-Williamson partnership may well prove to be costly for them on Wednesday.