Manchester: India had to make two big decisions on their bowling combination going into the semifinal against New Zealand. As Virat Kohli said on the eve of the game, decision making had to be spot on as there are no second chances in knockouts.
India got that spot on, retaining Bhuvneshwar Kumar over Mohammed Shami and Ravindra Jadeja over Kuldeep Yadav. It made their batting longer, but more importantly, they picked a bowling unit that suited the conditions.
There were a few eyebrows raised when Kohli confirmed at the toss that Bhuvneshwar was picked ahead of Shami. Bhuvneshwar conceded 73 runs in the previous game, and had not picked a wicket in his first spells throughout the tournament.
Shami, on the other hand, had 14 wickets from just four games and struck with the new ball in every game barring the one against England, where he was unfortunate not to have edges going to slips or stumps. Shami's death bowling was a concern - he went for plenty in that phase in his last two games - but his new-ball wickets were invaluable.
But overhead conditions demanded India to make the tough call of picking Bhuvneshwar, who has been backed as the 'first-choice' by the team management in white-ball cricket. The sky was overcast in the morning, and with rain forecast for the afternoon, it was prudent to stick to Bhuvneshwar irrespective of whether India batted or bowled first.
Bhuvneshwar didn't take too long to show why. His very first ball troubled Martin Guptill, although that's not a very tough thing to do going by the opener's form these days. India ended up losing a review for an lbw call, but Bhuvneshwar seemed in good rhythm beginning with a maiden.
At the other end, Jasprit Bumrah was just being Jasprit Bumrah. Getting the ball to kick on from length and back of length and nipping in and out. Guptill and Henry Nicholls struggled, before Guptill eventually nicked him to slip for a 14-ball 1. Bumrah set such high standards that he chided himself for overpitching one ball that Nicholls drove to the boundary. It was the first boundary of the innings and came in the eighth over. Despite that, his first spell was 4-1-10-1.
Crucially for India, Bhuvneshwar too backed up Bumrah with tight lines and lengths. He was wayward against Sri Lanka, conceding 36 runs in his first five overs. Here, he was back to his own self, with an opening spell that read 5-1-13-0. The new-ball wicket didn't come, but Bhuvneshwar's rhythm did. Together, the two pacers restricted New Zealand to 27 for 1 in the first 10, the lowest total in the first Power Play in the World Cup.
The other crucial decision was retaining Jadeja to separate the two wrist spinners - Kuldeep and Yuzvendra Chahal. Jadeja has been in the limelight over the last week for various reasons, but proved once again that he can do the job for the team.
This was the ideal wicket for Jadeja, and India realised that. He struggles on flat pitches as he hardly turns the ball and becomes too predictable. But here, the batsmen had to be on their toes as the turn, bounce and pace was not easy to judge. Jadeja stayed accurate as always, bowling on the stumps, getting one ball to turn big and another to go straight. In the past, Jadeja has said even he doesn't know which ones turn and which don't. That was on display on Tuesday again.
Jadeja broke the 68-run second wicket stand between Kane Williamson and Nicholls with one such ball that turned in just about enough to bowl Nicholls. He had begun slightly expensive, conceding 13 in his first two with Nicholls sweeping him. But the wicket turned things around as he bossed the middle overs bowling to the two right-handers Williamson and Ross Taylor.
Jadeja bowled an eight over spell in the middle overs, during which New Zealand went 13.3 overs without a boundary. He eventually ended with 1 for 34 from his 10, justifying his selection even as a pure bowler.
India overall read the wicket well, with their pacers resorting to cutters and slower balls, regularly banging the ball onto the slow pitch. The batsmen, Taylor in particular, struggled to connect or generate pace with their cross batted heaves.
The one slight disappointment though, was Chahal. The legspinner came back in place of Kuldeep, as he should have. Chahal was in wicket-taking form, and New Zealand's two key batsmen were the right-handed Williamson and Taylor. Kohli said they were the key wickets India had to target.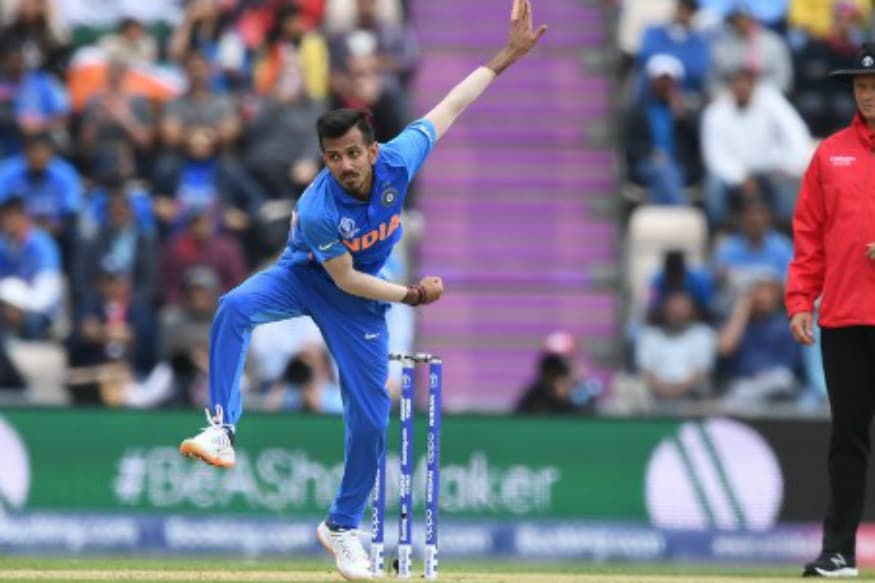 Chahal began with five wides down leg side, and couldn't make complete use of the pitch although it was slow. The batsmen just knocked him around, before Taylor and Colin de Grandhomme plundered 18 in his final over. On this pitch, Chahal would be disappointed with figures of 10-0-63-1.
India will be pleased to have restricted New Zealand to 211 for 5 in 46.1 overs before rain arrived. But New Zealand will not be feeling too bad either, given the nature of the pitch and presence of a set batsman in Taylor. The game is set up nicely for the reserve day.