Manchester: Virat Kohli's press conferences are generally not known for being jovial. They are generally verbose, with plenty of focus on cricket and little else. The odd one is even combative.
But a day ahead of perhaps his biggest game as captain, the ICC World Cup semifinal against New Zealand, Kohli seemed in a light mood, enjoying himself in a fairly long interaction where he oozed calmness.
He joked in a self deprecating way about dismissing Kane Williamson in the Under-19 World Cup semifinal of 2008, saying 'I don't know if that can happen again'. He said he was a 'lethal bowler' so long as he doesn't slip on the pitch. He joked that the team was happy to face New Zealand because traveling to Manchester from Leeds was shorter than traveling to Birmingham. He even joked at a journalist who had riled him up in South Africa last year, questioning India's inability to identify their ideal XI.
The captain's mood reflected his team's ahead of the knockout clash.
"The mood is great. Everyone is very relaxed, very confident. All the teams worked hard to get to these moments and now whoever plays better on the day (wins). It's been a long tournament, it's been a lot of hard work, a lot of intense games. We are really, really happy that we have made it to the semis and now there's only opportunity that lies in front of us and everyone is very excited for it."
Kohli, though, said India's mindset ahead of big games like Tuesday's would be slightly different from that during a league game.
"It is a little bit different, if I have to be totally honest," he said. "League stages, when you know that you need a victory to qualify, the team is a bit more relaxed and you know you can go out then and try a few things. But I think knockout games you need to be very precise and at the same time being intense. So I think that balance, this is more similar to, you know, the toughest situations you get in Test cricket where you have to be absolutely precise but your intent cannot go down. Decision-making will be crucial.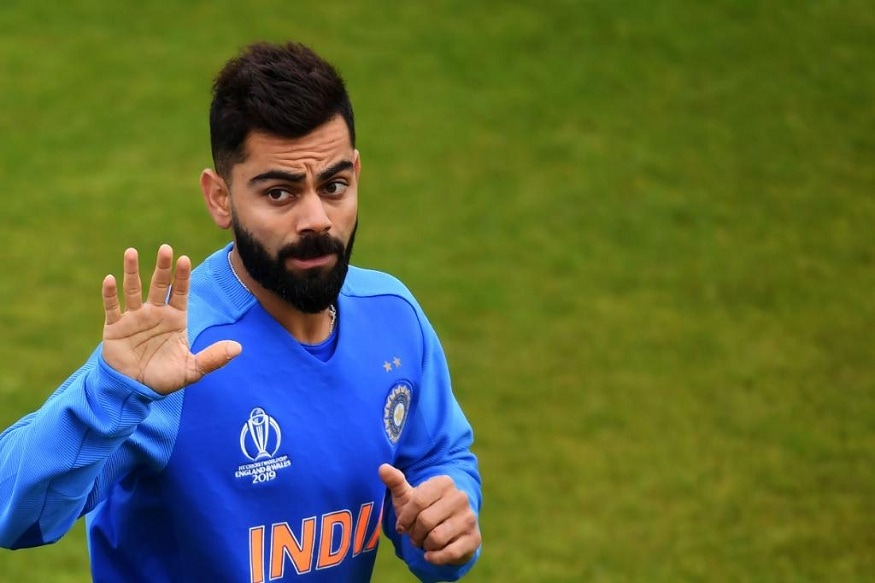 "Both teams are experienced enough to have played these games. New Zealand were in the final last time and they know how to play knockout games, they have had a wonderful World Cup again. They are a quality side. But on the day, whichever team is more brave in being calculated stands a better chance to win. It is up to both the teams to bring their A-game and whoever handles pressure better is the team that is going to come out on top."
Kohli has been in two World Cup semifinals, and seen both ends of the spectrum. India defeated Pakistan in Mohali in 2011, and lost to Australia in 2015 in Melbourne. One bad day is all it takes for the team to be projected as villains by some section of fans and media, and Kohli is well aware.
Kohli said every game for India was a 'pressure game' due to the fans' expectations, but believed the team is 'better equipped' to handle worst-case situations.
"The win in Mohali was my first World Cup and we make it to the finals. Playing at home, the whole atmosphere was brilliant so getting to experience that for me as a youngster was something magnificent," he said. "In 2015, I was more of an established player and not being able to get the team across the line was obviously very disappointing for all of us.
"This time around, because the format has been different, and we understand the tournament has been long, guys have put in a lot of effort day in day out and to realise we have achieved the first goal that we wanted, which was to qualify for the semis, that gives you an extra boost of energy.
"Now we can focus totally on the remaining two games that we have in the tournament and try to bring our A-game and take up the intensity even more. That intensity is very important to realise as a team that you have done what you wanted to do as a first goal. And now you can be even more intense and energetic when you step on to the field. It gives you more energy knowing we are entering the last phase of the tournament. Bodies are not going to be as fresh but these kind of things motivate you even further to put in more energy so we are quite happy after qualifying."
Talking about the cricket, Kohli said he wasn't too worried about the toss despite the team batting first having won all five league matches in Manchester.
"It comes back to the same point, handling pressure. You make two bad decisions while you are chasing and the game goes away from you, too far to pull it back," he explained. "So I assume that that is going to be the case because having been in so many chases, I understand that the pressure can be very high if you don't go with the pace of the game and then understanding the magnitude of the tournament like this.
"So we are not worried about the toss. It is an uncontrollable. You can't predict what is going to happen at the toss. We have to be prepared both ways and we are quite open to do that. And if it is a factor, it's a factor, so we can't say if we lose the toss, we have no hope because we should believe enough in ourselves as a side to overcome any kind of situation. So I think all teams prepare in that manner. It's a stat which I think is connected to pressure and not the pitch, to be very honest."
India's potentially two remaining games could be the last we see of MS Dhoni, who turned 38 on Sunday. Kohli said the team wasn't specially focusing on farewells, at least from World Cups, but spoke about his former captain's personality in the team.
"I'm sure everyone, if you asked them about him, they have special things to say. And especially for us who started our careers under him. For us that doesn't change," he said. "The respect will always be there because of the opportunities that he gave us and the faith that he showed in us and the way he's handled the whole team in transition over so many years.
"And now we are the ones who are taking Indian cricket forward. We understand the importance of that process. When a person has done so much for the team you have to appreciate and acknowledge what he's done for Indian cricket and how the respect for Indian cricket is so high all over the world.
"From that point of view, we are all very grateful for what he's done for Indian cricket and for us. And he's always been in a very happy, jovial mood all the time whenever we see him. Yesterday again was a very happy moment for him, for the whole team, to see a smile on his face. He's in a very comfortable, very happy space at the moment.
"I'm not thinking of anything apart from that because the main focus right now is to do what we need to do tomorrow (Tuesday) and then on to another one hopefully and just have a good World Cup.
"But from the respect point of view for MS, it's always going to be sky-high, especially in my eyes, because I know how difficult it can be to make a transition of captaining also and within the same team, just playing as a player after being captain for so many years and still not being too assertive or too pushy in anything. He gives you space to make your own decisions and to actually discover yourself, so I think that's been his biggest quality.
"At the same time, I go ask him anything, he's there giving me advice and he's never shying away from that. He's been outstanding and I'm delighted that I have been able to play for so many years alongside him."